Our top 3 ISP choices in Hoover, AL
AT&T fiber is the best internet service in Hoover, but it's not as available as we'd like it to be. So check out Spectrum and T-Mobile too.
#1: AT&T fiber internet
AT&T fiber is a great provider that offers fast speeds, great value, and reliable service. Plans are also super transparent with unlimited data, no hidden fees, and no commitments. It's earned recognition as our best fiber internet provider. The downside is that it's not available in Chapel Hill, Sky Ranch, and some other neighborhoods. Its DSL service isn't nearly as good—but it's no longer available to new customers anyway..
Read our full AT&T fiber review.
#2: Spectrum internet
Spectrum has more cheap internet options than AT&T fiber, and it's available in more places. However, you should expect your bill to increase significantly at least annually unless you negotiate each year. Still, if you can't get the plan you want with AT&T, Spectrum is a good alternative.
Read our full Spectrum review.
#3: T-Mobile internet
T-Mobile has some of the widest availability in Hoover, but even if you can get Spectrum where you live, T-Mobile could be a better option. You'll get slower speeds and less reliability, and there's no guarantee you'll get a great signal at your house. But this provider has great customer service and no hidden fees. So try it for a month, and if you have a T-Mobile cell plan, take advantage of a hefty bundling discount too.
All internet providers in Hoover
If none of our top picks are right for you, you might be able to get up to 1 gig of fiber internet from C Spire, a small local company that's growing in the Birmingham area. Or try Verizon fixed wireless, which has coverage in over half of Hoover. Like T-Mobile, Verizon gives cell phone customers a huge discount on internet. It's not as fast as T-Mobile on average in this area, but depending on where you live it might work better for you.
Hoover locals also have access to three satellite internet providers, but we don't recommend them unless none of your other options pan out. All of these providers are slower, less reliable, and more expensive than other internet options. Viasat and HughesNet also have really low data caps and high latency. Starlink is better, but there's a waitlist for the Hoover area.
Fastest internet providers in Hoover
Although we don't recommend it, you could potentially get 5 gigs of speed from AT&T fiber. Chances are, you won't use anywhere near this much speed, so we recommend AT&T's symmetrical 1 gig plan instead. Our next pick is C Spire's 940 Mbps symmetrical plan. Finally, Spectrum has a 1 gig plan, but its upload speeds max out at 100 Mbps.
How much speed do you need?
When choosing an internet plan, you want to keep all of your activities running smoothly without paying extra for speeds you don't need. At the bare minimum, you need 25 Mbps to do light browsing on one or two devices. Most households with multiple people and multiple devices will want to look for speeds in the 100–500 Mbps range. Learn how much speed your household needs in our guide to internet speed.
Cheapest internet providers in Hoover
You can get a 30 Mbps plan from Spectrum for around $20–30 (including fees). Or, you can get 182 Mbps from T-Mobile for around the same price if you bundle it with your cell phone plan, but whether you get service at your house is hit or miss. Alternatively, try Verizon for an average of 50 Mbps.
Internet options in nearby cities
You can find Hoover's internet providers in lots of places around Birmingham, so you don't need to have any FOMO by living here. In fact, you have a better chance of having C Spire service than most other nearby cities, and having two fiber options is fantastic.
Some places have more Verizon coverage. And a handful of people in Birmingham can get CenturyLink DSL. But Hoover residents have it pretty good.
See all options in your area within seconds.
What Hoover residents are saying on Reddit
Some residents in Hoover have had great experiences with Spectrum, while others have had a terrible time. It seems that experience is hit or miss depending on location within the city.
People who live in apartments may struggle more, for example. A former Spectrum technician local to the area attributed it to outdated lines in the building that landlords often don't want to invest in updating.
One resident recommended trying T-Mobile, but admitted they lived in a low-signal area and couldn't make the service work for themselves.
Internet news and infrastructure in Hoover, AL
Hoover residents have great internet access throughout the city, but speeds could be faster. Around 95% or Hoover locals can get 250 Mbps, which is a good speed for most households. (1) However, we'd love to see more 1 gig availability, since a little over a third of people can get these speeds. Thanks to C Spire, we may be getting our wish.
C Spire serves up fiber internet in several areas of Mississippi and Alabama, and it's investing in increasing its presence in the Birmingham area. Currently, just 2% of Hoover residents can get C Spire, but thanks to a 250 mile fiber optic infrastructure project, (2) you could see more availability in coming years.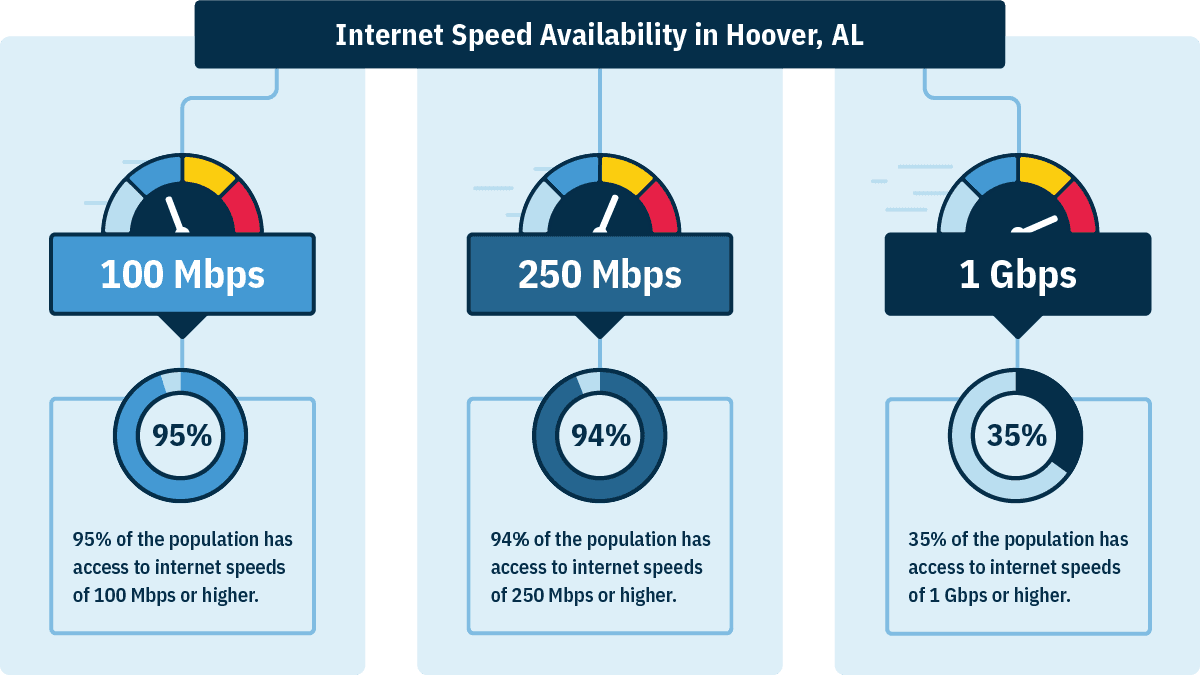 Frequently asked internet questions in Hoover
---
AT&T fiber is the best internet in Hoover, but a huge downside is AT&T fiber's lack of availability. If you can get its fiber service, another downside is that its slowest plan is 300 Mbps, and most households don't need all that speed. Finally, we've had reports of shady sales tactics in the Birmingham area, so take that into consideration.
The benefits of AT&T fiber are its lack of equipment rental fees, contracts, and data caps. There are no hidden fees, either. And your fiber connection will be symmetrical—which means you can upload just as fast as you download.
---
Unlimited internet plans are those with no data caps—which means you can use it as much as you want without additional charges on your monthly bill. All three of our top internet providers have unlimited data. However, you may experience some limits on internet speed with these providers.
Both AT&T and Spectrum throttle internet speeds for users that use more than a certain amount of data in a given month. Neither company is clear about how much data you have to use before it begins throttling your speeds. T-Mobile doesn't throttle speeds after a certain amount of data, but it may prioritize cell phone traffic over internet traffic. That means you're more likely to experience slowdowns during peak hours.
---
Yes. Hoover has two fiber providers. AT&T fiber has the largest footprint, but local provider C Spire is expanding its fiber footprint. However, not everyone needs fiber internet. Cable internet can give you 1 gig speeds too, and it's pretty reliable. Spectrum is a good cable internet provider in Hoover.