Our top 3 ISP choices in Kyle, TX
Our top picks for internet in Kyle are Frontier, Spectrum, and Astound Broadband. Frontier and Astound have the most limited availability of the three, but Frontier's fiber connection and high-speed plans retain its spot as our #1 choice.
#1: Frontier fiber internet
If you want the reliability and speed of fiber-optic internet, Frontier's your best bet in Kyle. It's not available everywhere—in fact, Frontier covers only a little less than half of the city. Check your address first, but if you're lucky enough to be eligible for service, then Frontier is a solid choice. Plus, Frontier's prices are relatively reasonable.
Read our full Frontier internet review.
#2: Spectrum internet
Spectrum has much wider coverage in Kyle than Frontier does—its cable internet service is all over the place here. Spectrum's upload speeds will likely be lower than what you'd get with fiber. But Spectrum's overall speeds should be more than enough bandwidth for most households. Spectrum's plan pricing is roughly on par with Frontier's.
Read our full Spectrum internet review.
#3: Astound Broadband
Astound is a decent cable internet option in Kyle, but its availability is severely limited. Most addresses in the city won't have access to Astound's service, but those that do can get speeds up to 1,200 Mbps. Astound is also quite affordable for the first two years.
Read our full Astound Broadband review.
All internet providers in Kyle
Kyle's most widely available internet providers offer satellite, cable, and fixed wireless internet connections. We don't generally recommend satellite internet unless you don't have any other options, but cable and fixed wireless internet both work well for most households.
If you go with fixed wireless internet, we recommend T-Mobile 5G Home Internet. It has consistent, reasonable pricing, and it's widely available across Kyle. You can also check out some other fixed wireless provider options, including Spry Wireless and Valley Telephone Cooperative. But they tend to cost a lot more for slower speeds than what T-Mobile offers.

Fastest internet providers in Kyle
Frontier fiber, Astound Broadband, and Spectrum have the fastest internet speeds in Kyle. All three of these providers offer speeds up to 1 gig. But don't think that you have to pay for 1-gig service to have reliable internet coverage. The average household doesn't need that much bandwidth and you can probably get a plan with speeds between 100 Mbps and 300 Mbps instead and not notice a differenc
How much speed do you need?
When choosing an internet plan, you want to keep all of your activities running smoothly without paying extra for speeds you don't need. At the bare minimum, you need 25 Mbps to do light browsing on one or two devices. Most households with multiple people and multiple devices will want to look for speeds in the 100–500 Mbps range. Learn how much speed your household needs in our guide to internet speed.
Cheapest internet providers in Kyle
Astound Broadband has affordable pricing in Kyle, with base plans that start as low as $25. But those plans don't include all the required costs, such as taxes, service fees, possible equipment charges, and often an installation fee. If you want consistent pricing with no hidden fees or two-year price hikes, T-Mobile Home Internet is a good value if you plan to bundle with cell service.
Internet options in nearby cities
Internet in nearby cities is fairly similar to your options in Kyle, although nearby cities usually have fiber internet from AT&T or Google Fiber. Frontier fiber tends to be more limited than those companies.
Kyle also has access to some fixed wireless providers that are less available in nearby cities, namely Spry Wireless and Valley Telephone Cooperative.
For details on which providers are available near you, check out these cities:

See all options in your area within seconds.
What Kyle residents are saying on Reddit
Kyle residents are part of the broader Austin metro chatter on social media. General conversations about Frontier fiber performance are relevant to this area as well.
Some people on social media have found that getting the most out of a Frontier fiber plan can be a challenge. Even if you pay for 2,000 Mbps, if your internet equipment is not up to the task, then your speeds might be slower than that, even when the service itself was installed correctly.
Very few people really need gig-level internet speeds, so you probably don't need to worry about this. But if you're highly tech savvy and want the fastest internet you can possibly get, it's good to know there can be limitations once you get into multi-gig territory.
Check out these Reddit threads to see what people are saying:

2gig fiber optic capped at 950mbps
Hello, just recently upgraded from 1gig fiber to 2gig & didn't realize how much goes into a multi gig set up. I've updated all my Ethernet cords to CAT6 using the router frontier set up for me & even upgraded my motherboard to one that supports 2.5gig but I still am getting capped & cannot figure out how to fix it or whats causing it. Any help is appreciated
Frontier sucks, especially their equipment that they provide with the 2Gig service. I have sagecom and even connected one MoCa Switch but the WiFi on the Sagecom sucks big time and I don't know how to solve that Issue. Wonder how it will be with the 5gig service I am getting installed.
However cable internet providers like Spectrum are worse.
---
Anyone have any experience with AT&T or Astound?
I'm moving near the Lakeline Mall area and those are my only two options.
AT&T seems to be mostly reliable, from what I've read on here and from friends, but I've never heard anything from Astound
Avoid AT&T as if your life depends on it.
---
What Internet Service Providers do you Love/Hate?
(I'm sorry in advance if this isn't allowed)
Austinites - who do you get the internet from? After 48 hours without internet from AT&T (this is the Gilligan's Island of outages, customer service promised it was a 2 hour outage, then it would be better by midnight, then by morning, and now they've been saying "24 hours" for the last 24 hours - not to mention prior shenanigans with coverage in previous years) I am ready to run into the arms of another provider.
I live in that pocket of North Austin that cannot get Google Fiber. Is Spectrum or Xfinity etc all about the same?
Anyone have polarizing feeling about any other companies?
Thanks in advance!
I have Astound which was formerly branded as Grande. My roommate and I are terminally online and for the year and a half we've had it we have only noticed about 2 minutes of downtime.
Internet news and infrastructure in Kyle, TX
Since Kyle has only one fiber internet provider and mainly relies on cable internet, its internet infrastructure isn't the best. The entire Austin metro area needs to expand its access to high-speed, affordable internet. Expanding fiber internet access throughout the area would be hugely impactful.
Texas as a whole is working on expanding community access to high-speed internet, but the Austin area doesn't seem like a huge focus for these efforts. The Texas Comptroller's office announced a multimillion-dollar plan to expand broadband access, but its plan targets underserved areas throughout the state, and Austin doesn't qualify as underserved in this assessment. (1)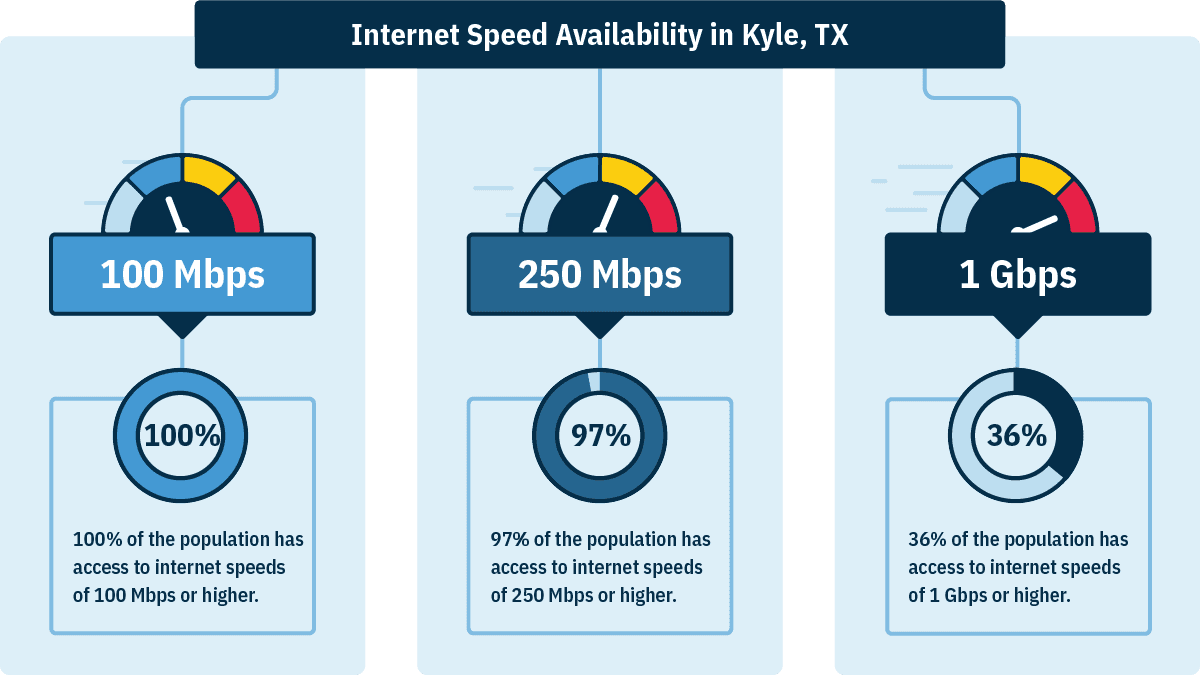 Frequently asked internet questions in Kyle
---
Starlink is a satellite internet provider and Rise Broadband is a fixed wireless provider. Which one will be better for you comes down to speed and latency. Starlink tends to offer faster speeds than Rise, but its latency also tends to be higher, which will make it feel slower to use. For this reason, we generally recommend Rise.
---
Frontier fiber has the fastest speeds for home in Kyle. Depending on where you live, you can get speeds up to 2,000 Mbps (2 gigs).
---
A good internet speed is enough to cover your everyday internet activities. Things like online gaming and video calls will use more bandwidth, whereas emails and social media use less. Most average households will be happy with 100 Mbps speeds, but you can opt for a higher speed plan if you want more reliable speed, since download speeds can plummet when networks get busy.