Our top 3 ISP choices in Georgetown, TX
Our top internet recommendations for Georgetown are Optimum, T-Mobile, and Rise Broadband (if you can't get one of the first two).
#1: Optimum internet
Optimum internet is your best bet for fast cable internet in Georgetown. Optimum offers speeds up to 1 gig in the area, which is faster than pretty much any other internet provider around. And Optimum's base pricing is pretty good too, although you may face price hikes and fees.
Read our full Optimum internet review.
#2: T-Mobile 5G Home Internet
T-Mobile Home Internet has wide availability in Georgetown, so it may be easier to get than a lot of other types of internet here. T-Mobile's also affordable, with $50 plans without installation fees, equipment fees, or price hikes. Your speeds will likely be lower than with Optimum, but T-Mobile is accessible and easy to set up.
Read our full T-Mobile 5G Home Internet review.

#3: Rise Broadband
Rise Broadband covers only about half of Georgetown, and it has significantly slower speeds than Optimum. If you don't have a lot of other options at your address, then Rise Broadband tends to be a better choice than satellite internet. But we don't recommend it over cable internet.
Read our full Rise Broadband review.
All internet providers in Georgetown
Along with our top three picks, Georgetown has a few other internet providers, including SOS Communications, Valley Telephone Cooperative, and satellite internet companies like Viasat, HughesNet, and the trendy Starlink.
We don't recommend satellite internet providers over other internet companies due to latency. Satellite can feel slow to use even if your download and upload speeds are technically fast.
SOS Communications and Valley Telephone Cooperative are both unlicensed fixed wireless providers like Rise Broadband. These companies tend to be more expensive and have lower speeds for the price than bigger internet providers, but they can be a good choice for rural areas.
Fastest internet providers in Georgetown
Optimum is the fastest internet provider in Georgetown by far. It's the only internet provider in the area with speeds up to 1 gig. Most other internet providers around here have download speeds closer to 100 Mbps or less.
100 Mbps should still be enough for most households, but availability of ultra-fast speeds tend to show what kind of internet infrastructure a city has.
How much speed do you need?
When choosing an internet plan, you want to keep all of your activities running smoothly without paying extra for speeds you don't need. At the bare minimum, you need 25 Mbps to do light browsing on one or two devices. Most households with multiple people and multiple devices will want to look for speeds in the 100–500 Mbps range. Learn how much speed your household needs in our guide to internet speed.
Cheapest internet providers in Georgetown
Optimum internet is the cheapest option in Georgetown due to its low base price, but that amount can go up due to fees or sudden price hikes. T-Mobile's internet plan is almost as affordable as Optimum's base price, and it has much more consistent pricing since it doesn't charge extra fees or raise your price unexpectedly.
Internet options in nearby cities
Nearby cities tend to have more internet options than Georgetown, including access to fiber internet providers like AT&T, Brightspeed, and Google Fiber. Georgetown has a greater reliance on unlicensed fixed wireless providers than many other cities in the Austin metro area.

For details on which providers are available near you, check out these cities:
See all options in your area within seconds.
What Georgetown residents are saying on Reddit
Optimum gets mixed reviews from people on social media, but many of the ISPs Austinites tend to talk about just aren't available in Georgetown. Residents here don't have access to AT&T fiber, Astound Broadband, or Spectrum internet — all of which ATX residents tend to discuss online.
Internet news and infrastructure in Georgetown, TX
Internet infrastructure in Georgetown is lacking. There isn't a fiber internet option and available speeds here are slow compared to nearby cities. Unless you opt for a fixed wireless or satellite provider with slower speeds, you're pretty much limited to Optimum — it has a virtual monopoly on high-speed cable internet here.
The Texas Comptroller's office recently revealed a big funding effort for Texas communities without adequate broadband access, but Georgetown is declared a "served" community, meaning it's not eligible for the funds. (1)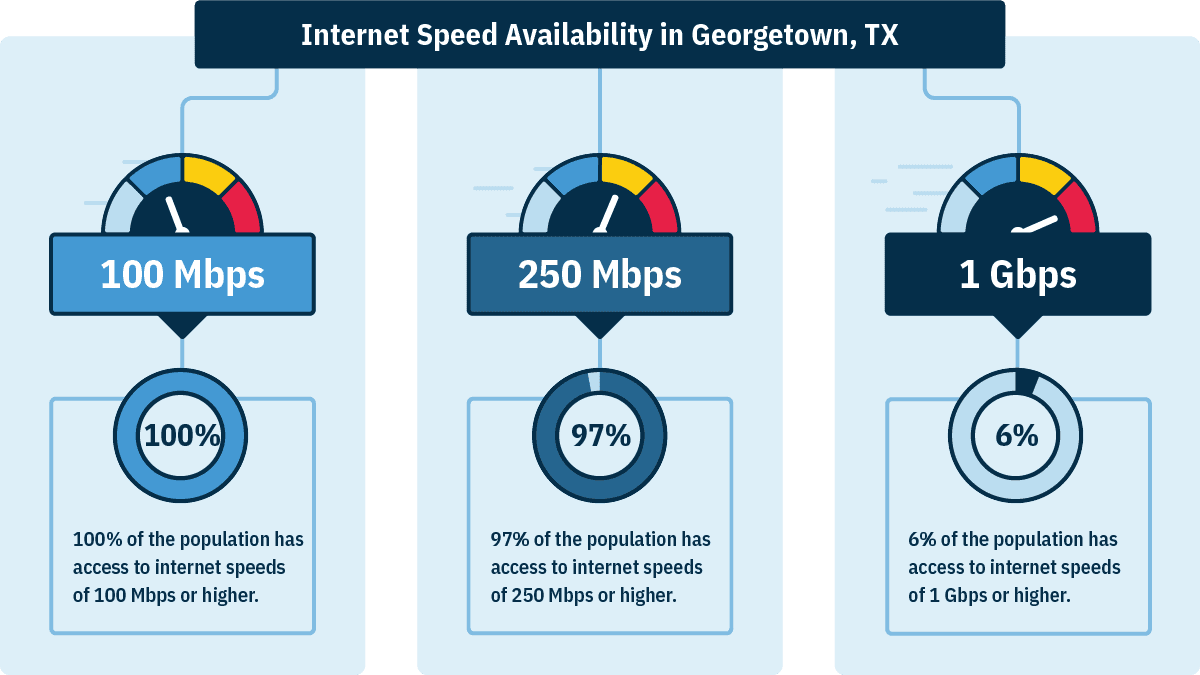 Frequently asked internet questions in Georgetown
---
Optimum is the fastest internet provider in Georgetown with speeds up to 1 gig (1,000 Mbps).
---
Optimum and T-Mobile 5G Home Internet have the best internet access in Georgetown. They cover most of the city and offer reasonably-priced plans.
---
Plan on your internet bill being somewhere in the neighborhood of $60. Optimum has plans priced much higher than that as well, but that's for speeds you probably don't need.