Best internet providers in

Round Rock, Texas
Round Rock generally has access to reliable high-speed internet. Fiber internet is inconsistently available around Round Rock, so sign up if you can. But cable internet providers like Spectrum have high-speed plans that will work well for most households.
---
Plans starting at $55.00 - $180.00
Download speeds up to 5000Mbps
Upload speeds up to 5000Mbps
---
Click below for all current AT&T deals
Disclaimer: Availability and pricing are subject to location. Conditions apply. For offer details, view disclaimers
---
Plans starting at $29.99 - $169.97
Download speeds up to 1 Gbps
Upload speeds up to 35 Mbps
---
Click below for all current Spectrum deals
Disclaimer: Availability and pricing are subject to location. Conditions apply. For offer details, view disclaimers
---
Plans starting at $19.99 - $135.89
Download speeds up to 1200 Mbps
Upload speeds up to 50 Mbps
---
Click below for all current Astound Broadband deals
Disclaimer: Availability and pricing are subject to location. Conditions apply. For offer details, view disclaimers
How we rank internet providers
We have a robust rating system to score internet service providers overall, but the quality of service could vary city to city. When narrowing down the best providers specific to Round Rock, we considered factors like availability, value, performance, and customer experience. We source information directly from the ISP's themselves, the FCC, and first-hand insights from residents of Round Rock.
Our top 3 ISP choices in Round Rock, TX
Our top internet provider recommendations for Round Rock are AT&T fiber, Spectrum internet, and Astound Broadband (if you can get it).
#1: AT&T fiber internet
Similar to nearby Austin, AT&T fiber coverage in Round Rock is unpredictable. Some areas are covered 100% while coverage drops to zero just a couple of blocks over. If you can get AT&T fiber, it's an obvious choice for fast speeds at a reasonable price. And fiber internet tends to be quite reliable.
Read our full AT&T internet review.
#2: Spectrum internet
Spectrum internet is widely available in Austin, and it has high speeds that should be more than enough to get your family through both video calls and the latest Netflix binge. Spectrum has a smattering of fiber internet coverage in Round Rock, but it's unlikely most people will be able to access it. On the other hand, for cable internet, Spectrum is the most widely available provider on our list.
Read our full Spectrum internet review.
#3: Astound Broadband powered by Grande
Astound Broadband made our list for its high-speed plans, but you should know that it's not widely available throughout Round Rock. Astound's cable internet covers less than 15% of the city, so most people will not have access.
Read our full Astound Broadband review.
All internet providers in Round Rock
Aside from our top three internet providers, Round Rock also has satellite internet and fixed wireless internet providers.
Fixed wireless options include both licensed and unlicensed fixed wireless internet providers. Licensed providers include T-Mobile 5G Home Internet and Verizon Home Internet. Unlicensed fixed wireless providers include Rise Broadband and SOS Communications.
Unlicensed fixed wireless internet isn't as unlawful as it sounds—it just means that these providers use public broadcast frequencies rather than private ones.
T-Mobile Home Internet is widely available in Round Rock, and it's a good choice for decent speeds and easy setup. Other fixed wireless providers are less widely available, so T-Mobile is your best bet.
Fastest internet providers in Round Rock
Spectrum, AT&T fiber, and Astound all offer equally high speeds in Round Rock. You can get speeds up to 1 gig from all three internet providers.
Plans with 1-gig speeds tend to cost a lot more than lower-speed plans, and you probably don't need that much bandwidth. Look for plans in the 250 Mbps range to save money on your internet bill. You probably won't even notice a difference.
How much speed do you need?
When choosing an internet plan, you want to keep all of your activities running smoothly without paying extra for speeds you don't need. At the bare minimum, you need 25 Mbps to do light browsing on one or two devices. Most households with multiple people and multiple devices will want to look for speeds in the 100–500 Mbps range. Learn how much speed your household needs in our guide to internet speed.
Cheapest internet providers in Round Rock
The cheapest internet provider on our top-three list is Astound Broadband. Spectrum's in roughly the same price range as well, and it's more widely available than Astound.
If you want to save money on fees and price hikes, then T-Mobile Home Internet is an excellent choice for budget-conscious internet in Round Rock. T-Mobile charges a flat rate each month and doesn't have any hidden fees, and you can get steep discounts if you combine home internet with cell phone service.
Internet options in nearby cities
Cities near Round Rock usually also have access to Spectrum internet and AT&T fiber. Similar to Round Rock, AT&T fiber has unpredictable availability across the area. Some cities may also have access to Optimum instead of Spectrum, or to additional providers like CenturyLink. Most nearby cities have reliable coverage from T-Mobile Home Internet.
See all options in your area within seconds.
What Round Rock residents are saying on Reddit
People on social media generally seem to like Astound Broadband (especially its fiber service) as well as AT&T fiber in the Round Rock/Austin area. Spectrum is commonly disliked, primarily for its customer service.
Internet news and infrastructure in Round Rock, TX
Most of Round Rock is covered by high-speed internet, meaning 100 to 250 Mbps. Less than half of Round Rock has access to full gig internet plans, but that's not too concerning considering gig internet is more than most people need.
A big challenge to Round Rock infrastructure hit in 2023. A winter storm caused widespread power outages, which impacted internet service (1). Fixed wireless internet like T-Mobile Home Internet tends to fare better in storms, although you can never know for sure.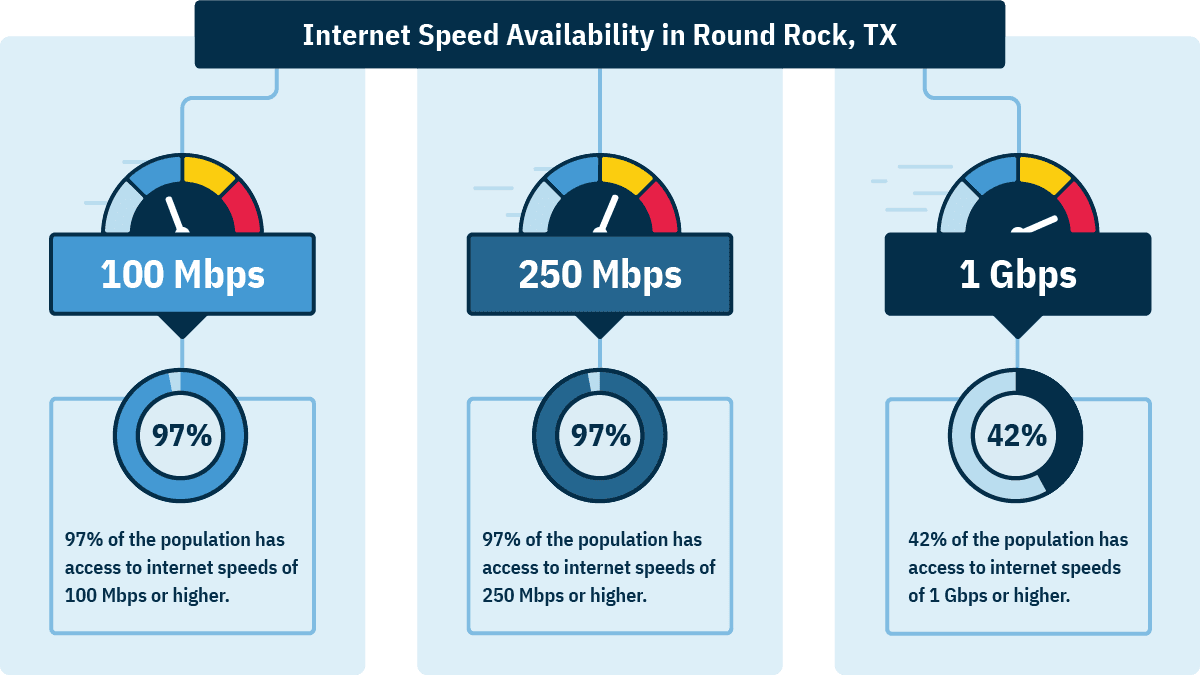 Frequently asked internet questions in Round Rock
---
Satellite internet is often the only option available if you're truly in the middle of nowhere. Satellite internet is a good option for rural locations, and its speeds and service have improved in recent years. But if you live in a city with other internet connection types available, you should go with something else.
---
We think AT&T fiber is the best internet provider in Round Rock. But AT&T fiber doesn't cover 100% of the city, so you may not have access depending on where you live.
---
Internet prices range anywhere from around $30 to over $100 per month depending on what plan and speeds you choose. Lower internet plan speeds cost less than higher ones, and 1-gig internet plans can get quite expensive.