Our top 3 ISP choices in Leander, TX
Our top pick for internet in Leander is AT&T fiber. Fiber internet has low latency and reliable connections. But AT&T has limited fiber availability here, so if you can't get it, cable internet from either Optimum or Spectrum is a good back-up option.
#1: AT&T fiber internet
AT&T fiber can be hard to get in Leander, but if you have access, it's an excellent choice. Some neighborhoods in Leander have broad AT&T fiber coverage, but others have minimal access or no coverage at all. AT&T fiber's speeds and reliability are all great if you're in a place with access, but otherwise you'll likely need to go with cable internet.
Read our full AT&T internet review.
#2: Optimum internet
Optimum is a cable internet provider in Leander. It has somewhat unpredictable coverage here, so you'll want to double check your address for eligibility. If you can get it, then Optimum has speeds up to 1 gig. The main drawback with Optimum is that its prices tend to go up after the first two years.
Read our full Optimum internet review.
#3: Spectrum internet
Spectrum has similar internet service and speeds to Optimum, but it's less available than Optimum is in Leander. Also similar to Optimum, Spectrum tends to raise your price after two years. But during the intro pricing period, Spectrum has reasonable costs for high-speed internet plans.
Read our full Spectrum internet review.
All internet providers in Leander
Leander has limited options for internet service providers since few of these providers cover 100% of the city. You may not have many options at your specific address. But most of the city has access to either fiber, cable, or fixed wireless internet (if not all three at once).
We recommend fiber or cable internet for most people, but fixed wireless internet from T-Mobile 5G Home Internet would also be a good choice. Plus, T-Mobile has widespread coverage throughout the city.
Some smaller internet providers in Leander include SOS Communications and Verizon Home Internet, but their availability is so limited that most people won't have access. And while most people do have access to satellite internet providers, we don't generally recommend them over other types of internet connections.
Fastest internet providers in Leander
The fastest internet options in Leander are AT&T fiber, Spectrum, Optimum, and Astound Broadband. AT&T fiber has speeds up to 5,000 Mbps in Leander, although that's more than most people should pay for considering no average household could possibly need that much bandwidth.
How much speed do you need?
When choosing an internet plan, you want to keep all of your activities running smoothly without paying extra for speeds you don't need. At the bare minimum, you need 25 Mbps to do light browsing on one or two devices. Most households with multiple people and multiple devices will want to look for speeds in the 100–500 Mbps range. Learn how much speed your household needs in our guide to internet speed.
Cheapest internet providers in Leander
Astound Broadband generally has the cheapest base pricing in Leander, although that price doesn't always account for things like taxes, fees, and installation charges. T-Mobile Home Internet may not have the same speed options you'd get with Astound, but its pricing is more predictable when you bundle with cell service, and it often offers the best value for the cost.
Internet options in nearby cities
Internet options in nearby cities are variations on the same companies Leander has to offer. Some nearby cities have access to Optimum but not Spectrum, and vice versa. AT&T fiber is generally the most prominent fiber internet provider, but some places, such as Kyle, have Frontier fiber internet access instead.
For details on which providers are available near you, check out these cities:
See all options in your area within seconds.
What Leander residents are saying on Reddit
Leander residents have been chatting on social media about potential Optimum fiber internet expansion in the city. Optimum currently offers cable internet in Leander, but it doesn't have any fiber internet service in Texas (or anywhere else in the country for that matter, outside of some small markets in New England).
Optimum fiber internet in Leander would increase options for residents and possibly cover people who can't get AT&T fiber internet.
Check out these Reddit threads to see what people are saying:
Internet news and infrastructure in Leander, TX
Internet infrastructure in Leander seems to be improving with Optimum's efforts to expand fiber optic internet access in the city. But the entire Austin metro area needs to increase access to fast and affordable internet speeds.
Government programs like the Affordable Connectivity Program can help, including if you're a Texas resident who needs assistance paying for adequate internet service. You could between $30 and $75 in assistance per month for internet service, depending on household eligibility and whether or not you live on Tribal lands. (1)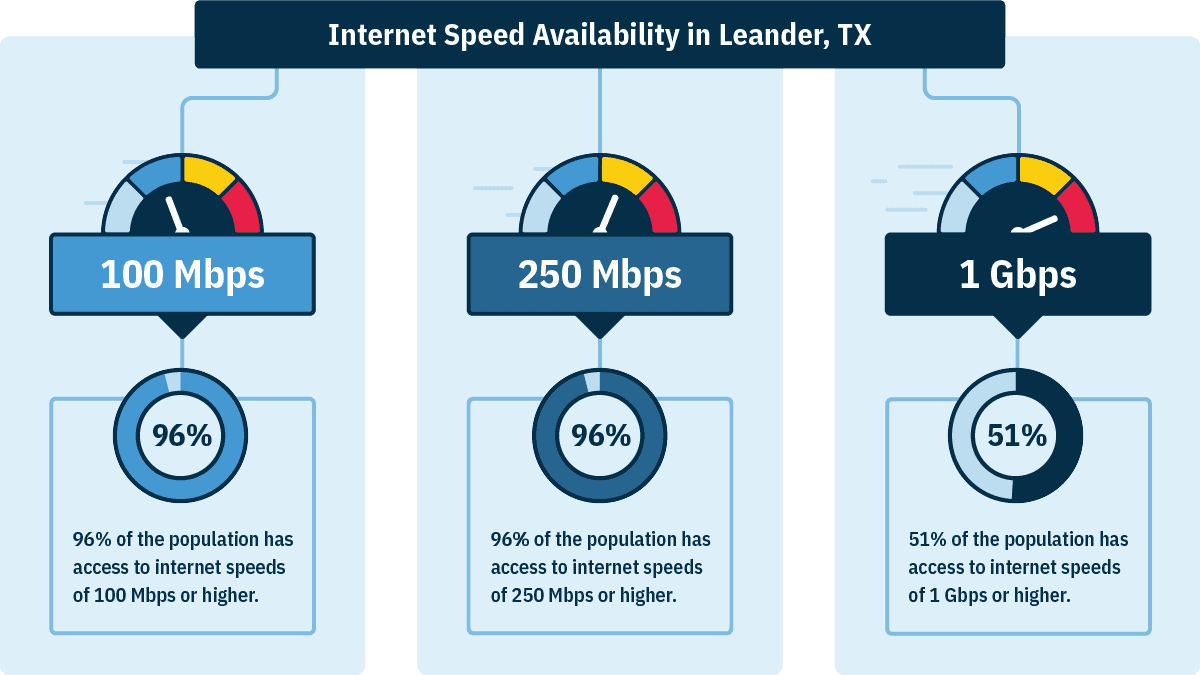 Frequently asked internet questions in Leander
---
Yes, Spectrum internet is available in some parts of Leander. Optimum internet is more widely available in Leander than Spectrum and offers similar service.
---
We recommend AT&T fiber as the best internet option in Leander if you have access to it. AT&T doesn't have fiber service in 100% of the city yet, but fiber internet is an excellent value.
---
Spectrum and Xfinity both offer cable internet service and are widely available in different parts of the United States. Areas that have widespread access to Xfinity internet might not have Spectrum as an option and vice versa, but the two providers do have a lot in common.