Our top 3 ISP choices in San Marcos, TX
Astound, Spectrum, and Brightspeed internet are our top three picks for San Marcos, TX.
#1: Astound Broadband
Astound Broadband has good coverage in San Marcos, which is great news if you want access to a range of speeds and prices. Astound's highest available speed in San Marcos is 1,200 Mbps (over 1 gig). You don't actually need speeds that fast, but Astound has more practical speed plans as well, including one for up to 300 Mbps.
Read our full Astound Broadband review.
#2: Spectrum internet
Spectrum offers both cable and fiber internet, but San Marcos has access to cable almost exclusively. Spectrum is less widely available in San Marcos than it is in some other neighboring cities, but most addresses here should still be eligible. Spectrum also offers speeds on par with Astound, up to 1 gig at some addresses.
Read our full Spectrum internet review.
#3: Brightspeed internet
Brightspeed took over CenturyLink's service in San Marcos in 2022. (1) Its fiber internet plans have limited availability here, and most addresses won't be eligible. If you're among the lucky people to have access to Brightspeed fiber, then it's a good value for the price. Brightspeed tends to be much cheaper for higher speeds than Spectrum and Astound.
Read our full Brightspeed internet review.
All internet providers in San Marcos
Aside from our top three picks, internet providers in San Marcos include T-Mobile 5G Home Internet, Verizon Home Internet, Valley Telephone Cooperative, and Spry Wireless. All of these companies use fixed wireless technology to connect you to the web.
On the whole, Valley Telephone Cooperative and Spry Wireless are more expensive for slower speeds than other providers around San Marcos. If you want to go with a fixed wireless provider, you're better off with T-Mobile Home Internet. Verizon Home Internet is a good choice as well, but it covers less than half of the city.
San Marcos residents have widespread access to satellite internet, but we generally don't recommend it.
Fastest internet providers in San Marcos
Spectrum, Astound, and Brightspeed all have 1-gig speeds in San Marcos. Astound Broadband is technically the fastest, as you can get up to 1,200 Mbps (1.2 gigs). But no average household really needs gig-level speeds, so the difference between 1,000 Mbps and 1,200 Mbps is basically indistinguishable.
How much speed do you need?
When choosing an internet plan, you want to keep all of your activities running smoothly without paying extra for speeds you don't need. At the bare minimum, you need 25 Mbps to do light browsing on one or two devices. Most households with multiple people and multiple devices will want to look for speeds in the 100–500 Mbps range. Learn how much speed your household needs in our guide to internet speed.
Cheapest internet providers in San Marcos
Astound is the cheapest provider in San Marcos assuming you're a new customer, you don't need any extra equipment, and you want the plan with the lowest speeds. Astound also has price hikes after two years and generally requires an installation fee. (Spectrum is more expensive than Astound but has those same conditions.)
T-Mobile Home Internet has more consistent pricing with no price hikes, no installation fees, and no surprise hidden fees. Brightspeed is more expensive than the other options listed here, but you'll pay less for higher speeds than you would with Spectrum or Astound.
Internet options in nearby cities
Nearby cities have coverage from Spectrum internet but less access to Astound Broadband than San Marcos has. Similar to San Marcos, other cities in the Austin metro don't have much access to Brightspeed fiber internet, but they may have fiber from other providers like AT&T.
For details on which providers are available near you, check out these cities:
See all options in your area within seconds.
What San Marcos residents are saying on Reddit
San Marcos residents on social media don't appear to be big fans of Brightspeed internet, but they're primarily referring to Brightspeed's DSL plans. Brightspeed has wider coverage for DSL internet in San Marcos than it does for fiber, but we don't recommend DSL connections. You'd be better off with Spectrum, Astound, or even satellite internet if it came to that.
Internet news and infrastructure in San Marcos, TX
Most places in San Marcos have access to internet speeds of at least 250 Mbps, which is more than enough for people to do all the usual internet activities without slowdowns or bandwidth issues. Only about half of San Marcos has access to gig speeds, but they're not really necessary anyway.
The 2023 ice storm is the most notable event affecting San Marcos's internet infrastructure recently since power outages reduced internet access throughout the city for days. (2) San Marcos also needs disaster response mechanisms that don't rely so heavily on English-language internet distribution since not everyone in the city has internet access or uses English as their primary language.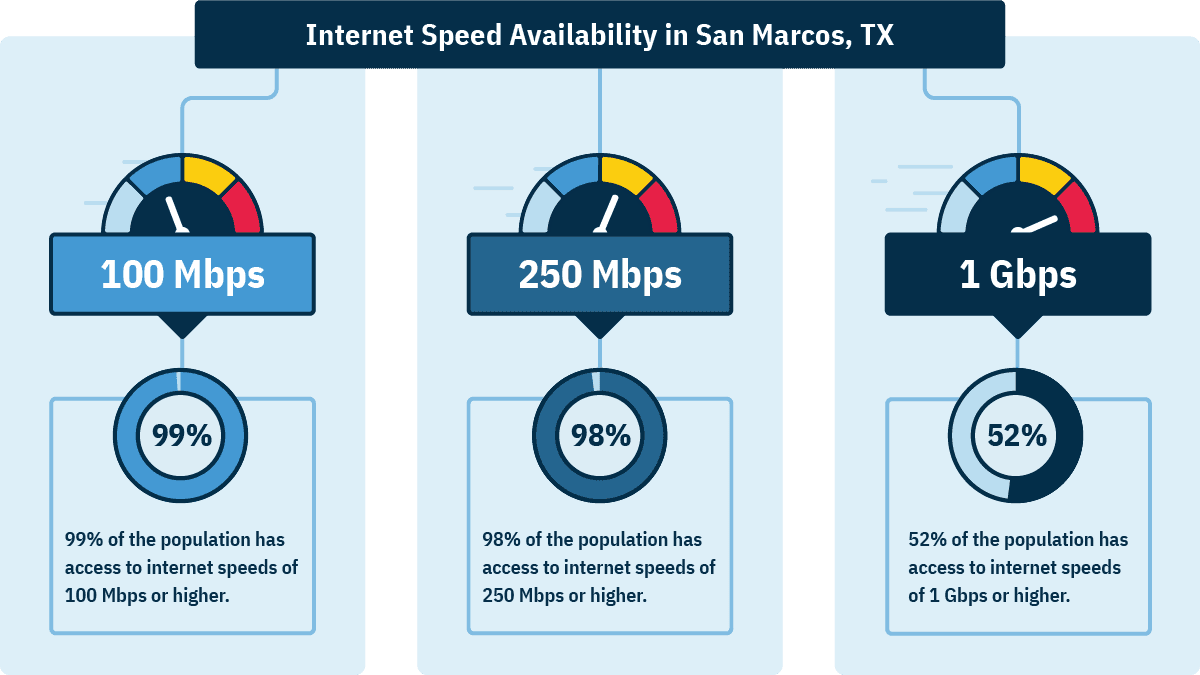 Frequently asked internet questions in San Marcos
---
Spectrum internet is available throughout most of San Marcos with speeds up to 1 gig.
---
Prices can vary by area, but Spectrum generally costs somewhere between $30 and $100 (not counting possible installation fees, equipment fees, and other fees). Those prices also go up after the first 1–2 years.
---
Spectrum is the most widely available cable internet provider in Texas. T-Mobile Home Internet also has good coverage throughout Texas. More rural areas of the state may have to rely on satellite internet or unlicensed fixed wireless providers.