Our top 3 ISP choices in Springfield, OH
The top internet providers in Springfield are AT&T fiber, Spectrum, and T-Mobile 5G Home Internet. Each offers a different internet type (fiber, cable, and fixed wireless, respectively). The best experience for you will depend on where you live, how much you want to pay, and how much speed you need.
#1: AT&T fiber internet
AT&T fiber offers excellent coverage in Springfield, with the exception of a few areas. For example, if you live north of the South Fountain Avenue Historic District in Springfield, you may be outside of the AT&T fiber coverage area. But if you can get it, you'll get fiber internet upload and download speeds, which are the best you can get.
Read our full AT&T fiber internet review.
#2: Spectrum internet
Spectrum is our number-two recommendation for Springfield because it's widely available and offers reliable cable speeds for a good price—although Spectrum does raise prices after the first year or two, depending on your plan. The majority of Spectrum is cable, but there is one spot of cable-fiber hybrid Spectrum service on the outskirts of Springfield in the Forest Hills area.
Read our full Spectrum internet review.
#3: T-Mobile 5G Home Internet
If you want a modern internet service provider with minimal strings attached and speeds up to 100 Mbps, T-Mobile 5G Home Internet is a good choice for you. T-Mobile advertises less hassle and no unexpected fees for a monthly price that's guaranteed not to change. And if you have a T-Mobile phone plan, you'll get a discount.
Read our full T-Mobile 5G Home Internet review.
All internet providers in Springfield
In addition to AT&T fiber, Spectrum, and T-Mobile 5G Home Internet, there are a handful of other internet providers in the Springfield area. altafiber and Watch Communications both offer internet in the area, although altafiber only offers its DSL option. DSL is a slower, less reliable internet option than fiber or cable but it is usually more affordable. Verizon also offers its fixed-wireless home internet option in Springfield, but chances are it's not available in your area. If you want a fixed-wireless home internet option, T-Mobile is much more available in Springfield.
You'll also see that HughesNet, Viasat, and Starlink are all available throughout Springfield. But you should only sign up for service from one of these providers if you live in a rural outskirt where they're your only option. Satellite internet service is a good solution for areas without internet infrastructure, but satellite plans are generally more expensive with less speeds and data.
Fastest internet providers in Springfield
The fastest internet provider in Springfield is AT&T, with top speeds reaching 5,000 Mbps. But only 15% of the Springfield area has access to speeds up to 1,000 Mbps, so the odds that AT&T's fastest plan will be in your area are slim. Spectrum offers top speeds of 1,000 Mbps, but T-Mobile tops out at 100 Mbps.
How much speed do you need?
When choosing an internet plan, you want to keep all of your activities running smoothly without paying extra for speeds you don't need. At the bare minimum, you need 25 Mbps to do light browsing on one or two devices. Most households with multiple people and multiple devices will want to look for speeds in the 100–500 Mbps range. Learn how much speed your household needs in our guide to internet speed.
Cheapest internet providers in Springfield
The cheapest internet provider in Springfield is either Spectrum or T-Mobile 5G Home Internet, depending on whether or not you have a T-Mobile cellular plan. You'll get faster speeds with Spectrum, but T-Mobile promises that your price will be locked as long as you have the plan. Spectrum raises prices after either the first or second year, depending on your internet plan.
Internet options in nearby cities
Thanks to strong coverage from AT&T fiber, Springfield has solid internet options compared to smaller surrounding towns in the area. Although Springfield does have access to local provider altafiber, residents only has access to its DSL plans, which aren't nearly as good as the fiber plans. Springfield is also one of the few cities in the area that has access to Watch Communications, but we don't recommend it if you have other choices. Check out our in-depth analysis of what internet providers you can get in nearby cities:
See all options in your area within seconds.
What Springfield residents are saying on Reddit
We couldn't find any specific mentions by Springfield residents in regard to internet service. But the larger Dayton area generally seems to be generally content with Spectrum as a widespread option, but more pleased with fiber providers like AT&T fiber and altafiber when they're available.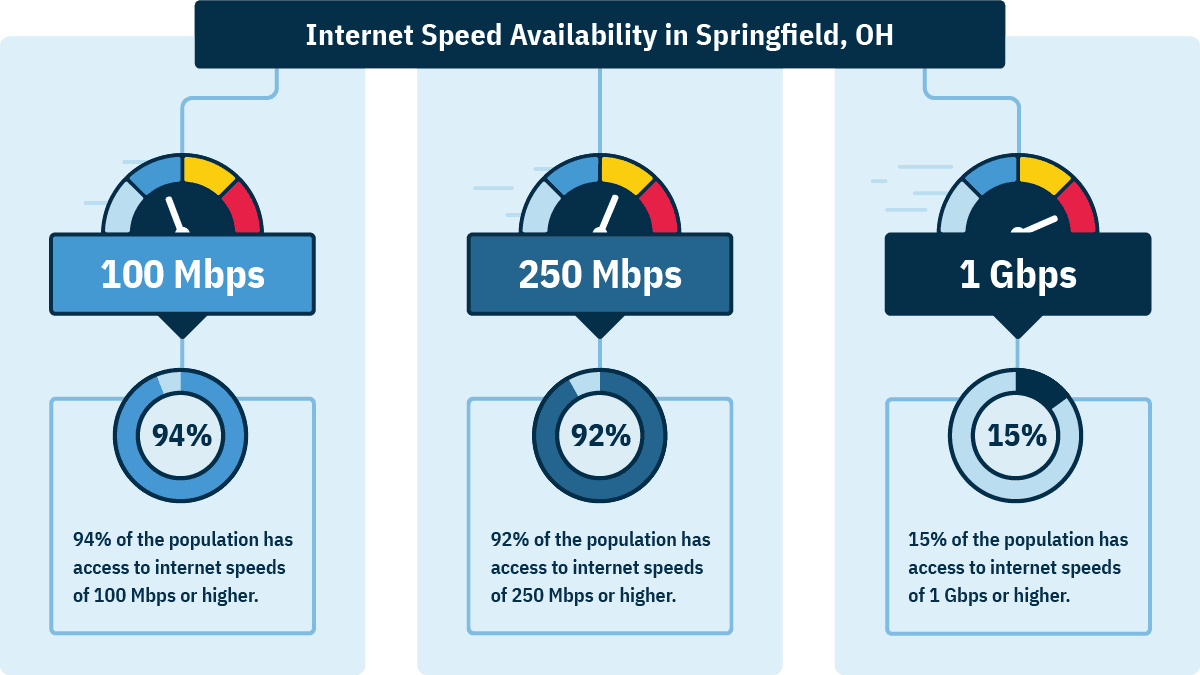 Best Internet-only service options?
Beavercreek/WPAFB area. Looking for suggestions on a local service provider for internet-only. Who has had a good experience, and what is the monthly cost?
Had nothing but problems with Spectrum equipment and service. Switched to IgLou (reselling ATT fiber) and have had 0 issues. Definitely worth seeing if they service your address.
---
Who does everyone use for internet? I've used spectrum for almost 10 years now and have always been satisfied. They upped their price to where we are not paying 85 p/mo and the internet has been spotty. Getting very frustrated, but idk where else to go. I found a company called EarthLink that offers 75 Mbps for 25 p/mo, but I've never heard of them so I'm weary...
ATT Fiber. 500mbps for $55 per month. Zero issues.
---
Post by u/Curious-Barnacle98
08/22/2022
Best cheap internet provider…
What is the best internet provider in the area with a relatively cheap monthly rate?
EDIT: Thank you for all the info and suggestions!
Internet news and infrastructure in Springfield, OH
Over the past couple of years, Clark County has announced significant infrastructure projects that will greatly improve internet access in Springfield. Spectrum completed the Clark County Broadband Expansion Project in August 2022, which was funded by the CARES Act. The project brought faster speeds and better internet access to rural areas within the county. (1) And in 2021, Clark County announced a $2.2 million fiber-optic project to improve access between county government buildings. (2)
Frequently asked internet questions in Springfield
---
The internet in Ohio is generally good, thanks to nearly statewide coverage from Spectrum. Many cities in Ohio have also invested in municipal fiber networks, which improves internet access and availability for Ohio residents. But, as with most areas, your options will be significantly more limited in rural areas within Ohio.
---
Yes, Springfield has good internet options. The two main providers available in Springfield are AT&T and Spectrum, both of which offer coverage to nearly 90% of the Springfield area. You can also get internet speeds up to 5,000 Mbps from AT&T and 1,000 Mbps from Spectrum.