Our top 3 ISP choices in Huber Heights, OH
The top internet options in Huber Heights are Metronet, Spectrum, and AT&T fiber.
#1: Metronet internet
If you're looking for a regional provider with superfast fiber speeds at affordable prices, then we recommend Metronet. It's a solid internet provider but most people don't have it in their area. Huber Heights is one of the lucky spots, with Metronet coverage in 79% of the area. Metronet also recently upgraded its fiber network in Huber Heights to offer speeds up to 2,000 Mbps.
Read our full Metronet review.
#2: Spectrum internet
If you can't get Metronet where you live, then we recommend you go with Spectrum. Although it's a cable network rather than fiber, Spectrum still offers great promotional prices for speeds ranging from 500–1,000 Mbps. Spectrum is also highly reliable and available, making it an easy middle-of-the-road choice for most people.
Read our full Spectrum review.
#3: AT&T fiber internet
Although AT&T is our top-rated internet provider overall, most of its coverage in Huber Heights is legacy DSL rather than fiber. The DSL product is significantly less impressive than AT&T fiber. Some areas of Huber Heights can get AT&T fiber, which is one of the best internet providers you can get. But it's not our top recommendation for Huber Heights simply because it's not an option for most people in the area.
Read our full AT&T review.
All internet providers in Huber Heights
Huber Heights is a good spot for internet service, with a wide range of providers offering great speeds for reasonable prices. In addition to Metronet, Spectrum, and AT&T fiber, Huber Heights also has pockets of coverage for Verizon Home Internet, Frontier, altafiber, and T-Mobile 5G Home Internet.
We don't recommend going with satellite providers HughesNet, Starlink, or Viasat—you'll pay more money for less speed and data. Satellite internet providers are only a good option if you live in an area where they're your only option.
Fastest internet providers in Huber Heights
The fastest internet providers in Huber Heights are Metronet and Spectrum. Thanks to recent infrastructure upgrades, Metronet offers speeds up to 2,000 Mbps in Huber Heights. Spectrum offers speeds up to 1,000 Mbps.
How much speed do you need?
When choosing an internet plan, you want to keep all of your activities running smoothly without paying extra for speeds you don't need. At the bare minimum, you need 25 Mbps to do light browsing on one or two devices. Most households with multiple people and multiple devices will want to look for speeds in the 100–500 Mbps range. Learn how much speed your household needs in our guide to internet speed.
Cheapest internet providers in Huber Heights
The cheapest internet provider in Huber Heights is Metronet, with plans starting at around $30 per month for 100 Mbps. Spectrum is also one of the cheapest providers, with plans up to 500 Mbps for $40 per month.
Internet options in nearby cities
Huber Heights stands out from nearby cities primarily because it's such a hot spot for Metronet. Most cities in the Dayton area lack access to Metronet. But excellent Spectrum coverage in Huber Heights is par for the course with nearby cities—Spectrum is highly available throughout Ohio.
See all options in your area within seconds.
What Huber Heights residents are saying on Reddit
Although we couldn't find any Reddit threads where Huber Heights residents chimed in about their internet experience, the larger Dayton area seems to experience similar trends. Residents are generally happy with local providers when they're available—they tend to offer better customer service and more value for the speed. But highly available Spectrum and AT&T fiber also got positive remarks—aside from the inevitable price hikes from Spectrum.
Best Internet-only service options?
Beavercreek/WPAFB area. Looking for suggestions on a local service provider for internet-only. Who has had a good experience, and what is the monthly cost?
Had nothing but problems with Spectrum equipment and service. Switched to IgLou (reselling ATT fiber) and have had 0 issues. Definitely worth seeing if they service your address.
---
Who does everyone use for internet? I've used spectrum for almost 10 years now and have always been satisfied. They upped their price to where we are not paying 85 p/mo and the internet has been spotty. Getting very frustrated, but idk where else to go. I found a company called EarthLink that offers 75 Mbps for 25 p/mo, but I've never heard of them so I'm weary...
ATT Fiber. 500mbps for $55 per month. Zero issues.
---
Post by u/Curious-Barnacle98
08/22/2022
Best cheap internet provider…
What is the best internet provider in the area with a relatively cheap monthly rate?
EDIT: Thank you for all the info and suggestions!
Internet news and infrastructure in Huber Heights, OH
The biggest infrastructure news for Huber Heights was Metronet's announcement at the end of 2022 that it planned on upgrading its network to 100% fiber with speeds up to 2,000 Mbps for residents and 10,000 Mbps for businesses. (1) Although the upgrades to Metronet's network in Huber Heights were made without any service interruptions, which was surely welcome in a city where residents were previously upset by construction of Metronet's network back in 2021. (2)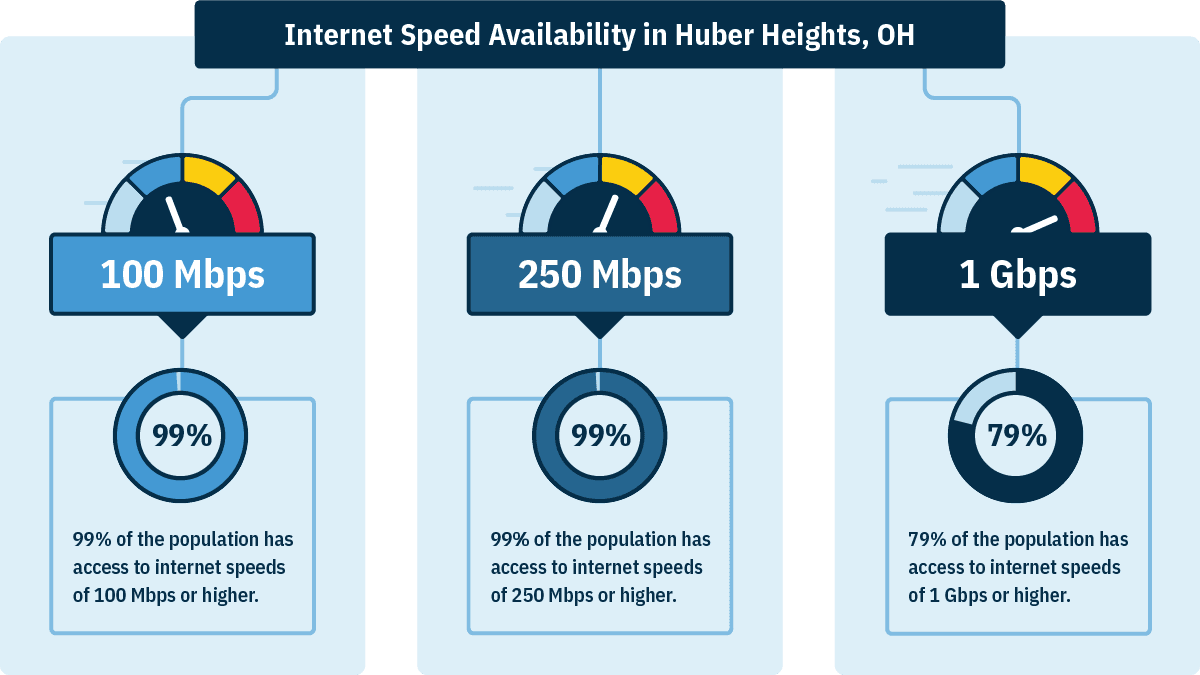 Frequently asked internet questions in Huber Heights
---
Fiber internet is generally around 1,000 Mbps, although it can be much slower or faster than that depending on your provider. Some fiber providers offer speeds up to 10,000 Mbps while others max out around 500 Mbps. Cable internet tops out at 1,000 Mbps while DSL goes up to 100 Mbps, so fiber is definitely the fastest internet option out there.
---
No, DSL internet is not fast. DSL internet tops out at 100 Mbps, but most plans hover closer to 50 Mbps. Although this might be enough speed for your household, DSL speeds hardly stand up against fiber speeds that stretch to 10,000 Mbps in some areas.
---
Fiber is a type of internet, while Wi-Fi is a way to access the internet. That means that you can have fiber Wi-Fi. If you have a fiber internet provider, then the Wi-Fi network created in your home by your router will be fiber-based Wi-Fi. But you can also have DSL Wi-Fi and cable Wi-Fi—it just depends on your internet type.
---
Yes, Ohio has fast internet. AT&T fiber and Spectrum are some of the fastest internet providers available and both have extensive coverage in the state. AT&T Fiber reaches speeds up to 5,000 Mbps while Spectrum goes up to 1,000 Mbps.