Our top 3 ISP choices in Dayton, OH
The best internet options in Dayton are AT&T Fiber, altafiber, and Spectrum. T-Mobile Home Internet is another solid option if you don't need internet faster than 100 Mbps.
#1: AT&T fiber internet
AT&T fiber offers the fastest internet speeds in the Dayton area, with plans up to 5,000 Mbps—although an internet plan that fast will cost you nearly $200 per month. But you can still get fiber internet speeds up to 1,000 Mbps for around $85 per month. AT&T is available in nearly all of Dayton and the surrounding area with the exception of only a few random small pockets.
Read our full AT&T review.
#2: altafiber internet
altafiber is a small, local fiber internet provider that's primarily based in Cincinnati and the surrounding area, but it has some small areas of coverage that extend to the Dayton area. altafiber is a highly affordable fiber provider offering speeds up to 2,000 Mbps, which is faster than Spectrum. Most of their coverage in Dayton overlaps with AT&T fiber coverage, but it's a good alternative to consider if you prefer local internet providers over national behemoths.
#3: Spectrum Internet
Spectrum is by far the most available internet provider in Dayton. If you live in Dayton and you don't have access to Spectrum, we will be very surprised. Spectrum is a middle-of-the-road internet provider. It offers solid speeds up to 1,000 Mbps in the Dayton area that come at reasonable prices, but it's also prone to price increases and pesky fees.
Read our full Spectrum review.
All internet providers in Dayton
Although we recommend going with AT&T Fiber, altafiber, or Spectrum, there are several other internet options available in the Dayton area worth considering as well. T-Mobile Home Internet and Verizon Home Internet are the strongest alternatives. T-Mobile is much more available in the Dayton area than Verizon, but there will be some areas where you can choose between them. In addition to altafiber, Metronet is another small fiber provider available in the Dayton area, but its service area is very limited.
We don't recommend going with HughesNet, Starlink, or Viasat because they're all satellite internet providers. Satellite internet is available nationwide. But it's really only a sustainable option for rural areas that lack the infrastructure to support cable and fiber internet options. People with satellite internet pay more money each month for less data and less speed, and they have to deal with hefty equipment that often comes with high fees.

Fastest internet providers in Dayton
AT&T fiber offers the fastest internet in Dayton with speeds up to 5,000 Mbps (5 Gbps). Although altafiber and Spectrum might seem far behind with top speeds up to 2,000 Mbps and 1,000 Mbps respectively, the actual value to the user isn't much different. Most households will have more than enough internet speed with 1,000 Mbps and even 500 Mbps. So paying for anything faster than that is generally overkill unless you live in a house chock full of professional gamers or bitcoin miners. Learn more about how much internet speed you'll need for your household.
How much speed do you need?
When choosing an internet plan, you want to keep all of your activities running smoothly without paying extra for speeds you don't need. At the bare minimum, you need 25 Mbps to do light browsing on one or two devices. Most households with multiple people and multiple devices will want to look for speeds in the 100–500 Mbps range. Learn how much speed your household needs in our guide to internet speed.
Cheapest internet providers in Dayton
Spectrum offers the cheapest internet plans in Dayton for about $40 per month, but that price is only guaranteed for 2 years. If you want the cheapest internet from a provider that promises no price hikes thanks to its Price Lock guarantee, go with T-Mobile Home Internet for $50 per month. But keep in mind that many people in Dayton are still on a waiting list for T-Mobile Home Internet. Another way to save money on internet is to see if you qualify for free or low-cost internet through the Affordable Connectivity Program.
Internet options in nearby cities
Dayton has the most complete internet coverage in the area, but there are some internet options available in nearby cities that you can't get in Dayton. For example, Spectrum offers fiber-rich internet in select pockets near Fairborn and the Wright-Patterson Air Force Base as well as a few small areas between Kettering and Beavercreek. Learn more about what's available in these cities:
See all options in your area within seconds.
What Dayton residents are saying on Reddit
Most people in the Dayton area seem to have Spectrum Internet but are open to exploring other options. They've generally been pleased with Spectrum's performance, but are either unhappy with the price hikes or ready to find a faster option for less money. Many residents recommend going with a local fiber provider if it's an option for you, citing fast speeds for affordable prices. AT&T is another commonly suggested alternative, although some residents don't have access to the best speeds AT&T can offer.
If you want to read more about what Dayton residents have to say about internet service, check out these threads:
Best Internet-only service options?
Beavercreek/WPAFB area. Looking for suggestions on a local service provider for internet-only. Who has had a good experience, and what is the monthly cost?
Had nothing but problems with Spectrum equipment and service. Switched to IgLou (reselling ATT fiber) and have had 0 issues. Definitely worth seeing if they service your address.
---
Who does everyone use for internet? I've used spectrum for almost 10 years now and have always been satisfied. They upped their price to where we are not paying 85 p/mo and the internet has been spotty. Getting very frustrated, but idk where else to go. I found a company called EarthLink that offers 75 Mbps for 25 p/mo, but I've never heard of them so I'm weary...
ATT Fiber. 500mbps for $55 per month. Zero issues.
---
Post by u/Curious-Barnacle98
08/22/2022
Best cheap internet provider…
What is the best internet provider in the area with a relatively cheap monthly rate?
EDIT: Thank you for all the info and suggestions!
Internet news and infrastructure in Dayton, OH
Although Spectrum is widely available in Dayton, there are still an estimated 1.2 million Ohio households without high-speed internet (25 Mbps or faster), with Montgomery County containing 62,400 of those households. (1) In addition to federal investments in infrastructure support programs, local communities within Montgomery County are also meeting to discuss how to expand broadband access to these households. (2)
But with the expansion of more affordable providers like Verizon Home Internet and T-Mobile Home Internet, hopefully more households in Dayton will have access to faster speeds for less. Availability is still limited in some areas for these emerging providers, but Verizon recently announced upgrades to its Dayton network and T-Mobile continues to expand access as customers come off the waitlist for home internet. (3, 4)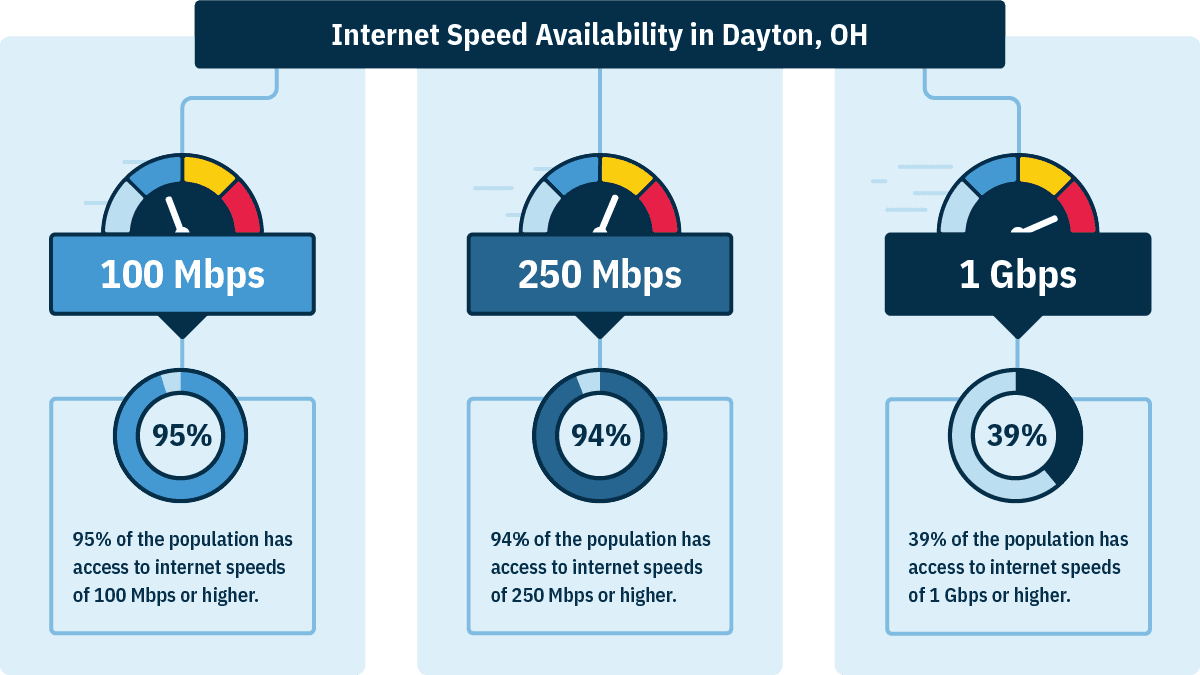 Frequently asked internet questions in Dayton
---
Yes, there is fiber internet in Dayton, Ohio. You can get fiber internet in Dayton from AT&T, altafiber, or Metronet. AT&T fiber offers speeds up to 5,000 Mbps and is the most available fiber internet provider in Dayton.
---
No, Comcast (Xfinity) is not available in Dayton, Ohio. Xfinity is a cable internet provider with very limited coverage in Ohio. If you want a cable internet alternative to Comcast in Dayton, we recommend you go with Spectrum.
---
The best Wi-Fi in Ohio is Spectrum Internet because it's the most widely available and offers speeds up to 500 Mbps for around $40 per month. But if you live in Dayton or another city in Ohio with fiber access, you'll get better Wi-Fi from a fiber provider like AT&T or altafiber. Spectrum is a cable internet provider, so it can be prone to slowdowns, whereas fiber internet is super reliable and super fast.