Our top 3 ISP choices in Greensboro, NC
Whether you go with a fiber internet plan or choose the local cable internet provider, you can get fast internet throughout Greensboro with a wide range of plans and prices. Decide based on what's available to your exact address and whether you want to bundle your internet with a live TV service.
#1: AT&T Fiber internet
AT&T has been busy replacing its old DSL cables with fiber-optic wiring in many parts of North Carolina, and Greensboro is no exception! If fiber has already gotten to your address, you can choose very, very fast plans up to 5 Gbps. We generally recommend plans closer to the 300–500 Mbps range for most families, and these are available from AT​​&T starting at around $55. Monthly rental of Wi-Fi equipment is included with AT&T and contracts aren't required, but you may have to cover $50–$100 for installation.
If you can't get fiber yet, you may have to settle for DSL with AT&T. These plans are much slower and less cost-effective. Usually, cable internet is a better choice than DSL.
Read our full AT&T review.
#2: Spectrum internet
If you need just a little speed and want to pay a little bill every month, Spectrum internet is a nice option. You can get plans as inexpensive as $30 per month for speeds up to 100 Mbps, which is fast enough for a small household. You can also pay for speeds as fast as 1 Gbps (1,000 Mbps), with lots of plan options in between. All Spectrum plans come without required contracts or data caps, but there is a $5 monthly equipment fee if you don't already have a compatible router you can use. To get started, there's a $10 activation fee, plus a $25 fee if you install yourself or a $60 fee if you need a pro to help. Prices increase after a year or two, so we recommend calling in to renegotiate on your Spectrum internet anniversary.
Since it's a cable provider, Spectrum also offers a range of plans for live TV, but like with internet, prices go up after one to two years.
Read our full Spectrum review.
#3: Lumos internet
Fiber internet plans from Lumos (formerly NorthState Communications) start at 200 Mbps and go all the way up to 5 Gbps. We like that Lumos is a small, local company with a great reputation for customer service. Its prices on 200 Mbps and 500 Mbps plans are competitive. The price of 1 Gbps speeds starts at $10 less than you'd pay for AT&T, but prices go up after a year. If you choose the cheapest plan with Lumos, you'll be on the hook for a $75 installation fee. You may also need to pay an additional $10 per month to rent Wi-Fi equipment.
Lumos offers fiber TV alongside its fiber internet plans, and they're fairly comparable to what you could get from Spectrum or a live TV streaming service.
All internet providers in Greensboro
Greensboro and the surrounding area is well-served by fiber and cable providers, but you also have options for 5G home internet. The area is also technically reachable by satellite internet providers, but plans are slow and expensive, so we rarely recommend them.
T-Mobile offers its best service, 5G Ultra Capacity, to virtually all of Greensboro (2), and prices start as low as $25 if you already have T-Mobile for your cell phone. Verizon offers 5G Ultra Wideband to a lot of town (3), but there are some areas that still have just 5G Nationwide (it's second-best plan) or 4G LTE, especially if you get as far east as Franklin Boulevard and along stretches of Friendly Avenue on the west side of town.
While both providers offer 5G, their technology works a little differently. T-Mobile's network is better in cities where there are obstacles like buildings to deal with, but Verizon's 5G network tends to be better farther out, when distance from a tower is the biggest issuue.
Fastest internet providers in Greensboro
Two fiber internet providers in Greensboro are tied for fastest. With AT&T, our top pick, you can get speeds up to 5 Gbps for around $90 per month. That's fast enough to hypothetically stream dozens of shows in HD at the same time or download massive files in milliseconds, and probably faster than almost any home would need. You can also get 5 Gbps plans from Lumos, but to do so you'll have to call in and have a conversation with a representative. Lumos doesn't list prices for its 2 Gbps and 5 Gbps offerings, and you can't order online.
How much speed do you need?
When choosing an internet plan, you want to keep all of your activities running smoothly without paying extra for speeds you don't need. At the bare minimum, you need 25 Mbps to do light browsing on one or two devices. Most households with multiple people and multiple devices will want to look for speeds in the 100–500 Mbps range. Learn how much speed your household needs in our guide to internet speed.
Cheapest internet providers in Greensboro
Some of the cheapest internet you can get is from Spectrum, which offers a roughly $30 plan for 100 Mbps speeds. But if you don't have your own router and need to rent the company's Wi-Fi equipment, you'll pay an extra $5 monthly fee. You can pay slightly less if you bundle mobile service with home internet from a fixed wireless provider, but Spectrum's speeds will be much more reliable. With fixed wireless internet from a 5G provider, you can sometimes get speeds as fast as 175 Mbps, but they can slow way down if you're too far from a cell tower or if the network gets busy
Internet options in nearby cities
Greensboro and High Point are the best places to find fiber internet from Lumos right now, but Lumos has big plans to grow its footprint throughout the region. In other areas, AT&T and Spectrum are widely available, and both Verizon and T-Mobile have good 5G coverage for fixed wireless home internet.
Learn more about internet options in cities near Greensboro:
See all options in your area within seconds.
What Greensboro residents are saying on Reddit
Spectrum has a poor reputation in and around Greensboro, but many people have been pleased with fiber internet from Lumos (formerly NorthState). Some people also like AT&T, and they appreciate that it gives discounts to union members but have nasty things to say about its customer service track record.
Internet news and infrastructure in Greensboro, NC
Greensboro was all aboard for fiber internet early on, with the city building out its first fiber infrastructure before most people had ever heard of it. That first network, dubbed the Tri-Gig initiative, was available only to business and city departments, but it has since expanded throughout the area. Naming and corporate ownership have gone back and forth over the years, but now that legacy network is controlled by Lumos. The Alamance News investigated the saga, and we recommend its write-up to get a feel for  the whole history.
Today, Lumos is still working with the government to continue building out its network in North Carolina. It has received $10 million in taxpayer funds to build out a fiber network in Orange County but will also be building in Asheboro, Franklinville, and Ramseur. Already, it offers fiber-to-the-home internet in Oak Ridge, High Point, Greensboro, Walkerton, and parts of Kernersville. The company also scored $4.3 million from federal taxpayers to build out its network to more than 700 homes in Alamance County. Lumos is spending its own $639,465 and connecting another 546 homes on its own dime, according to the Alamance News.
In Greensboro proper, plans are underway to build fiber infrastructure in the South Elm Street area. The city is hoping to create an "Innovation District" in that area and is using a different source of federal funding to help pay for it. (4)
Meanwhile, 5G providers have been working to improve their networks in the Greensboro area. Verizon recently boasted it had improved median download speeds by 159% and improved upload speeds by about 58% in 2022. (5)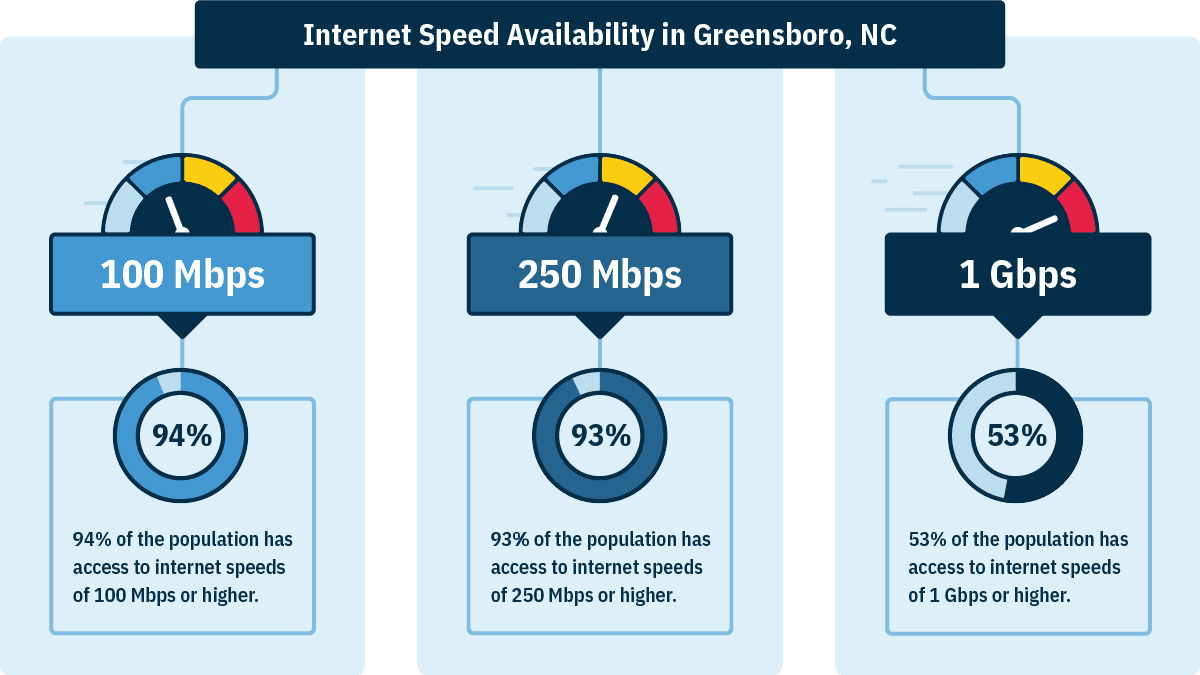 Frequently asked internet questions in Greensboro
---
No, Xfinity internet is not available in Greensboro, whether you're looking for home internet or a public hotspot. Instead, the local cable internet provider in the Piedmont Triad is Spectrum. Plans and prices from Xfinity and Spectrum are similar across the country, but there are a few differences.
With Xfinity, you will be limited to a 1.2 TB data cap on some of the slower plans, but you'll benefit from speeds that are often even faster than what the company advertises. (6) Spectrum is nearly as good when it comes to reliability, but there are no data caps. Both companies are popular to hate, but we think some of that angst may be about past experiences rather than the current ones.
Compare Xfinity vs. Spectrum using the Switchful side-by-side tool.
---
Yes, most of Greensboro can choose between AT&T and Lumos for fiber internet. Plans start out a little less expensive from Lumos, but there are equipment fees to worry about and prices on some plans go up after a year. Faster plans often cover installation fees, but you may have to pay $75 to get started with a new connection. AT&T includes internet equipment in the monthly cost, but you may have to pay $50–$100 for installation.
Learn about how fiber internet works.
---
If you can get fiber internet to your Greensboro home (and there's a good chance you can), we recommend it over cable, DSL, or satellite options. The two big fiber providers are Lumos (formerly Northstate) and AT&T. Prices and plans are similar, so it's best to see which provider reaches your exact address before you decide.