Our top 3 ISP choices in High Point, NC
Choosing a home internet provider in High Point comes down to price, speed, and availability to your specific address.
#1: Lumos internet
Lumos is a small internet provider on the grand scale of things, but it competes with some of the nations biggest fiber internet providers out there when it comes to price and available speeds. You can get speeds up to 200 Mbps for around $40 per month, plus an additional $10 per month if you need to rent the Lumos "Total Home Wi-Fi" system rather than use your own router. You can also get speeds of 500 Mbps or 1 Gbps (1,000 Mbps), and prices for the gig plan are fantastic. They go up after a year though, so you may want to call the company at that time and see if you can negotiate to a lower price.
Most homes in High Point have access to the Lumos fiber network, but some areas near Montclair, Level Cross, and Pleasant Garden are still on the old DSL network from Lumos. That means slow speeds (without a corresponding break on price). If you don't yet have access to Lumos fiber, you can join the waiting list.
#2: Spectrum internet
You can save money every month with Spectrum if you don't need fast speeds. You can also find a  nice selection of mid-range plans, or buy the most expensive 1 Gbps plan if your household needs to connect several devices at once. We like the range of prices but are a little less satisfied with the extra $5 per month the company tacks on if you need to use one of its Wi-Fi routers. That said, it's great that there are no contracts or data limits with Spectrum, and we hear that its reputation for customer service is improving. (2)
Read our full Spectrum review.
#3: T-Mobile internet
T-Mobile offers fast, reliable service throughout High Point with its 5G Ultra Capacity network. Even if you get as far out as Miles Cross Road or Londonberry Estates, you'll still get 5G Extended Range speeds from the carrier. That means speeds that can be as fast as about 175 Mbps, which is much faster than you can get with Spectrum for the price! However, speeds can be as slow as 30 Mbps if the network is busy, so 5G home internet from T-Mobile isn't our top pick for reliability. It's still nice if you want to bundle with your mobile phone plan, though, and we love the super-simple setup.
Read our full T-Mobile 5G internet review.
All internet providers in High Point
Home internet plans are available in High Point from cable, fiber, and fixed wireless 5G providers. Verizon competes with T-Mobile for 5G home internet and offers its best coverage, 5G Ultra Wideband, in most of High Point. If you get as far west as Westchester Drive or as far east as Brentwood Street, though, you may get only the provider's 5G Nationwide coverage. In most cases, we recommend T-Mobile if there are a lot of buildings or obstacles nearby and recommend Verizon if you're relatively far from the nearest 5G tower because while the carrier's use similar 5G technology, there are frequency band differences that affect how the signals travel.
Other internet providers may be available to parts of High Point, but they still offer slow DSL speeds so didn't make our list of recommendations. We don't recommend satellite internet in High Point, either, because fiber and cable internet plans are almost always cheaper and much, much faster.
AT&T fiber internet, which is available to many homes near High Point, isn't easy to get in High Point itself.
Fastest internet providers in High Point
Lumos offers the fastest internet in High Point. If you're accustomed to a DSL or 5G connection, speeds from Lumos will feel like a breath of fresh air. You can technically pay for speeds of up to 5 Gbps with fiber internet, but most families won't see any benefit from having speeds faster than about 500 Mbps. Lumos also offers plans at that speed, with upload speeds equal to download speeds.
How much speed do you need?
When choosing an internet plan, you want to keep all of your activities running smoothly without paying extra for speeds you don't need. At the bare minimum, you need 25 Mbps to do light browsing on one or two devices. Most households with multiple people and multiple devices will want to look for speeds in the 100–500 Mbps range. Learn how much speed your household needs in our guide to internet speed.
Cheapest internet providers in High Point
T-Mobile, Verizon, and Spectrum all offer relatively inexpensive internet plans in High Point. You could get discounts on fixed wireless internet from T-Mobile or Verizon if you already use them for cell service. Spectrum has a 100 Mbps plan for around $30, but you'll have to pay an extra $5 per month if you don't have your own equipment.
All the providers we've recommended participate in the federally funded Affordable Connectivity Program, which offers $30 off internet bills per month to certain lower-income families and seniors. Some providers also offer free or cheap internet access to certain families, often including low-cost or free laptops.
Internet options in nearby cities
Lumos internet is available throughout High Point and  much of Greensboro, and it's growing its network rapidly with the help of federal taxpayer dollars. In other cities, AT&T internet is the best fiber provider most homes can access, and Spectrum's cable internet is the most widely available.
Both AT&T and Lumos have some legacy customers still using their respective DSL networks, but these folks can look forward to a big upgrade when fiber internet comes to their front doors. Throughout the region, T-Mobile provides excellent 5G home internet, and Verizon 5G is nipping at its heels.
Learn more about internet options in cities near High Point:
See all options in your area within seconds.
What High Point residents are saying on Reddit
High Point neighbors love fiber internet from Lumos, but don't have a lot of great things to say about Spectrum or AT&T.
Internet news and infrastructure in High Point, NC
High Point is a well-connected city when it comes to internet access. More than 90% of addresses can get speedy cable internet from Spectrum or a 5G fixed wireless provider, and 73% have access to fiber internet from Lumos. (1)
Soon, even more households could get a Lumos fiber connection. The company, formerly known as NorthState, built out a fiber network for the city government and local businesses many years ago. The name and ownership have changed since then, but the company is still working with local and federal governments to continue building out its network. (3)
Mobile phone carriers have also been busy improving their 5G networks in High Point. T-Mobile is our top pick for its breadth of coverage, but Verizon recently announced it had improved median download speeds for its customers by more than 150% within a year. (4)
If you don't yet have home internet in High Point, you can use a public computer at the local library for up to two hours (or longer, if the computer lab isn't full).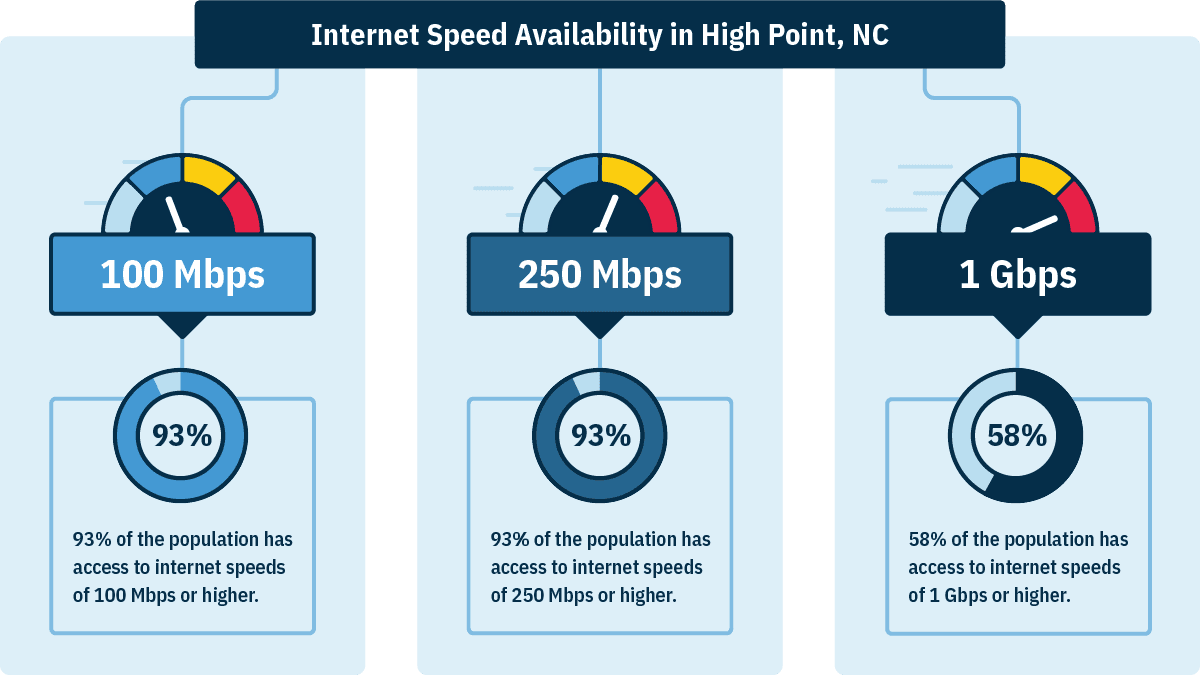 Frequently asked internet questions in High Point
---
Spectrum is a cable internet provider. That means it uses the same wiring you would use to connect a cable TV. However, much of the backbone of Spectrum's network is connected by fiber-optic cables.
Cable internet can't handle upload speeds as fast as you would get from a 100% fiber-to-the-home connection, but its download speeds are just as fast as what you can get from fiber for almost all practical purposes.
---
The best internet for streaming shows and movies in High Point depends on your exact address, but either fiber internet from Lumos or cable internet from Spectrum will be fast enough and reliable enough most of the time. The more streams you have running at the same time, the more bandwidth (and faster speed) you'll need.
If you're livestreaming your own gameplay, on the other hand, we generally recommend fiber internet. In High Point, Lumos offers synchronous speeds to its fiber customers, meaning you can upload to Twitch or TikTok just as fast as you can download from those platforms.
---
Lumos fiber internet is a great choice for gaming. Since it's fiber internet, you'll benefit from unmatched reliability and ping that will take your breath away. If you can get only DSL internet from Lumos, though, it might not be fast enough for many online games and definitely won't be fast enough for VR chat.
If that's your situation, Spectrum cable internet is the next-fastest and most reliable option in High Point.