Our top 3 ISP choices in Burlington, NC
Choosing home internet in Burlington depends on your monthly budget, whether you can get fiber internet, and whether you want to bundle with TV or your mobile phone plan.
#1: AT&T fiber internet
AT&T provides both fiber internet and DSL internet in the Burlington area. Whether this provider is right for you depends on which network you can get on. If you can get fiber, you'll benefit from fast, reliable speeds with plans starting at $55. You won't have to worry about contracts or monthly equipment fees, and installation costs are about average.
If you are still in one of AT&T's DSL areas (which is common if you get very far south or north of the town center), you're in for much slower speeds and worse pricing per megabit. AT&T isn't selling new DSL plans any longer, though, so if you're getting new AT&T internet, you'll be getting fiber.
Read our full AT&T internet review.
#2: Spectrum internet
Cable internet from Spectrum is available to virtually every home in Burlington and the wider Greensboro area (1), and plans start as low as $30 per month for 100 Mbps. We more often recommend speeds in the 200 Mbps or 300 Mbps range for connected families, and both are available from Spectrum. If you don't already have your own router, you'll need to rent one from Spectrum for $5 per month. However, there are not contracts or data caps to worry about. Prices may go up after your first year, so we recommend setting yourself a calendar reminder to call customer service and negotiate.
Read our full Spectrum internet review.
#3: T-Mobile 5G internet
T-Mobile offers home internet that works by way of a single piece of equipment you plug into the wall and manage with a mobile phone app. It's easy to use and faster than ever. The best coverage from T-Mobile, 5G Ultra Capacity, is available throughout Burlington. (2) It doesn't drop down to 5G Extended Range until you get west of Gibsonville or down into the Swepsonville area. It is the nature of 5G to be less reliable than cable or fiber internet due to network congestion and other factors, so be sure to plug in your shiny new T-Mobile equipment as soon as it arrives. That way, if it's not fast enough, you can return it within the 15-day trial period.
Read our full T-Mobile 5G internet review.
All internet providers in Burlington
Internet options in Burlington are similar to what you'll find throughout the Piedmont Triad, but with some differences. Our top three picks are AT&T, Spectrum, and T-Mobile in most areas, and they are decent choices almost anywhere in the state. You can also get internet from satellite internet providers, a DSL provider, and other 5G fixed wireless providers.
Verizon is one of T-Mobile's biggest competitors for 5G in North Carolina, but it offers just 4G LTE in downtown Burlington. That means max speeds of just 50 Mbps, and that's in 100% ideal conditions. Further out of the town center, you might get 5G Ultra Wideband or 5G Nationwide.
Brightspeed, which recently bought CenturyLink's network in the area, offers slow DSL plans of about 20 Mbps, which is slower than even the cheapest plan from Spectrum and not fast enough for most modern households.
Satellite internet is available throughout Burlington, too, but we rarely recommend even the best satellite internet providers if you have any other option because it's hard to get, expensive, and much slower than virtually any cable or fiber internet plan.
Fastest internet providers in Burlington
The fastest internet provider in Burlington is AT&T. If you can get one of its fiber-to-the-home connections, you'll have the option to pay for speeds up to a whopping 5 Gbps. That's far too fast for almost any home to handle, but it might make sense for certain businesses in the area.
How much speed do you need?
When choosing an internet plan, you want to keep all of your activities running smoothly without paying extra for speeds you don't need. At the bare minimum, you need 25 Mbps to do light browsing on one or two devices. Most households with multiple people and multiple devices will want to look for speeds in the 100–500 Mbps range. Learn how much speed your household needs in our guide to internet speed.
Cheapest internet providers in Burlington
If you have your own compatible router already, Spectrum offers the cheapest internet plans in Burlington. For just $30 per month, you can get speeds fast enough for a small household. Prices go up after a year, though, and there's an additional $5 monthly charge if you need to rent a Wi-Fi router. T-Mobile and Verizon also offer plans for about $25 in Burlington if you bundle with cell service, and they're fast enough for most applications if you're in a 5G area.
If you're in a low-income household with students or seniors, you may be able to get internet for zero cost (or very cheap) by accessing the taxpayer-funded Affordable Connectivity Program. Get the details about the federal initiative and see if there are any other ways to save on your internet bill.
Internet options in nearby cities
Lumos internet is primarily available to Greensboro and High Point, but it's growing its fiber footprint throughout the Piedmont Triad.
Throughout the rest of the metro area, AT&T fiber internet, Spectrum, and T-Mobile are easy to get and offer a nice selection of plans, but some spots are still stuck with old DSL Networks.
Learn more about differences in home internet options in cities near Burlington:
See all options in your area within seconds.
What Burlington residents are saying on Reddit
Lumos fiber is the most popular internet provider in cities that surround Burlington, NC, but it may not yet be available to many homes in Burlington proper. Throughout North Carolina, people say they prefer fiber internet over any other connection type and have complaints about customer service from both Spectrum and AT&T.
Internet news and infrastructure in Burlington, NC
There hasn't been a lot of recent news about internet infrastructure in Burlington specifically, but state and federal governments are working with a private company to build out fiber internet access in many parts of the Piedmont Triad, and parts of Burlington may benefit.
Lumos (formerly NorthState Communication), built an early fiber-optic network in Burlington and nearby cities to serve businesses and city governments. The company has since changed hands but continues to work with local governments. Under it's new name, it has won the lion's share of these governmental contracts to build out its fiber networks. (3)
Lumos has also pledged to invest millions of its own dollars to build out fiber infrastructure in the area. Visit the corporate site to check if Lumos is available at your address or get on the waiting list.
Meanwhile, Alamance County is working with the state of North Carolina to better understand how many of its residents have access to the internet. In March 2022, the county issued a press release that reported nearly 30% of residents didn't have internet access, and more than 50% could access max speeds of 39 Mbps or less. Those figures appear to be out of date, if you trust a different mapping effort from the Federal Communications Commission that was released at the beginning of 2023. (1) However, it's likely that many families still don't have great ways to get online.
If you don't have good home internet, you can try visiting one of the public libraries in Alamance County. Its Mobile Cafe's are a great way to work or study remotely.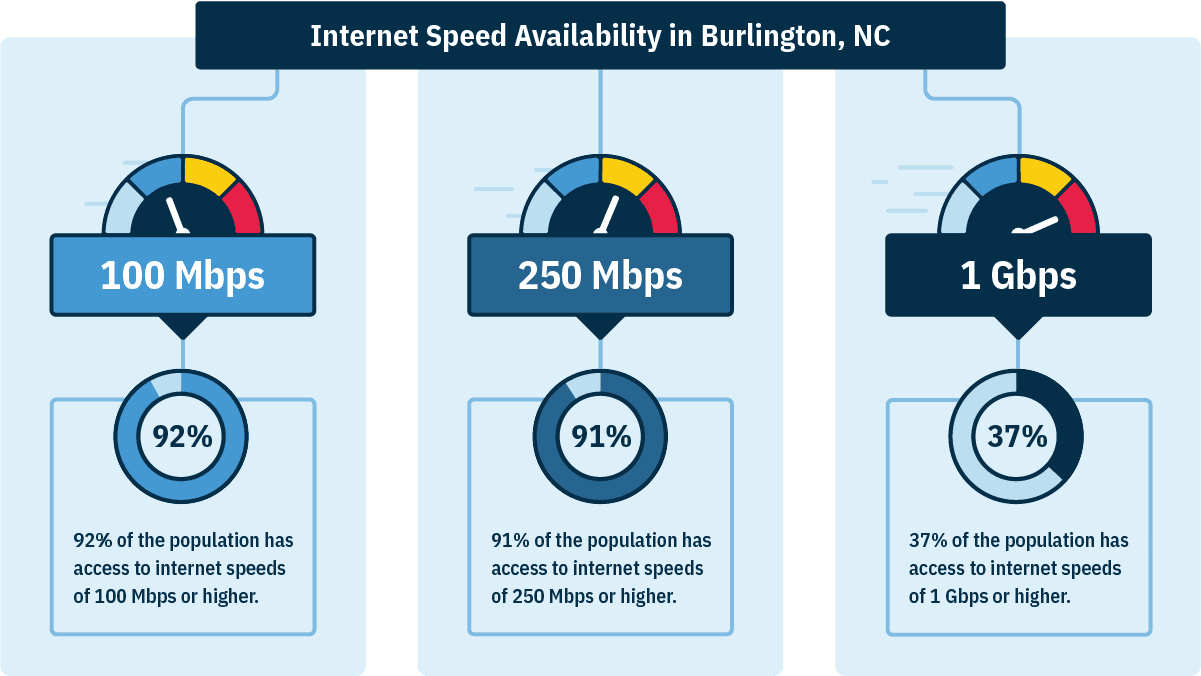 Frequently asked internet questions in Burlington
---
Yes, high-speed internet is available throughout much of North Carolina and to at least 9 in 10 homes in Burlington. (1)
Throughout North Carolina, many of the most heavily populated areas can get fiber internet service, and cable internet speeds are available in most metro areas as well. You can get fiber internet plans as fast as 5 Gbps in some spots or cable plans as fast as 1 Gbps. That's more than most households need, but it's nice to see providers starting to offer these gigabit speeds in the Tar Heel state.
---
If you love gaming and can get AT&T fiber internet in Burlington, you're in for a treat. Plans start at 300 Mbps, which is plenty fast for even VR gaming on a PC. Spectrum also has a nice offering for games, and has ping rates that are almost as fast as what you could get from fiber.
Whether you have AT&T fiber or Spectrum in Burlington, you won't have to worry about data caps or contracts. With Spectrum, though, you'll be on the hook for an extra $5 on top of your monthly bill unless you use your own router.
Compare plans between AT&T and Spectrum using the Switchful side-by-side tool.
---
Our expert reviewers give Spectrum 3.3 stars overall for its internet service, and they give T-Mobile 5G internet 3.6 stars. Which provider is right for you depends on two major factors: how far you are from the nearest 5G tower and how much speed you need.
Spectrum offers plans with much faster speeds, and those speeds are more reliable than anything you could get from a 5G provider. However, they're also more expensive. 5G providers, on the other hand, offer low prices for speeds that can be very fast but are subject to slowdowns if you're not near a tower or if the network gets busy.
Compare our T-Mobile 5G and Spectrum reviews side by side so you can decide for yourself.