Best internet providers in

Winston-Salem, North Carolina
Home internet customers in Winston-Salem can choose between fiber internet, cable internet, or fixed wireless 5G internet, with different speeds and prices available for each. Our top choice throughout most of the Piedmont Triad is AT&T because its speeds are fast and reliable, and the pricing is straightforward. If you want to spend less and don't have a busy, connected household, a budget plan from Spectrum might be the right fit.
Bundling your home internet with your cell phone bill can also be a good way to save money every month. Our team of expert reviewers recommends T-Mobile as the top 5G home internet provider in the Winston-Salem area.
---
Plans starting at $55.00 - $180.00
Download speeds up to 5000Mbps
Upload speeds up to 5000Mbps
---
Click below for all current AT&T deals
Disclaimer: Availability and pricing are subject to location. Conditions apply. For offer details, view disclaimers
---
Plans starting at $29.99 - $169.97
Download speeds up to 1 Gbps
Upload speeds up to 35 Mbps
---
Click below for all current Spectrum deals
Disclaimer: Availability and pricing are subject to location. Conditions apply. For offer details, view disclaimers
---
Download speeds up to 182 Mbps
Upload speeds up to 23 Mbps
---
Click below for all current T-Mobile deals
Disclaimer: Availability and pricing are subject to location. Conditions apply.
How we rank internet providers
We have a robust rating system to score internet service providers overall, but the quality of service could vary city to city. When narrowing down the best providers specific to Winston-Salem, we considered factors like availability, value, performance, and customer experience. We source information directly from the ISP's themselves, the FCC, and first-hand insights from residents of Winston-Salem.
Our top 3 ISP choices in Winston-Salem, NC
Your choice of home internet provider in Winston-Salem will come down to availability, pricing, and the max speeds you need.
#1: AT&T fiber internet
AT&T fiber is readily available in Greensboro, and it promises more reliability and speed than any other provider in city limits. It's our top provider nationally, and we also think it's a good choice for North Carolina households. Plans start at around $55 per month for speeds of 300 Mbps. Our experts say that's fast enough for most households. You can instead pay for speeds all the way up to 5 Gbps (5,000 Mbps), but that's overkill for most. Equipment is included every month, and there are no contracts to worry about, but installation fees range from $50–$100 depending on whether you can do the work on your own.
In some areas of town, particularly if you live in parts of Arcadia, Midway, or Eureka Mills, AT&T may not yet offer fiber. Instead, it relies on its old DSL network, which uses the same kind of cabling you used to use to make landline phone calls. This tech is a lot slower and prices aren't great, but AT&T has stopped selling new DSL plans so if you're seeing ads from the company, you're going to be getting fiber.
Read our full AT&T fiber internet review.
#2: Spectrum internet
Spectrum has the widest availability of any provider in Winston-Salem, and we love its lowest-tier plans for budget shoppers. If you live alone or your family just doesn't use the internet much, you can pay just $20 for speeds up to 30 Mbps (or $25, if you need to rent the Spectrum Wi-Fi equipment). Other plans from Spectrum include speeds up to 100 Mbps, 200 Mbps, 300 Mbps, 500 Mbps, and even 1 Gbps (1,000 Mbps). Spectrum's prices go up after the first year, which is a bummer, but there are no contracts and no data limits, and you can use your own router if you want to save money.
Read our full Spectrum internet review.
#3: T-Mobile internet
Home internet from T-Mobile is faster and more reliable than ever, and plans rival what you would pay with more traditional internet providers. The best 5G coverage (5G Ultra Capacity) is available throughout Winston-Salem, though you might experience a small downgrade to 5G Extended Range if you get northeast of Kernersville or west of Lewisville. (1) Major arteries are covered throughout the region, though, and dropoffs to 4G LTE are rare. If you bundle your 5G home internet with your mobile phone plan, you can pay as little as $25 per month for internet. Speeds may slow down during busy times or if you're too far from a 5G tower, though, so it's best to take advantage of the 15-day trial period and plug in your new T-Mobile equipment as soon as it arrives.
Read our full T-Mobile 5G review.
All internet providers in Winston-Salem
Internet access in Winstom-Salem is about average for cities of its size, with options for fiber internet from AT&T, cable internet from Spectrum, or fixed wireless 5G internet from Verizon or T-Mobile. Verizon offers 4G LTE in most of Winston-Salem (2), but you might get a better signal closer to Greensboro, where the company announced it had increased median download speeds by more than 150%. (3)
In about 10% of town, you may also have the option of X1 Communications for home internet. X1 Communications is a  small, local fixed wireless internet provider that mounts radio receiver dishes on roofs rather than relying on a cell phone carrier's 5G network. Residential plans start at $39 per month, and business plans start at $45 per month. There's no equipment to buy, no installation fees, and no contracts. The company builds custom packages, though, so you'll need to call in to see what your costs will be.
You can also technically get satellite internet in Winston-Salem, but it would probably be slow and expensive compared to your other options so we don't usually recommend it. That may change in the future if Starlink's network of  low-orbit satellites grows to accommodate more users, but for now waiting lists are long and setup prices are quite high.
Fastest internet providers in Winston-Salem
The fastest internet in Winston-Salem is from AT&T, no doubt about it. You can get incredibly fast speeds up to 5 Gbps in some parts of town—fast enough to power a call center or download a full 8K movie in seconds. Needless to say, most homes won't need that speed and don't have compatible equipment for anything faster than about 1 Gbps.
How much speed do you need?
When choosing an internet plan, you want to keep all of your activities running smoothly without paying extra for speeds you don't need. At the bare minimum, you need 25 Mbps to do light browsing on one or two devices. Most households with multiple people and multiple devices will want to look for speeds in the 100–500 Mbps range. Learn how much speed your household needs in our guide to internet speed.
Cheapest internet providers in Winston-Salem
Spectrum, AT&T, and Verizon are tied for the cheapest home internet provider in Winston-Salem—unless you already have a compatible router you can use with your Spectrum plan. If not, the cheapest plan from each provider is $25 per month. Max speeds with Spectrum will be slower but more reliable throughout the day. T-Mobile has the best local 5G coverage, but works best in cities. Verizon's 5G offering isn't as readily available in town but may work better in rural areas.
Internet options in nearby cities
The Piedmont Triad was a pioneer in installing fiber internet for businesses and city governments, and the benefits of fiber internet are becoming easier to access for home internet as well.
Lumos (formerly NorthState) internet is easiest to find in Greensboro and High Point, but the provider has big plans to build out the network to the rest of the region. AT&T also offers fiber in many areas, and 5G coverage from mobile phone carriers is similar throughout the area.
Get the details about home internet options in cities near Winston-Salem:
See all options in your area within seconds.
What Winston-Salem residents are saying on Reddit
Like North Carolinians throughout the state, people who live in and around Winston-Salem love fiber internet. They love Lumos and often recommend AT&T, though some folks still have a sour taste in their mouths over bad customer experiences with AT&T's DSL service. Others like that AT&T supports union workers, while still others have nice things to say about 5G home internet from T-Mobile.
Internet news and infrastructure in Winston-Salem, NC
Customers in the Winston-Salem area have good choices when it comes to home internet. Lumos has been building out its fiber network throughout the region with the help of federal and county taxpayer dollars, plus its own investments. In August of 2021, it announced a $51 million effort to extend its network to 38,000 users in Forsyth and Randolph counties. Check availability or sign up for the waiting list on the Lumos site.
You may also have to join a waiting list or schedule a site visit if you're interested in fixed wireless internet from X1 Communications. There's a better chance you can access the 5G networks of either Verizon (4) or T-Mobile, though. Both have improved their 5G infrastructure in recent years.
Statewide, efforts are underway to make internet access easier for rural communities and intercity areas that have traditionally been underserved by internet service providers. You can help by adding your information to a map managed by the NC Broadband Infrastructure Office.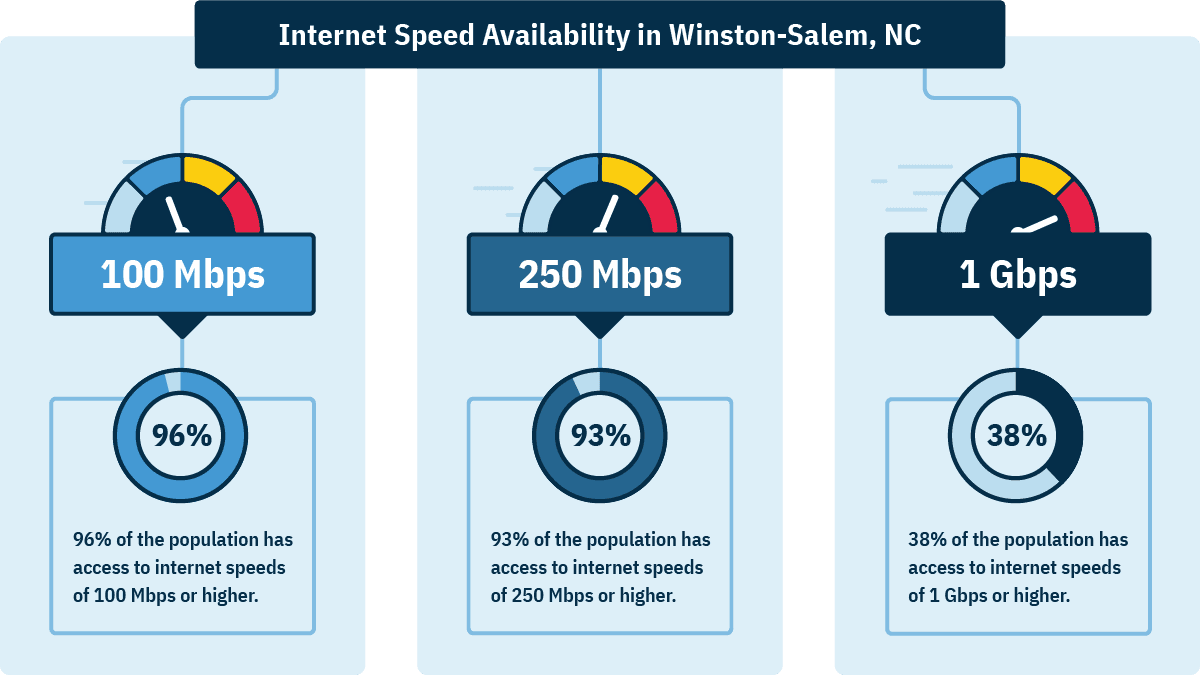 Frequently asked internet questions in Winston-Salem
---
The fastest and most reliable internet service in Winston-Salem is AT&T. If you get one of its plans, the company will let you use its home Wi-Fi equipment at no additional monthly cost, and our expert reviewers say it works well and looks nice on a desk. There are no data caps to worry about on any plan.
Spectrum also offers plans with unlimited data in Winston-Salem, and you can rent its home Wi-Fi equipment for $5 per month. The company lets you use your own Wi-Fi router instead if you prefer, and it's not too picky about compatible devices.
---
Most of the internet plans available in Winston-Salem are fast enough for remote work and streaming services, but the speeds you need depend on how many devices are logging in at once and whether you're streaming, hosting conference calls, or just browsing the web. If you need a fast plan to accommodate multiple remote professionals, fiber internet from AT&T is your best bet. Spectrum's plans aren't bad, either, and prices are much lower.
If you often work from home but sometimes like to set up in coffee shops or other locations around town, T-Mobile might be your best option. Speeds are decent for a single user, and you can spend as little as $25 if you bundle with your mobile phone plan.
---
We think 5G home internet is good in North Carolina if you have only one or two people logging on at a time and can put up with changes in speeds throughout the day. In an optimal situation, speeds can go as fast as about 175 Mbps on a home 5G connection, but they can slow down to 30 Mbps if you're too far from a tower or if the network gets busy. 30 Mbps is still fast enough to stream Netflix in HD, but you would start seeing problems if you needed to make a video call or download a big file at the same time.