Our top 3 ISP choices in Socorro, TX
AT&T fiber provides the best internet in Socorro, but it's not available everywhere. The good news is, Spectrum and T-Mobile are also good choices.
#1: AT&T fiber internet
AT&T fiber is some of the best we've seen. It's reliable, fast, and inexpensive, delivering up to 1 gig download and upload speeds with unlimited data, no contracts, and free equipment rental. However, it's available in less than half of Socorro. The rest of the city has only AT&T's DSL service, but new customers can't get it anymore.
Read our full AT&T internet review.
#2: Spectrum internet
Spectrum offers both fiber and cable internet in Socorro, covering around 94% of the city with fast, mostly reliable internet at a decent price. Customer service isn't great, and you should be prepared for hidden fees, but you won't have to sign a contract and installation costs are lower than average.
Read our full Spectrum internet review.
#3: T-Mobile internet
T-Mobile delivers an average download speed of 182 Mbps at a great price—especially after a huge discount when you bundle with cell phone service. It's also more widely available than Spectrum or AT&T. However, it's less reliable, and some people don't get enough signal at home to make it usable. There's no contract to sign, so you can try it for a month then dip out if you don't like it.
Read our full T-Mobile internet review.
All internet providers in Socorro
Beyond AT&T, Spectrum, and T-Mobile, Socorrans have access to two small local providers, Verizon fixed wireless, and three satellite internet companies.
Local internet company Mission Valley covers about a third of Socorro with its fixed wireless internet extending south along the Mexico border. Meanwhile, Webatron provides fixed wireless throughout almost all of Socorro. Neither provider reaches T-Mobile's speeds. Verizon has faster plan speeds, but actual average speeds are around 50 Mbps. So unless you get terrible T-Mobile signal, these other providers aren't as good.
As a last resort, you could choose satellite internet from HughesNet, Viasat, or Starlink. Satellite internet is almost always slower, less reliable, and more expensive than other kinds of internet, and that holds true for Socorro. To make matters worse, most of the city is in a waitlisted area for Starlink, though you should be able to get immediate service from HughesNet and Viasat once you install a dish.
Fastest internet providers in Socorro
Spectrum and AT&T tie for the fastest download speeds in Socorro at 1 gig. However, AT&T wins overall because its upload speeds are just as fast while Spectrum's upload speeds max out at 100 Mbps.
How much speed do you need?
When choosing an internet plan, you want to keep all of your activities running smoothly without paying extra for speeds you don't need. At the bare minimum, you need 25 Mbps to do light browsing on one or two devices. Most households with multiple people and multiple devices will want to look for speeds in the 100–500 Mbps range. Learn how much speed your household needs in our guide to internet speed.
Cheapest internet providers in Socorro
The cheapest providers in Socorro are Spectrum and T-Mobile. Spectrum has 30 Mbps download speed plans for around $20 plus various fees and equipment costs. If you have a T-Mobile cell phone plan, you could get much faster—though less reliable—speeds for around the same price.
Internet options in nearby cities
Outside Socorro proper, Mission Valley Communication fixed wireless continues south along the Mexican border all the way to McNary. You won't see this provider to the north, but you can expect all the other Socorro providers in El Paso, too.
Past the New Mexico border and into New Mexico, the internet landscape changes quite a bit. You won't find AT&T or Spectrum. Instead, CenturyLink and Xfinity dominate there. Las Cruces also has three small local providers that provide a mix of fiber, fixed wireless, DSL, and cable internet.
See internet providers in these nearby cities:
See all options in your area within seconds.
What Socorro residents are saying on Reddit
We found fans of all three of our top picks for internet in Socorro, but the AT&T fiber fans are the loudest. People don't share that love for AT&T DSL though, and those who can't get AT&T fiber often recommend Spectrum instead. It's probably for the best that AT&T is phasing its DSL out.
Spectrum customers in Socorro recommend calling the company each year to fight to keep your introductory rate. Most people have just accepted that about Spectrum. However, some customers have had trouble holding onto their low rates even after negotiating.
Finally, T-Mobile seems to have pretty solid reliability in Socorro, which isn't true for a lot of fixed wireless providers in a lot of places. That's great news because T-Mobile is available nearly everywhere in Socorro, and you don't have to fight to keep your low introductory rates.
Internet service provider-recommendations please on the best!
Moving near 5 Points, looking for best/most reliable internet provider. Thanks
We have AT&T fiber and it's been great working from home. 1000 down / 1000 up for 39 bones. Can't beat it.
---
How much do you pay for internet in El Paso?
Currently paying $65 for 350Mbps download speeds with Spectrum here in the UTEP area. I know AT&T also provides internet in some areas, so curious as to who doesn't rely in Spectrum. Also wondering if anyone else is hyped that Verizon is bringing an internet plan for $25 with 500Mbps+ download speeds in the near future.
Have spectrum, paying $75 this year because they stopped giving me the promo rate when I called in to "cancel." Interested to see how well Verizon's service will reach up close to the mountains.
---
New to El Paso and I need to get my internet up and running, who are the best providers? We were using spectrum elsewhere, is it worth using here?
If AT&T is available at your address, and offers more than the 50MB speeds go for that, if not Spectrum is really the only other reliable option.
I've had Spectrum for a good 10 years and have had a few issues here and there but for the most part it's been good.
I'd go with AT&T if I could but max speed they offer at my house is crappy 50MB.
Internet news and infrastructure in Socorro, TX
Socorro's internet infrastructure is pretty solid all around. While it could use more fiber availability, cable internet—the next best thing—is available in over 90% of homes. All residents can get at least 250 Mbps, and under half (42%) can get 1 gig speeds. Satellite is available almost everywhere, and DSL and fixed wireless have a strong presence too. (1)
For some residents, fixed wireless coverage has recently gotten even better. Verizon has been beefing up its 5G infrastructure, (2) allowing for more data to flow through its towers, which means fewer slowdowns during peak hours. Unfortunately, Verizon doesn't have much availability in Socorro.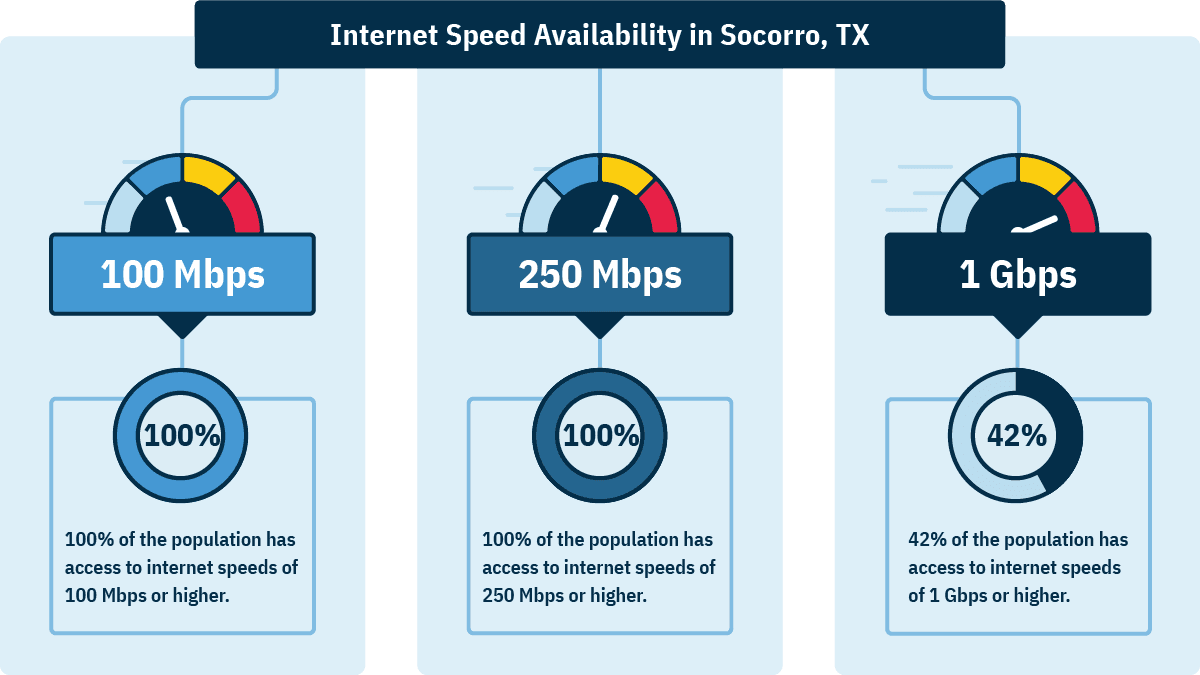 Frequently asked internet questions in Socorro
---
All three of our top providers in Socorro—AT&T fiber, Spectrum, and T-Mobile—have unlimited data. However, T-Mobile prioritizes mobile phone traffic over home internet traffic. And AT&T and Spectrum may throttle your data if you use a ton of it. That means if your neighbors are all using their T-Mobile cell phones at the same time, your home internet speeds could be much slower.
Generally, satellite companies have strict data caps, making them the worst for data use. HughesNet and Viasat's data caps can make streaming TV and online gaming nearly impossible. Starlink doesn't have data caps, but you may experience more network congestion as a result.
---
Yes, though how much your neighbors can affect your speeds depends on the kind of internet you have and how strong your provider's network is. Cable and fiber internet are less susceptible to network congestion, which occurs during peak hours in your neighborhood, usually in the evenings after everyone gets home from work.
DSL, satellite, and fixed wireless are more likely to experience slowdowns during peak hours. If you have fixed wireless like T-Mobile or Verizon, you might even compete against cell phone users for bandwidth.
Slow internet at the same time everyday could mean your neighbors are slowing you down. Or, it could be your own family slowing things down on your household's Wi-Fi network. Or it could be from some other cause. Find out how to troubleshoot slow internet speeds.
---
Yes, you need both a router and modem—or a single piece of equipment that acts as both, called a gateway. In Socorro, Spectrum uses a separate modem and router, while AT&T and T-Mobile use a single gateway. You may have to use your provider's modem or gateway, but you can usually purchase your own router if it's compatible with your provider.
A modem translates your provider's internet signal into a language your smartphone, computer, Playstation, and other devices can understand. A router takes that signal and directs it to the devices that are trying to connect to it. A gateway does both of these things with one piece of equipment.