Our top 3 ISP choices in Las Cruces, NM
Xfinity provides the best internet in Las Cruces and serves nearly the entire city. However, if that provider doesn't feel right, check out CenturyLink fiber or T-Mobile instead.
#1: Xfinity internet
Xfinity serves up super reliable cable internet to nearly all of Las Cruces. You can get download speeds anywhere from 75 Mbps to a zippy 1,200 Mbps at a decent price if you're willing to sign a 2-year contract. Xfinity doesn't have the best customer service, but it's improving steadily.
Read our full Xfinity internet review.
#2: CenturyLink fiber internet
CenturyLink doesn't have a large fiber footprint in Las Cruces, which is why it's not our #1 pick. But if you can get it where you live, you can get up to 940 Mbps upload and download speeds at a decent price. You won't have to sign a contract, but if you do you'll get unlimited data too.
Read our full CenturyLink internet review.
#3: T-Mobile internet
T-Mobile is available nearly everywhere in Las Cruces and surrounding areas. Although most customers see an average download speed of 182 Mbps, speeds are inconsistent and heavily depend on whether you get a good signal in your home or not. Still, if you're a T-Mobile cell phone customer, you could get service for very little money—without having to sign a contract.
Read our full T-Mobile internet review.
All internet providers in Las Cruces
Our top picks should cover just about everyone in Las Cruces, but if none seem like the right fit, you have plenty of other options. Three separate local providers offer fiber and fixed wireless service in Las Cruces, so check out WNM communications, Beamspeed, and Webatron. Verizon also serves a small portion of Las Cruces, so if you don't get a signal from T-Mobile, it could be a good alternative.
Nearly all of Las Cruces is also covered by three satellite providers: HughesNet, Viasat, and Starlink. However, all three providers are more expensive and less reliable than any other kind of internet, so we typically only recommend them if you can't get any other provider where you live.
Fastest internet providers in Las Cruces
The fastest provider in Las Cruces is Xfinity, which maxes out at a download speed of 1,200 Mbps. CenturyLink comes in next at 940 Mbps, but it has much faster upload speeds—also 940 Mbps.
How much speed do you need?
When choosing an internet plan, you want to keep all of your activities running smoothly without paying extra for speeds you don't need. At the bare minimum, you need 25 Mbps to do light browsing on one or two devices. Most households with multiple people and multiple devices will want to look for speeds in the 100–500 Mbps range. Learn how much speed your household needs in our guide to internet speed.
Cheapest internet providers in Las Cruces
Las Cruces locals have several low-cost internet options. Xfinity delivers download speeds of 50 Mbps for around $20 a month, but you'll have to sign a contract for that rate. CenturyLink offers download speeds of 200 Mbps for just a few dollars more, which is the best value you'll get in this price range. And if you're a T-Mobile cell phone customer, you can add internet to your plan for around $25 per month without a contract.
Internet options in nearby cities
Outside of Las Cruces, the biggest internet providers in the area are AT&T, Spectrum, T-Mobile, and satellite providers HughesNet, Viasat, and Starlink. While Las Cruces itself is waitlisted for Starlink, surrounding rural areas can already get service.
It's not surprising that nearby El Paso and Socorro have some solid internet options, but we're stoked that you can get some great coverage all along Interstate 10 before you even hit Texas. You can find great cable coverage from Spectrum in Mesquite and Anthony.
Check out the best internet providers in these nearby cities:
See all options in your area within seconds.
What Las Cruces residents are saying on Reddit
Most Las Cruces locals agree that Xfinity is the best option in town, but plenty of customers still wish they had a better option. Most complaints involve poor customer service.
If residents have mixed feelings about Xfinity, how they rate CenturyLink is all too clear: almost every comment we've seen about CenturyLink is negative, even from customers who have fiber service. Although CenturyLink's prices are super low, reliability is a big issue in this area.
Surprisingly, T-Mobile seems to have better reliability in Las Cruces. Usually, fixed wireless is less reliable than both fiber and DSL, but in Las Cruces, T-Mobile seems to be pretty strong.
New to El Paso and I need to get my internet up and running, who are the best providers? We were using spectrum elsewhere, is it worth using here?
If AT&T is available at your address, and offers more than the 50MB speeds go for that, if not Spectrum is really the only other reliable option.
I've had Spectrum for a good 10 years and have had a few issues here and there but for the most part it's been good.
I'd go with AT&T if I could but max speed they offer at my house is crappy 50MB.
---
Anyone have any experience with Centurylink? I'm in an area approved for the gigabit fibre and I'm curious if it's as good as they say.
Garbage internet. You're gonna have a lot of problems with them
Internet news and infrastructure in Las Cruces, NM
Las Cruces has very little fiber infrastructure for a city of its size, especially when compared to nearby El Paso and Socorro, TX. The bulk of its internet is provided by a mix of cable, DSL, and satellite—all of which cover around 50% of households. Fixed wireless is available to around a third of households. (1)
Xfinity was recently awarded funding from the Connect New Mexico Pilot Program to bring fiber to over 8,000 homes in Doña Ana County. However, areas surrounding Las Cruces proper may see more benefit from this expansion. (2)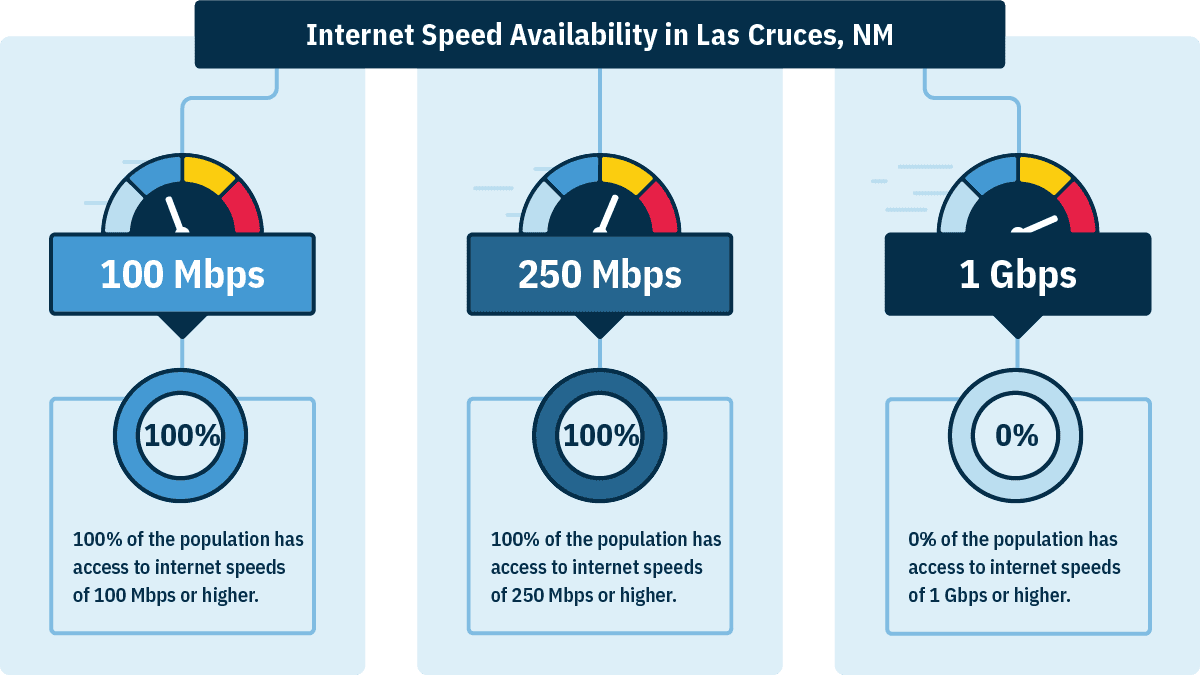 Frequently asked internet questions in Las Cruces
---
Often, the only kinds of internet available in rural areas are DSL, fixed wireless, and satellite. Beyond that, rural residents in Las Cruces might see service from one of three local providers: WNM Communications, Beamspeed, and Webatron.
Satellite is the most widely available internet type, but it's also the least reliable and most expensive. In Las Cruces, you can get HughesNet, Viasat, and Starlink.
Fixed wireless has some reliability issues, but it's relatively inexpensive and works well if you can get a good signal at your house. In Las Cruces, T-Mobile has better coverage than Verizon.
DSL is often the most reliable rural internet, but it's also the slowest internet. The only DSL provider in Las Cruces is CenturyLink.
---
Yes, but mostly in larger cities such as Las Cruces, Albuquerque, and Santa Fe. Las Cruces itself has Spectrum and CenturyLink fiber. A few small, local providers have fiber in New Mexico, such as WNM Communications and Beamspeed, but these companies have a small footprint.
Large and small cities in New Mexico often have cable internet. Xfinity has one of the largest cable internet footprints in the state, serving all three big cities, plus Gallup, Bloomfield, Grants, Silver City, and more. Outside cities in New Mexico, you'll see more DSL, fixed wireless, and satellite internet.
---
In most cases, no. Verizon is fixed wireless internet—similar to T-Mobile—but its availability is highly limited in Las Cruces. It's also more expensive than T-Mobile for what you get, since most people get download speeds anywhere from 5–50 Mbps instead of T-Mobile's average of 182 Mbps.
Generally, fixed wireless is less reliable than fiber, cable, and DSL internet, and how good the service is varies widely from home to home. It's possible you'll get a great signal where you live, so if you're fed up with your other internet options, give Verizon a try for a month. But most people in Las Cruces will find better internet options from Xfinity, CenturyLink, and T-Mobile.