Our top 3 ISP choices in Ocoee, FL
CenturyLink, Spectrum, and AT&T fiber are the best internet providers in Ocoee.
#1: CenturyLink fiber internet
CenturyLink fiber is more widely available than AT&T fiber, which is why it's in the top spot in Ocoee. With CenturyLink fiber, you can get up to 1 gig for a decent price without a contract. Or you can sign up for a year to get unlimited data. This provider's customer service is decent too, but plan to spend more than average for installation. If only CenturyLink DSL is available near you, consider Spectrum or AT&T fiber instead.
Read our full CenturyLink fiber review.
#2: Spectrum internet
Spectrum is also widely available in Ocoee, and you can get up to 1 gig of speed at a reasonable price. However, you'll have to sign a contract—and deal with both hidden fees and lackluster customer service. Still, Spectrum is a solid option and provides fairly reliable service.
Read our full Spectrum review.
#3: AT&T fiber internet
AT&T fiber is our top pick for internet nationwide, but it's much less available in Ocoee than CenturyLink fiber and Spectrum. If you can get it, it'll be fast, reliable, and inexpensive. And you won't have to worry about contracts, data caps, or hidden fees, either.
All internet providers in Ocoee
Ocoee has more internet options than most nearby communities. In addition to our top picks, you have DSL from CenturyLink and cable internet from Xfinity. DSL is a lot slower than cable and fiber, but it's just as reliable, so it could be an option for some.
If you're a T-Mobile or Verizon mobile customer already, consider bundling internet with your current plan to cut your internet bill in half. You could get up to 182 Mbps for super cheap. This service is less reliable than our top pics, but you won't have to sign a contract.
Finally, you'll be able to choose from three satellite providers—though all three are slower, less reliable, and more expensive than nearly any other option. HughesNet and Viasat can help get you started immediately, but Starlink has a waitlist in the area.
Fastest internet providers in Ocoee
Xfinity is the fastest internet provider in Ocoee, topping out at 1,200 Mbps. Spectrum and CenturyLink fiber clock in around 1 gig, though, and all three providers are plenty fast for most people. AT&T's top speed is an incredible 5 gigs, but you probably won't see this speed in Ocoee, and you almost certainly don't need that speed.
How much speed do you need?
When choosing an internet plan, you want to keep all of your activities running smoothly without paying extra for speeds you don't need. At the bare minimum, you need 25 Mbps to do light browsing on one or two devices. Most households with multiple people and multiple devices will want to look for speeds in the 100–500 Mbps range. Learn how much speed your household needs in our guide to internet speed.
Cheapest internet providers in Ocoee
Xfinity is the cheapest internet in Ocoee, but you have a ton of other low-cost options too. Spectrum's and CenturyLink's cheapest plans are a little slower than Xfinity's, but they still provide good value. And T-Mobile customers can get up to 182 Mbps for around the same price, too.
Internet options in nearby cities
Ocoee has a decent amount of fiber availability, but Orlando, Daytona Beach, and Alafaya have more coverage. Fiber providers in this region include AT&T, CenturyLink, Spectrum, and Xfinity.
Other internet providers in nearby cities include satellite internet companies and T-Mobile fixed wireless service. All of these providers are available nearly everywhere in the area. Finally, a few places have some coverage from Verizon fixed wireless internet.
See all options in your area within seconds.
What Ocoee residents are saying on Reddit
Locals are pretty clear that CenturyLink and AT&T fiber are the most popular internet providers in the area. People love the speed and general reliability. However, some CenturyLink customers report frequent signal drops, largely due to the equipment CenturyLink provided them. Some have purchased their own router and solved the problem. Others are willing to live with it because the price is so low.
Spectrum is less popular, but the consensus is that it's better than DSL from AT&T or CenturyLink. But most customers are keeping an eye out for alternatives as they become available.
I currently have spectrum, but I've been having issues with connectivity lately. I also pay about $80 a month just for internet (I use my own equip). Any suggestions on superior service or equal service for cheaper in the area? I'm located South East downtown, and would love fiber access.
---
I currently pay around $50 a month for spectrum and get decent speeds but lately my ping has been all over the place. I stream rocket league and this causes issues both with playing and the stream.
Does anyone have experience with AT&T fiber while streaming/playing a game like rocket league where ping is really noticeable? How often do you get random ping/lag spikes?
Spectrum recently has been awful with nearly everyday having ping fluctuating from a nice 40 up to 300+ every couple of minutes.
I've had it for years and it's been reliable and speedy. Much better in comparison to cable.
---
Do you have T-Mobile internet?
If so do you like it? In the Altamonte Springs area and thinking of switching to it.
So I'm a big T-Mobile fan. I tried it but it didn't work out but not for reasons most people think. I'm a very technical person, so I figured out what happened.
If I stand on my roof, I can see the huge 5G T-Mobile cell tower, it's not that far away... 1.2 miles. However, I got a disappointing 16 Mbs inside my house. When I put my new Gateway (supplied modem/router) in my car on an inverter and drove to across the street from the tower, I could get speeds of over 400 Mbs down and 100 Mbs up. It would even fluctuate up to 500/150.
Lots of testing from further and further distances until I got home. Long story short - I live in a Faraday Cage. That's a wire cage that blocks wireless signals.
My house has stucco siding, which is basically chicken-wire with cement slathered over it. I also have windows that are hurricane resistant. They have a wire-mesh film on them to keep from shattering. Outside on my back porch, I can obtain speeds of 250/30. But inside my house - 16/5.
I called and asked about an external antenna option and they were unwilling to provide one even though I could easily modify my Gateway without any drilling, soldering or damage. I was unwilling to spend the $250 needed, plus drilling a hole in my house, to make their equipment work. So I returned it.
Internet news and infrastructure in Ocoee, FL
Nearly all Ocoee locals have broadband internet access from at least one provider. If you don't have access to Spectrum internet now, you will by 2024. Spectrum will be leveraging $4.4 million in ARPA funds to bring broadband internet to every home in Orange County, including any in Ocoee that don't yet have access. (1)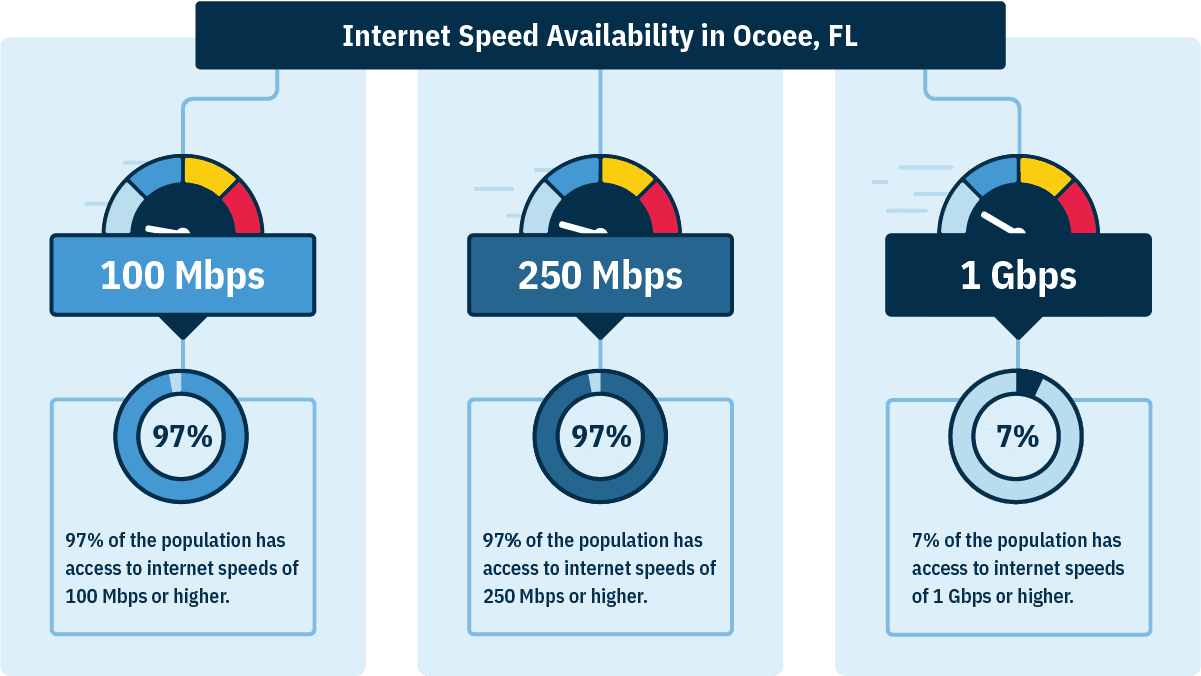 Frequently asked internet questions in Ocoee
---
Most people can expect to pay anywhere from $20 for around 30 Mbps speeds to $80 for 1 gig speeds. Faster, more expensive plans are available to some, but few households need more than a gig. Plus, most computers and routers can't handle anything faster, creating a bottleneck in your system, so you're unlikely to actually achieve faster speeds.
In Ocoee, you could pay as little as $20 with Spectrum—less, if you qualify for the Affordable Connectivity Program. However, this price doesn't include equipment or other hidden fees like data overages, taxes, and more. So you might pay closer to $40. At the high end, Ocoee locals may pay $80 plus equipment and hidden fees with CenturyLink.
---
Unlike urban areas that often have tons of reliable, high-speed options, most rural areas have access to DSL, fixed wireless, or satellite internet. DSL is the most reliable, but it's often painfully slow, even though it's the same price as urban plans that are 10 times faster. In Ocoee, you might see DSL from CenturyLink or AT&T.
Fixed wireless can be super cheap, especially since some providers—like T-Mobile in Ocoee—give you a big discount when you bundle internet service with cell phone service. But it works well only if you live within sight of a signal tower. Speeds aren't consistent, but they often get up to about 182 Mbps.
Finally, satellite internet is available almost everywhere in the country. It's the least reliable and most expensive kind of internet, though. Plus, high latency and painfully low data caps make it impractical for both online gaming and TV streaming. Viasat and HughesNet are both available to Ocoee residents, while Starlink has a waiting list.
---
Not really. Only around 3% of Ocoee residents have access to Xfinity, and those who do will see only Xfinity's cable internet service, not its fiber service. If you live in Paradise Heights, in Belmere, or Neumann Village, you could see Xfinity.
While Xfinity isn't widely available in Ocoee, most residents will have at least AT&T fiber, CenturyLink fiber, or Spectrum—all of which are solid choices.