Best internet providers in

Sanford, Florida
Sanford locals have a choice of seven internet providers, though the best ones are AT&T fiber, Spectrum, and T-Mobile. If those aren't quite right for you, you can always get satellite internet, but it'll cost you. Finally, a few residents have access to Verizon fixed wireless internet, which is reasonably priced but doesn't deliver consistently fast speeds.
---
Plans starting at $55.00 - $180.00
Download speeds up to 5000Mbps
Upload speeds up to 5000Mbps
---
Click below for all current AT&T deals
Disclaimer: Availability and pricing are subject to location. Conditions apply. For offer details, view disclaimers
---
Plans starting at $29.99 - $169.97
Download speeds up to 1 Gbps
Upload speeds up to 35 Mbps
---
Click below for all current Spectrum deals
Disclaimer: Availability and pricing are subject to location. Conditions apply. For offer details, view disclaimers
---
Download speeds up to 182 Mbps
Upload speeds up to 23 Mbps
---
Click below for all current T-Mobile deals
Disclaimer: Availability and pricing are subject to location. Conditions apply.
How we rank internet providers
We have a robust rating system to score internet service providers overall, but the quality of service could vary city to city. When narrowing down the best providers specific to Sanford, we considered factors like availability, value, performance, and customer experience. We source information directly from the ISP's themselves, the FCC, and first-hand insights from residents of Sanford.
Our top 3 ISP choices in Sanford, FL
For the best internet in Sanford, check out AT&T fiber first. If it's not available at your place, then Spectrum or T-Mobile are the next best providers.
#1: AT&T fiber internet
AT&T is our favorite internet provider because its fiber service is a great deal, doesn't have a data cap, and doesn't come with a contract or hidden fees. AT&T serves around 75% of Sanford, but you may not get its fiber service everywhere. Don't bother with its much slower DSL service because AT&T is phasing it out as it builds more fiber infrastructure.
Read our full AT&T fiber review.
#2: Spectrum internet
Spectrum is available across most of Sanford, and it's a decent alternative to AT&T fiber. You'll have more plan options from 30 Mbps to 1 gig, but you'll have to sign a contract and deal with lackluster customer service.
Read our full Spectrum review.
#3: T-Mobile internet
T-Mobile also serves nearly all of Sanford, but it's slower and less reliable than both Spectrum and AT&T. Signal quality varies widely even from home to home, so take advantage of this provider's lack of commitment to try it out for a month. If all goes well, you could have an average of 182 Mbps—and half off your bill if you're already a T-Mobile cell phone customer.
All internet providers in Sanford
Beyond our top picks, Sanford residents have several other options. If you have Verizon phone service instead of T-Mobile, check out Verizon fixed wireless internet service too. It's much less available, but if you get a better signal at your house, it'll be better than T-Mobile.
Your other options in Sanford are all satellite providers, which are almost always slower, less reliable, and more expensive than any other option. Starlink is the newest service, so you'll be on a waitlist for a while before you can get connected. HughesNet and Viasat will get you set up much faster, but their strict data caps will limit what you can do with your connection.
Fastest internet providers in Sanford
AT&T fiber can provide up to 5 gigs of internet speed in Sanford—but there's almost no way you need it. Most routers can handle only 1 gig, and that's super fast for most households. We suggest AT&T's or Spectrum's 1 gig plans instead.
How much speed do you need?
When choosing an internet plan, you want to keep all of your activities running smoothly without paying extra for speeds you don't need. At the bare minimum, you need 25 Mbps to do light browsing on one or two devices. Most households with multiple people and multiple devices will want to look for speeds in the 100–500 Mbps range. Learn how much speed your household needs in our guide to internet speed.
Cheapest internet providers in Sanford
Spectrum is the cheapest internet option for most people, especially if you get its slowest plan at 30 Mbps. T-Mobile and Verizon cell phone customers also have a great low-cost option because these companies will cut your internet bill in half when you bundle services.
Internet options in nearby cities
Sanford has less fiber availability than some nearby cities like Apopka and Daytona Beach, especially since CenturyLink fiber is available elsewhere in this region. Xfinity also offers both fiber and cable internet service in Alafaya and Four Corners.
Beyond that, Spectrum, several satellite providers, and fixed wireless provider T-Mobile are pretty universally available in the region. You may find a couple of small local providers too, but they won't offer much coverage.
See what's available in cities near Sanford, FL:
See all options in your area within seconds.
What Sanford residents are saying on Reddit
AT&T has a mostly great reputation among locals— among fiber customers, anyway. If all you can get is DSL, locals agree that Spectrum is a better option. That said, Spectrum has mixed reviews. People are fed up with price hikes and lack of reliability and are looking for alternatives—like T-Mobile. However, Seminole County residents report that T-Mobile signal is hit or miss, and that having great cell service doesn't necessarily mean you'll have great internet signal too.
I currently have spectrum, but I've been having issues with connectivity lately. I also pay about $80 a month just for internet (I use my own equip). Any suggestions on superior service or equal service for cheaper in the area? I'm located South East downtown, and would love fiber access.
---
I currently pay around $50 a month for spectrum and get decent speeds but lately my ping has been all over the place. I stream rocket league and this causes issues both with playing and the stream.
Does anyone have experience with AT&T fiber while streaming/playing a game like rocket league where ping is really noticeable? How often do you get random ping/lag spikes?
Spectrum recently has been awful with nearly everyday having ping fluctuating from a nice 40 up to 300+ every couple of minutes.
I've had it for years and it's been reliable and speedy. Much better in comparison to cable.
---
Do you have T-mobile internet?
If so do you like it? In the Altamonte Springs area and thinking of switching to it.
So I'm a big T-Mobile fan. I tried it but it didn't work out but not for reasons most people think. I'm a very technical person, so I figured out what happened.
If I stand on my roof, I can see the huge 5G T-Mobile cell tower, it's not that far away... 1.2 miles. However, I got a disappointing 16 Mbs inside my house. When I put my new Gateway (supplied modem/router) in my car on an inverter and drove to across the street from the tower, I could get speeds of over 400 Mbs down and 100 Mbs up. It would even fluctuate up to 500/150.
Lots of testing from further and further distances until I got home. Long story short - I live in a Faraday Cage. That's a wire cage that blocks wireless signals.
My house has stucco siding, which is basically chicken-wire with cement slathered over it. I also have windows that are hurricane resistant. They have a wire-mesh film on them to keep from shattering. Outside on my back porch, I can obtain speeds of 250/30. But inside my house - 16/5.
I called and asked about an external antenna option and they were unwilling to provide one even though I could easily modify my Gateway without any drilling, soldering or damage. I was unwilling to spend the $250 needed, plus drilling a hole in my house, to make their equipment work. So I returned it.
Internet news and infrastructure in Sanford, FL
Nearly 100% of Sanford has access to broadband internet, and projects are in the works to get Spectrum or T-Mobile service to the last remaining households. However, there's no timeline for when these projects will be completed, and nearby cities' infrastructure projects have been prioritized higher.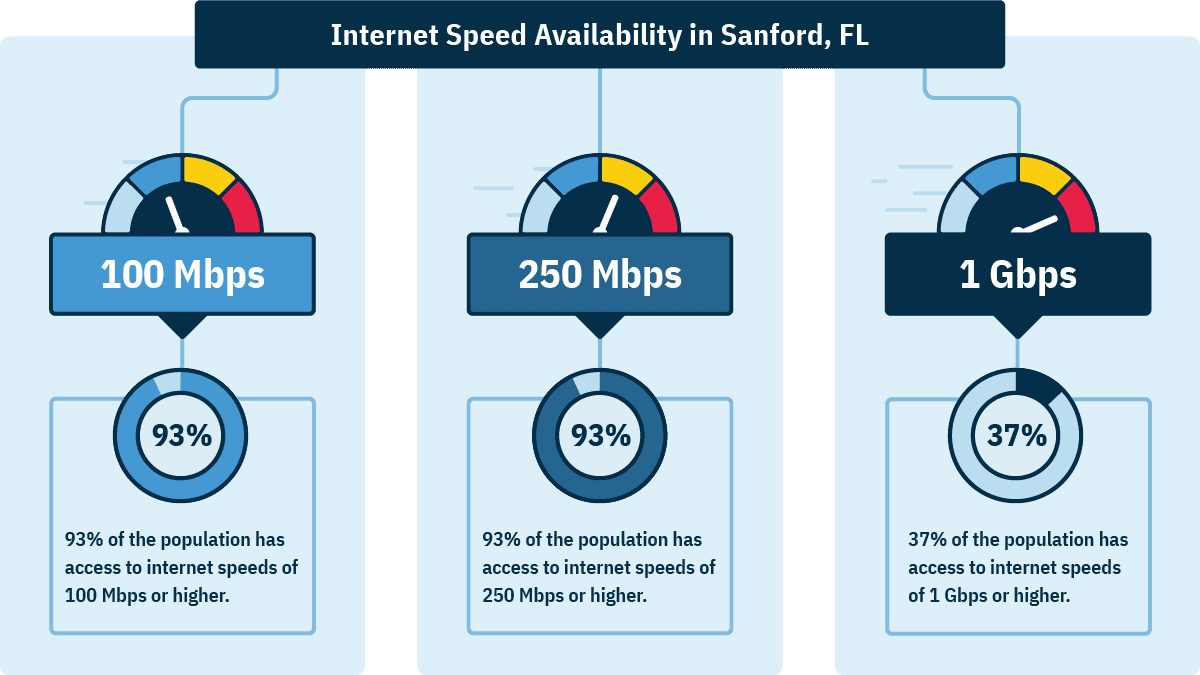 Frequently asked internet questions in Sanford
---
When it comes to AT&T fiber service, yes. It's much better than Spectrum. You get great speeds at a great price—plus unlimited data, no contracts, and free equipment rentals. With Spectrum, you'll discover more hidden fees and price hikes after you sign up. That said, Spectrum has more plan options, especially at the slower end. So if you don't need 300 Mbps or more, Spectrum could end up saving you money.
When it comes to AT&T's DSL internet, Spectrum is the better option. AT&T DSL plans, like most DSL plans, are slow and expensive for what you get. As a result, AT&T is in the process of phasing out its DSL service as it replaces this infrastructure with fiber lines nationwide. So if you live in an area that has AT&T DSL now, know that you should have excellent fiber service in the future. Compare AT&T and Spectrum internet.
---
The fastest internet in Sanford reaches 1,000 Mbps (or 1 gig). That's all the speed most households need, even if you have several people streaming TV, working remotely, and playing online video games all at once.  More than half of the city has access to these high speeds.
If you can't get 1 gig where you live, you'll almost certainly be able to get at least 250 Mbps, which is also plenty fast for most households. Nearly 100% of homes in Sanford can get these speeds, most of them from either AT&T fiber or Spectrum.
---
No, Xfinity doesn't serve Sanford Florida. You can find it in a few nearby cities like Four Corners and Alafaya, but not within Sanford borders.
Xfinity is a solid internet provider, but your best bets in Sanford will be AT&T fiber, Spectrum, or T-Mobile. We think AT&T is better than Xfinity because it gives you much more value and has more straightforward pricing. Spectrum isn't as good as Xfinity, but it's the next best option if you can't get AT&T fiber. T-Mobile is a great option if you already have a cell phone plan with them—and if you're tired of Spectrum's hidden fees and price hikes.