---
---
We're committed to transparency. We may earn money when you follow our recommendations, but compensation doesn't affect our ratings. Learn more.
If your current Wi-Fi router doesn't cover your whole home, you'll experience problems like dead zones and dropped signals. Mesh Wi-Fi improves the range of your wireless network by using multiple devices, so you can get a signal even in the farthest corners of your home. We explain how it works, who needs it, and which mesh Wi-Fi system you should get.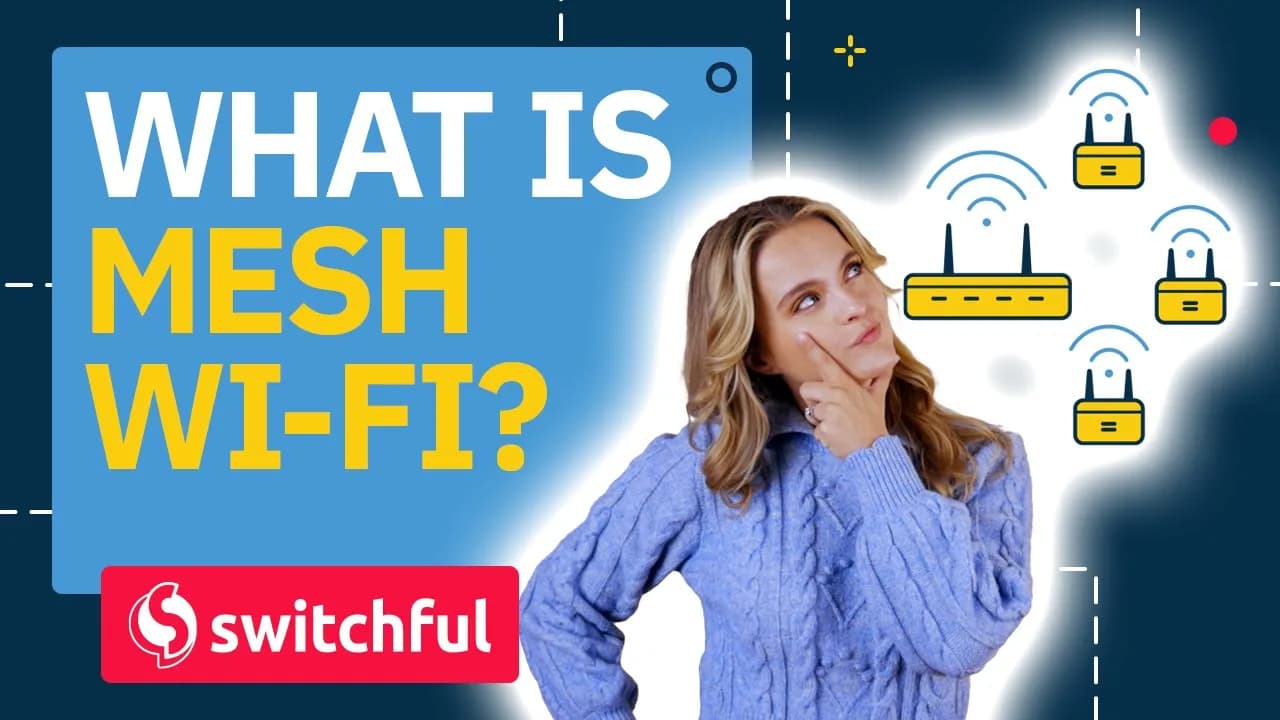 What is mesh Wi-Fi and how does it work?
Mesh Wi-Fi is essentially a multi-device solution to extend the range of your wireless network throughout your home.
Regular Wi-Fi routers may not be powerful enough to provide Wi-Fi signal to all parts of your home. You may have Wi-Fi dead zones or a weak signal in some rooms if your home is large, has multiple stories, or if the internet service line your router connects to isn't centrally located. Thick walls or furniture can also block Wi-Fi signals.
A mesh Wi-Fi system helps to overcome these issues by using a mesh router and multiple nodes that you place around your home to completely cover it with Wi-Fi signal. With a mesh network, each node acts as an access point to spread the Wi-Fi signal, opposed to a traditional router, which only has one central source from which to broadcast your Wi-Fi signal.
Should you get a mesh Wi-Fi system?
Sometimes you can solve gaps in Wi-Fi coverage with a regular wireless router by doing a little troubleshooting or upgrading to a newer wireless router with longer range. When this doesn't work, you may consider getting either a wireless extender or a mesh Wi-Fi system.
Those with smaller homes that just need more Wi-Fi coverage in a single room might not need to invest in a whole mesh Wi-Fi system. Wireless extenders, or boosters, are a cheaper alternative that can extend the range of your existing router. Regular wireless extenders create a separate Wi-Fi network you have to switch between, while mesh extenders use the same network name.
Those who have homes larger than 2,500 square feet, or that have more than one floor or thick walls, would benefit from a mesh router system with multiple units. A mesh Wi-Fi system is more expensive but offers a better experience and better range than wireless extenders or long-range wireless routers.
Mesh Wi-Fi usually takes less than half an hour to set up, and you can manage your network via smartphone app. It's easy to expand and customize Wi-Fi coverage by placing mesh Wi-Fi nodes in different rooms across your home. The downside of mesh Wi-Fi is that it's slower than using a regular router since the Wi-Fi signal degrades over longer distances as it's passed between the devices. You might notice a slight difference in speed, but it shouldn't cause any issues for typical activities like browsing and streaming. Those who need top performance, like serious gamers, would be better off using a wired connection.
Pros and cons of mesh Wi-Fi
---
More Wi-Fi coverage than a traditional router

Simple setup and management via app

No need to switch between different wireless networks
---
Slower than a traditional router

More expensive than most routers and extenders

Devices take up space and outlets
The best mesh Wi-Fi systems
There are a ton of mesh Wi-Fi systems out there, with prices ranging from $70 to several hundred dollars. The best system for most people is currently the eero 6 because of the value for the price and its simplicity. Those looking for premium features and performance will end up having to spend $300 or more for systems like the Google Nest Wi-Fi Pro, which supports multi-gigabit speeds.
If you're looking for more ways to improve your home internet, check out our guide to improving slow internet speed and our roundup of the best internet service providers.
Find a provider in your area.
See all options in your area within seconds.
---
The people behind our research
We believe the best information comes from first-hand customer experience and methodical research by subject-matter experts. We never source information from "content farms," and we don't generate content using artificial intelligence (AI). You can trust that our recommendations are fact-checked meticulously and sourced appropriately by authentic, industry-recognized people.
Brittany is a Contributing Writer for Switchful with over five years of experience writing about technology in the US and Europe. Her primary focus is on mobile and internet topics. She is passionate about helping people choose the right tech for their needs at the right price.
Bri Field has a background in academia, research writing, and brand marketing. She has edited scientific publications, conference papers, digital content, and technical communications. As Assigning Editor, she enjoys ensuring all content is accurate, clear, and helpful. In her free time, you can find her in the kitchen trying a new recipe, out on a hike, or working through her massive TBR list.