Best internet providers in

O'Fallon, Missouri
We recommend Brightspeed fiber (formerly run by CenturyLink) as the best internet connection available in O'Fallon, Missouri. If Brightspeed isn't available at your address, then Spectrum internet is an obvious choice for fast and reliable cable internet in the area.
For fixed wireless connections in O'Fallon, we recommend T-Mobile 5G Home Internet for its wide availability. O'Fallon residents also have access to satellite providers like Viasat and Starlink, but they're not our top choice in such an urban environment.
---
Plans starting at $50.00 - $100.00
Download speeds up to 940 Mbps
Upload speeds up to 940 Mbps
---
Click below for all current Brightspeed deals
Disclaimer: Subject to availability. Cannot be combined with other offers. Other restrictions, Brightspeed policies and service terms apply.
---
Plans starting at $29.99 - $169.97
Download speeds up to 1 Gbps
Upload speeds up to 35 Mbps
---
Click below for all current Spectrum deals
Disclaimer: Availability and pricing are subject to location. Conditions apply. For offer details, view disclaimers
---
Download speeds up to 182 Mbps
Upload speeds up to 23 Mbps
---
Click below for all current T-Mobile deals
Disclaimer: Availability and pricing are subject to location. Conditions apply.
How we rank internet providers
We have a robust rating system to score internet service providers overall, but the quality of service could vary city to city. When narrowing down the best providers specific to O'Fallon, we considered factors like availability, value, performance, and customer experience. We source information directly from the ISP's themselves, the FCC, and first-hand insights from residents of O'Fallon.
Our top 3 ISP choices in O'Fallon, MO
Our top recommendations for dependable internet connections in O'Fallon are Brightspeed fiber, Spectrum internet, and T-Mobile 5G Home Internet.
#1: Brightspeed fiber internet
Brightspeed is a relatively new internet company, but CenturyLink customers may have already heard the name. Brightspeed took over CenturyLink's internet service in Missouri in late 2022 (1), and it's now providing fiber internet plans in some parts of O'Fallon, MO.
For the best speed and reliability, fiber is the way to go, which is why Brightspeed is our number-one recommendation. But we'll warn you that Brightspeed's website is glitchy and might prove hard to navigate, especially compared to CenturyLink.
Read our full Brightspeed internet review.
#2: Spectrum internet
If you can't get fiber service at your O'Fallon address, then Spectrum is your next-best bet. Spectrum doesn't have fiber options in O'Fallon yet, but its cable plans are widely available here—and you can still get impressively fast speeds.
Read our full Spectrum internet review.
#3: T-Mobile 5G Home Internet
T-Mobile is an availability champ in O'Fallon as it has wider coverage than either Brightspeed fiber or Spectrum internet. T-Mobile 5G Home Internet uses a fixed wireless connection similar to your cell phone rather than traditional internet types like fiber or cable. T-Mobile Home Internet works well for most average households.
All internet providers in O'Fallon
Along with big-name brands like Spectrum, O'Fallon has a couple of lesser-known internet options, such as Wisper and Brown Dog Networks
Wisper offers several different types of internet across the country, but in O'Fallon you have access only to its fixed wireless plan. Brown Dog Networks also offers fixed wireless connection in O'Fallon.
Fixed wireless often offers coverage in rural areas without a lot of other options for internet, but we don't recommend it over fiber or cable internet providers if they're available. We also don't recommend satellite providers like Starlink and Viasat over cable and fiber plans unless you don't have many other options.
Fastest internet providers in O'Fallon
Spectrum internet has the fastest speeds in O'Fallon. It advertises plans with download speeds of up to 1,000 Mbps (also known as 1 gig). Such high speeds might not be available everywhere in O'Fallon, so you'll need to check your address.
Other fast internet providers in O'Fallon include Brightspeed fiber and Verizon Home Internet. Brightspeed fiber is fast, with advertised speeds of up to 940 Mbps, but it has limited availability. Verizon Home Internet can be hard to get as well.
Starlink and Viasat are available everywhere in O'Fallon, but as satellite internet providers, they have higher latency than fiber or cable connection types, which will slow down your speeds regardless of Mbps listings.
How much speed do you need?
When choosing an internet plan, you want to keep all of your activities running smoothly without paying extra for speeds you don't need. At the bare minimum, you need 25 Mbps to do light browsing on one or two devices. Most households with multiple people and multiple devices will want to look for speeds in the 100–500 Mbps range. Learn how much speed your household needs in our guide to internet speed.
Cheapest internet providers in O'Fallon
The cheapest internet in O'Fallon tends to be from fixed wireless providers like T-Mobile 5G Home Internet, Verizon Home Internet, and Brown Dog Networks. Of the fixed wireless providers here, T-Mobile has the widest coverage by far.
Internet options in nearby cities
Internet options in cities near O'Fallon generally include Spectrum internet, T-Mobile 5G Home Internet, and fixed wireless provider Brown Dog Networks. Fiber coverage is less predictable than other connection types, but you'll likely find some limited fiber options from brands like AT&T, Brightspeed, and Elite. To see more details, check out what's available in these cities:
See all options in your area within seconds.
What O'Fallon residents are saying on Reddit
One of the biggest topics over the last year has been Brightspeed's acquisition of CenturyLink service in Missouri. O'Fallon residents haven't had a lot to say on social media, but some other Missouri cities have. Social media reviews point out that Brightspeed's internet service is essentially the same as CenturyLink's, but that its website and customer service are lacking.
If you don't want to deal with the unknowns of a new internet provider, then a company like Spectrum that has been around for a long time may give you a more consistent customer service experience. Then again, no internet provider has a reputation for being fun to work with.
Reviews of Brightspeed fiber Internet service?
I'm considering switching from AT&T U-Verse to Brightspeed fiber for Internet service, but I'd read some concerning reviews on this board after Quantum sold the service to Brightspeed.
That was a few months ago, so I'm hoping they worked the bugs out by now. I work from home sometimes, so I need reliable service.
Would Brightspeed customers in Springfield or the surrounding area be willing to share their experiences as of today?
We've had the service for a long time -- I think we were among the first to get it. The service has been very reliable except for a day recently when it seemed to go in and out all day. That issue was resolved by the next day.
There were some billing issues when Brightspeed first acquired them but those also seem to have been ironed out.
My husband works from home and has to have reliable internet and so far they have been better than AT&T fiber was.
---
Brightspeed — ominous signs
Brightspeed is replacing Quantum Fiber. This looks like a bait and switch. Quantum Fiber had a functional website… Brightspeed's website cannot take updated payment information, they conceal a 24hr customer support line outside the support section of their website, and the 24hr support line is actually limited to normal business hours.
I assume they're going to institute data caps soon, despite Quantum Fiber's statements to the contrary. This whole thing feels greasy.
It looks like fiber internet has taken a significant step down. Does anyone have any negative experiences of their own to report?
had the same issue, bright speed said give it 24 to 48 hours as they are still switching everything.
---
Honest opinions of Brightspeed Fiber?
I'm looking at switching over to Brightspeed's 1gb Fiber plan since it's newly available in my area. I've looked at reviews for Brightspeed though, and they seem extremely negative. Does anyone currently use Brightspeed Fiber, and if so, what are your impressions so far?
Installation went fine, and I haven't had any outages in the three months since I had it installed. My wired speeds were lower than I expected at first, but I think that was actually an issue with the crappy Ethernet in my old motherboard. I built a new PC, and now I'm getting the advertised speeds. This is like.... a million times better than my experience with Mediacom. I have no complaints.
I don't know if this will help anyone, but one issue I had is that "Cyber Security" in the supplied C4000XG was preventing my Plex sever from working. I had to disable that.
Internet news and infrastructure in O'Fallon, MO
Fiber internet's expansion has caused some turmoil in O'Fallon over the last few years. In March 2022, Gateway Fiber hit a gas line while installing fiber optic internet and damaged over 40 nearby homes. (2) Improperly marked gas lines are proving to be a big issue for residents, city utilities, and fiber internet companies alike. (3)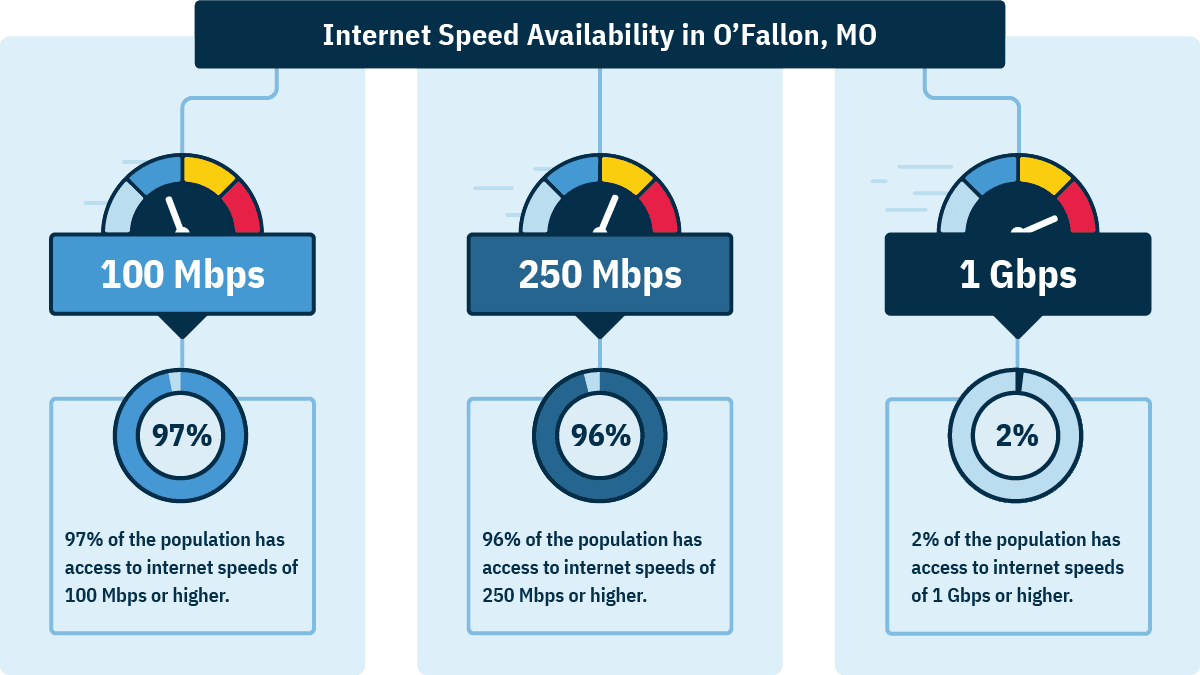 Frequently asked internet questions in O'Fallon
---
Missouri does have good internet options depending on where you live. If you live in a major city like St. Louis, or a suburb like O'Fallon, then you'll likely have access to fiber internet connections like AT&T fiber, or at least cable internet and fixed wireless options. Missourians in more rural areas will still have access to satellite internet providers, like Starlink, and some fixed wireless providers, like Brown Dog Networks and Wisper.
---
The fastest and best internet in O'Fallon comes from either Brightspeed fiber or Spectrum internet depending on which is available at your address. Both Brightspeed fiber and Spectrum internet offer plans at or near 1,000 Mbps (a.k.a. 1 gig), which is more than enough speed for the average Missouri household.
---
The best gig internet in O'Fallon comes from Brightspeed or Spectrum internet, which are the two providers in the area to offer plans at or near gig speeds. Brightspeed has significantly more limited availability than Spectrum.