Best internet providers in

Chesterfield, Missouri
Fiber internet in Chesterfield is more or less widely available since AT&T fiber covers much of the city. Still, if you can't get AT&T fiber at your address, then Spectrum internet is also a reliable provider for Chesterfield residents.
If you want to save some money and be able to install your internet connection yourself, then T-Mobile 5G Home Internet is a good option in Chesterfield with decent coverage. But keep in mind that your internet speeds might be lower than other brands in the area.
---
Plans starting at $55.00 - $180.00
Download speeds up to 5000Mbps
Upload speeds up to 5000Mbps
---
Click below for all current AT&T deals
Disclaimer: Availability and pricing are subject to location. Conditions apply. For offer details, view disclaimers
---
Plans starting at $29.99 - $169.97
Download speeds up to 1 Gbps
Upload speeds up to 35 Mbps
---
Click below for all current Spectrum deals
Disclaimer: Availability and pricing are subject to location. Conditions apply. For offer details, view disclaimers
---
Download speeds up to 182 Mbps
Upload speeds up to 23 Mbps
---
Click below for all current T-Mobile deals
Disclaimer: Availability and pricing are subject to location. Conditions apply.
How we rank internet providers
We have a robust rating system to score internet service providers overall, but the quality of service could vary city to city. When narrowing down the best providers specific to Chesterfield, we considered factors like availability, value, performance, and customer experience. We source information directly from the ISP's themselves, the FCC, and first-hand insights from residents of Chesterfield.
Our top 3 ISP choices in Chesterfield, MO
For the best internet options in Chesterfield, MO, we recommend AT&T fiber, Spectrum, and T-Mobile 5G Home Internet as our top picks for speed and reliability.
#1: AT&T fiber internet
AT&T fiber has pretty good availability in Chesterfield, but it's not 100%, so you'll still want to check if your address is eligible. If you're among the lucky ones in town with fiber optic internet access, AT&T fiber is an excellent choice for high speeds and fast connections.
Read our full AT&T internet review.
#2: Spectrum internet
Spectrum cable internet has wider availability in Chesterfield than AT&T fiber does, although it has less coverage here than in many other nearby towns. If you have access to Spectrum internet, it's our second-best pick for fast and reliable internet thanks to its high-speed plans and (relatively) wide availability.
Read our full Spectrum internet review.
#3: T-Mobile 5G Home Internet
T-Mobile Home Internet has wider availability than either of our first two picks, and it tends to be cheaper as well. You probably can't get the same speeds with T-Mobile Home Internet that you could with cable or fiber, but most people probably won't notice much of a difference.
All internet providers in Chesterfield
Aside from the big three options, Chesterfield residents also have access to some less prominent internet providers, like Brown Dog Networks, Whisper, US Cellular, and Verizon Home Internet.
US Cellular and Wisper have limited coverage in Chesterfield, so most addresses likely aren't eligible. The same goes for Verizon Home Internet.
Unlike these lesser-known providers, satellite internet is available all over Chesterfield. But we don't recommend it unless you don't have any other options. Satellite internet providers like HughesNet, Viasat, and Starlink often list high internet speeds, but because satellite internet has higher latency, it's still going to have a slower connection than cable, fiber, and fixed wireless alternatives.

Fastest internet providers in Chesterfield
Chesterfield has limited access to uber-fast speeds like 1 gig, but that's okay as most people don't need them. If you do want the fastest possible internet in town, then Spectrum internet is your go-to provider for 1-gig speeds in Chesterfield.
Other speedy options include AT&T fiber and Verizon Home Internet. But both of those providers are less available than Spectrum, and offer significantly lower speeds in the area.
How much speed do you need?
When choosing an internet plan, you want to keep all of your activities running smoothly without paying extra for speeds you don't need. At the bare minimum, you need 25 Mbps to do light browsing on one or two devices. Most households with multiple people and multiple devices will want to look for speeds in the 100–500 Mbps range. Learn how much speed your household needs in our guide to internet speed.
Cheapest internet providers in Chesterfield
The cheapest internet option in Chesterfield is likely to be T-Mobile Home Internet. At only $50 per month, T-Mobile is an affordable option with wide availability in the area. But T-Mobile's not among our fastest internet providers for Chesterfield, so if you want faster plans, you'll likely have to pay more for a big-name brand.
Another fixed wireless provider in Chesterfield, Brown Dog Networks, also tends to be affordable. Although it uses public frequencies, as opposed to T-Mobile, which uses private data. Public frequencies might be a little slower and less reliable than the alternative.

Internet options in nearby cities
Chesterfield's neighbors may have slightly wider Spectrum and AT&T fiber availability than Chesterfield, but for the most part, Chesterfield is on par with nearby cities. Even though 1-gig speeds might be less common in Chesterfield, you should still be able to find a high-speed internet plan without too much trouble.
Other cities also tend to offer Brown Dog Networks and Verizon Home Internet. However, Verizon Home Internet isn't widely available anywhere in the St. Louis metropolitan area, so it can be harder to find than many other options.
See all options in your area within seconds.
What Chesterfield residents are saying on Reddit
Like many other suburbs of St. Louis, Chesterfield residents are mainly debating the pros and cons of sticking with cable internet through a provider like Spectrum versus trying newer connection types like fiber and fixed wireless.
In general, Missourians seem to be impatiently awaiting the expansion of fiber optic internet in their area so that addresses that aren't currently eligible can eventually make the switch.
Check out these Reddit threads to see what people are saying:

Best Internet providers in St. Louis
Looking for the best/fastest and some what decently cheap internet providers. My apartment agent told me they use At & T, but mentioned I could use which ever one I want. Anyone have any recommendations?
If it's AT&T Fiber (vs. DSL), then that's the only right answer.
---
Post by u/southcityresident
11/26/2022
Spectrum vs AT&T Internet
Spectrum just jumped my bill 33% saying that I was on a promotion that expired, even though I've been on the same plan for 8 years and was unaware of any promotion. It's now $100/month for 500mb internet service. AT&T is offering this same speed at $65/month. Is there any reason not to switch? I know they're both garbage companies, but does anyone have any reasons I shouldn't just bounce between them?
AT&T Fiber > Spectrum > AT&T Internet
Regular price for Spectrum internet is $80/month for their minimum speed 300 Mb/s. You will not benefit from paying $20 extra for 500 Mb/s.
P.S. Spectrum hides its regular rates from you until after you sign up for service to make it hard to know what you'll really be paying once the promotion expires, but once you receive your first bill, both your promotional and nonpromotional rates should be pretty clearly displayed on every bill to avoid surprises when the promotional period expires. I suspect people who get surprised by the nonpromotional rate just don't ever look at their bills. Is my guess true for you?
---
Saw over on dslreports that high split is coming to St Louis this year and should be rolled out by eoy 2024. Someone confirmed getting a notice in Florissant of work being done along those lines. Anyone else around the metro get a notice about network upgrade work being done?
I'm a tech in the st peters area. This is true, and some parts of Florissant has already gotten it. We are actually hoping for all of STL Area to be done with high split by EOY this year. Every while, they ask for volunteers (technicians) to work on this project. The project is volunteered because it takes us out of production. Ehich production ratings are what gives us our raises and such. So sometimes these deployments are a few weeks long per deployment. So thay is a few weeks with out production. So some techs dont want to help with these projects. I think sometime soon, we are sending techs out to get pictures of the nodes and amps in the st peters area to get started out in this area.
Internet news and infrastructure in Chesterfield, MO
Local chatter in Chesterfield and other parts of West St. Louis includes talk of i3 Broadband expansion in the area. (1) i3 Broadband is a fiber optic internet provider that currently has very limited availability in St. Louis and its suburbs. But West St. Louis might be getting an internet-centered face lift if i3 Broadband expands its coverage.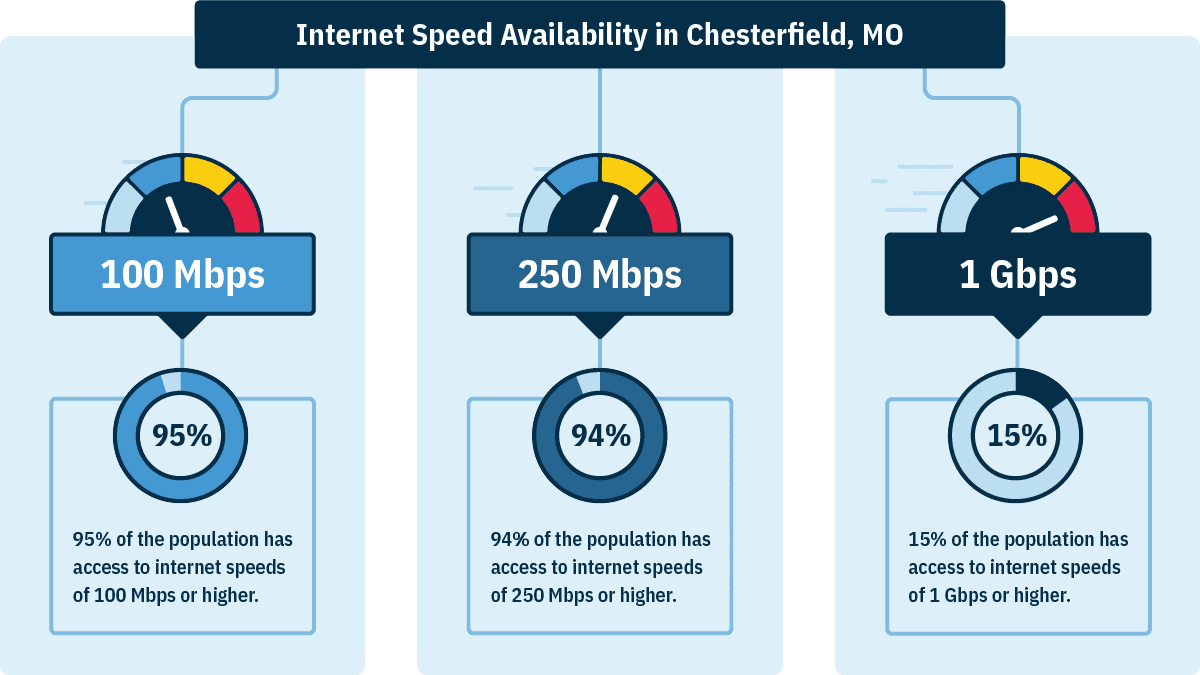 Frequently asked internet questions in Chesterfield
---
Spectrum internet offers the highest speeds in Chesterfield, MO with download speeds up to 1,000 Mbps (also known as 1 gig). Few people need that much speed for their everyday activities online, but it's nice to have the option (in some places) if you have extra-high internet needs.
---
You'll need to check your specific address in an internet comparison tool to see which providers are available for you and what kind of speeds they offer. Each address is different, and even if your neighbor has fiber optic internet, your house might only qualify for cable.
---
Download speeds of up to 100 Mbps is a good internet speed for regular home use. Most people don't need faster connections than that, and 100 Mbps should support activities like online gaming, Zoom rooms, and Skype.