Cable vs. satellite TV: Which is better?
---
---
We're committed to transparency. We may earn money when you follow our recommendations, but compensation doesn't affect our ratings. Learn more.
While more and more people get live TV mainly from a streaming service these days, traditional types of TV service like cable and satellite are still great options for a lot of people—especially those who don't have a great internet connection.
Cable and satellite have a lot in common: They have similar channel lineups, offer DVRs with recording storage, and include both live TV and on-demand content. But cable signal travels to your home underground in wires, while satellite uses a dish on your roof to capture signal from satellites orbiting the Earth. These differences in technology make for some significant differences for how you enjoy shows and movies.
So which is better? That depends on what you're looking for and how much you want to spend. We break it down so you can pick the best TV service for you.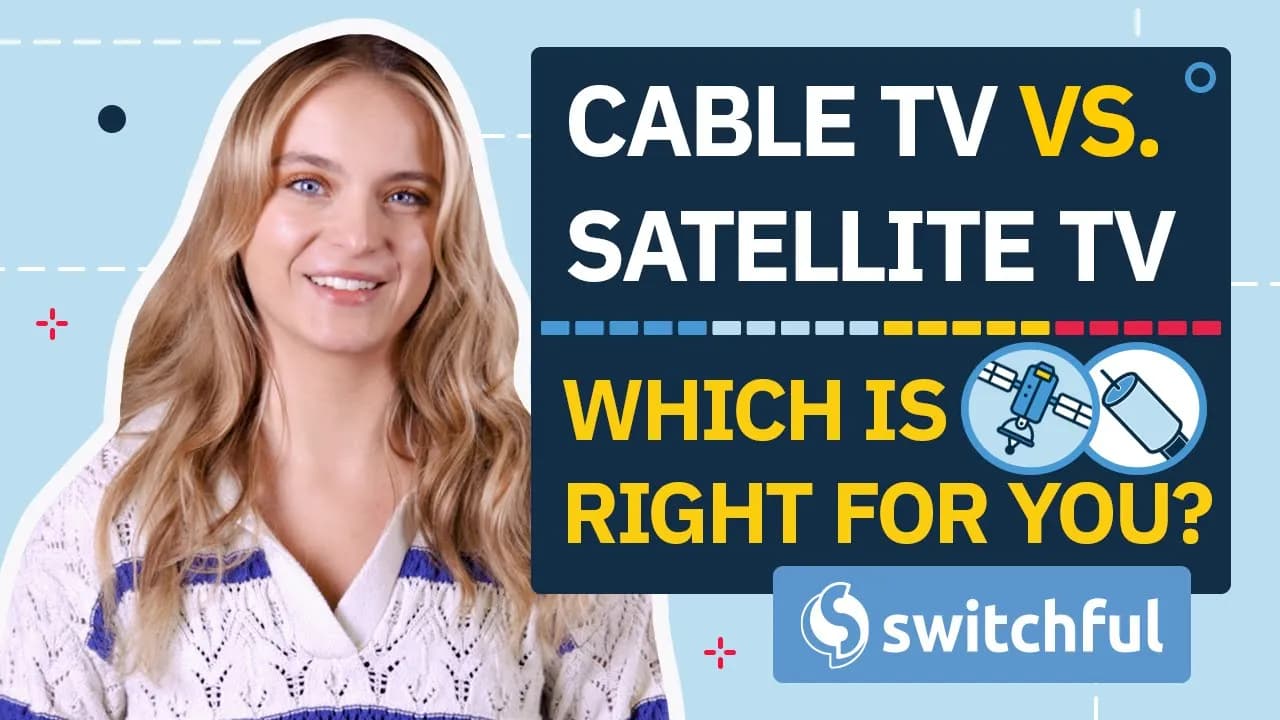 Cable vs. satellite TV: pros and cons
Cable TV
---
Cheaper lower-tier plans

Extra savings when bundling services

0–12-month contracts

Easier installation likely
---
Typically fewer channels

Unavailable in most rural areas

Worse customer service
Satellite TV
---
More channels

Lower cost per channel

Better picture quality

Available almost anywhere
---
2-year contracts

Less reliable in bad weather

Unobstructed view of the sky required
Location
Where you live might decide for you.
Satellite has a lot more availability than cable. Because cable is a wired connection, you can get this kind of TV only if your neighborhood has the infrastructure for it. Often, cable companies run cable lines where they can serve the most customers for the least amount of cable. That means it isn't available in a lot of rural areas, but it's available in most urban and suburban places.
Considering cable television service? See if there are any providers in your area.
See all options in your area within seconds.
Meanwhile, a dozen or so satellites can provide global service. Satellites are better at providing service to vast areas and sprawling communities, and they're often the only option available for rural communities. As long as you can install a satellite dish with a clear line of sight to the southern sky, you should be able to get satellite TV. But you might have issues if you live deep in a canyon, in a dense forest, or amid tall skyscrapers. And some HOAs and apartment complexes don't want you installing satellite dishes, either.
If you're considering satellite television service, check your community's rules about satellite dishes. If you're in the clear, grab a compass or a maps app and scope out possible locations for a satellite dish. You can install one on your roof or atop a pole in your yard, though a pole will probably be more expensive.
Value
Satellite and cable are head-to-head—but it depends on what you watch and where you live.
For TV, value really comes down to channel availability and price. The best television value will be the plan that gives you everything you want to watch at the lowest cost. Whether that's cable or satellite depends on which cable providers are in your area.
There are only two satellite TV providers—DIRECTV and DISH—and they have pretty similar channel lineups and prices. Cable providers are a different story. There are dozens of cable TV providers, and they're all over the place when it comes to value. Verizon Fios and Optimum have the best channel availability for the price—and offer even more total channels than either satellite provider. But if you don't live in the New England area, you probably don't have access to them.
Channel availability
Satellite usually has more channels, but cable can have cheaper plans.
In terms of straight channel counts, the highest-tier satellite provider plans have more channels than most highest-tier cable plans. DIRECTV has 340 channels, and DISH has 290. Most cable companies have 250 or fewer. Among the cable providers we've reviewed, the exceptions are Verizon Fios (425 channels) and Optimum (420 channels). If you live in one of these two companies' footprints and want a ton of channels, you should definitely consider them.
All these extra channels aren't just filler or music channels, either. DIRECTV and DISH have more popular channels than nearly any other television provider, with the exception of Optimum… but just barely. Satellite providers also tend to have more international channels, which is great for people who speak a foreign language.
Unfortunately, DIRECTV subscribers might not get all the local channels they want. The FCC reports that DIRECTV offers local channels in 198 of the total 210 "designated market areas," so check the DIRECTV channel lineups for your ZIP code before ordering. DISH provides local channels in all markets, but since it has fewer total channels than DIRECTV, you should also check out the DISH channel lineups to ensure they aren't missing anything that would break your heart.
With cable TV, you can generally expect to see all your local channels, even in the lowest tier. You can find at least a couple of Spanish-language channels with most cable providers too. But if you speak another language, you might not find it represented unless you live in a highly diverse, densely-populated urban area.
Pricing
Cable has cheaper low-end plans, but satellite has better value.
Satellite carriers DISH and DIRECTV offer pricing that competes well with a lot of cable providers—if you want a lot of channels. If not, then cable might be the better option. Cable companies often offer cheaper low-and middle-tier plans than satellite, so if your TV budget has a hard ceiling at $70, cable's probably your best bet.
At the higher end, satellite holds its own. DIRECTV's and DISH's most expensive plans are comparable to most cable providers' highest-tier plans, at around $110—$130 per month. What do you get for that price? With cable, it's a mixed bag. Some providers deliver just 100 channels, while others give you over 400. Satellite companies provide somewhere around 300 to 350.
Does bundling make cable TV cheaper than satellite TV?
Cable providers can send TV, internet, home security monitoring, and phone signals through the same infrastructure. That means most cable companies offer multiple services, which you can bundle together for convenience and savings.
Satellite technology doesn't allow for the same natural bundling. Although satellite TV, phone, and internet technologies exist, no company offers all three, so bundling isn't as common. Any bundles you do find will be partnerships across different companies. DIRECTV customers can bundle in AT&T internet service, for example. But that's the only situation we know about.
But does bundling all your cable utilities make a difference in your monthly bill? Yeah, it can, depending on the provider and how many services you sign up for. Bundling can save you from $10 to $25 on your monthly bill, which is enough to make paying full price for satellite TV painful. Unfortunately, some companies advertise bundles that aren't actually cheaper than buying each service separately, so crunch the numbers yourself to see whether you're truly getting a deal.
Installation
Cable installation is usually easier.
If cable TV is available to you, there's an excellent chance your home is already wired for it and the cable company already has coax cables running to your property. In this case, you could end up paying nothing for installation, since most cable companies offer a free self-setup option. Most companies have professional installation too, if you don't want to tackle it yourself.
If your house isn't wired for cable, your local provider will probably do that for you. However, it could cost you more than a standard professional installation—which usually runs between $75–$100 already. This more complex installation can be invasive and involve digging up some of your lawn and drilling holes in your walls. Some providers are great about putting everything back together nicely when they finish up, but some aren't.
When it comes to satellite, both providers have free professional installation, but it's a little trickier to self-install. If you buy directly from DISH or DIRECTV, you'll have to let them install your dish and run lines into your home. If you lease your equipment from an authorized dealer instead, you might be able to install it yourself. Either way, you'll probably need a hole drilled in your roof to attach the dish properly. If done incorrectly, you might get a new leak with your TV package.
Commitment
Satellite is harder to leave.
Most cable companies require less of a commitment than satellite companies. A one-year contract is common for cable TV providers, and more are offering no-contract options now, too. Installation is usually quick and noninvasive, and startup costs are pretty low. That means it's easier to peace out whenever you want.
With satellite, it's a little harder to leave. Satellite TV typically has longer contracts than cable TV. Both DISH and DIRECTV both have a 2-year contract, but DISH also has a no-contract option. You'll have to pay more monthly and buy your equipment upfront, though. And given the more intensive installation and higher startup costs of satellite, there's a good chance you'll want to stick with the same service for at least that long anyway. Finally, you'll still have that satellite dish on your roof because neither company takes it back when you cancel. All that adds up to quite a commitment.
Customer satisfaction
Satellite typically offers a better customer experience.
Customer satisfaction among all TV providers is notoriously bad, but according to the American Customer Satisfaction Index, both DISH and DIRECTV score better for customer satisfaction than most cable TV providers. The exception is Verizon Fios, which scored the highest—by a full five points. The two satellite providers and Xfinity all tied for second place, and the other major providers filed in after.
Picture quality
Satellite has better (possible) picture quality.
Most viewers won't be able to tell the difference between cable and satellite picture quality. The comparison gets muddier when you consider that picture quality depends on a ton of factors, including what kind of camera was used for filming, what resolution a TV network uses, and what your TV is capable of. But if you're a stickler for great picture (and have a top-notch home theater), you'll probably be happier with satellite TV.
Reliability
Cable is a little more reliable in bad weather.
Satellite service has a reputation for being unreliable, but that's improved significantly over the years. Today, most customers rarely lose signal. However, satellite still has one weakness: wet, windy weather.
Water in the air can distort satellite signals, so if your dish is pelted with big raindrops for hours at a time, you could experience reliability issues. In the US, this kind of weather is most common in the southeast, so if you live elsewhere, it probably won't be a problem. However, heavy winds can still blow your dish out of position if it's not entirely secured, and even a tiny tweak can prevent it from picking up the signal.
While cable service is better known for its reliability, it's not perfect either. Bad weather can also affect its signal, but usually only in extreme conditions. If the wind blows over telephone poles in your area, you could find yourself without service, and the outage will likely last longer—until the cable company can repair damages. Cable can also go out because of power outages, a car hitting a utility box or telephone pole, or just plain old or damaged wires.
Should I get cable TV?
If you can get both satellite and cable where you live, you get to be picky about your TV provider. Cable TV is great if you want a low-cost plan with all your local channels and some of the national ones too. You should also stick to cable if you don't want to commit for more than a year or install a satellite dish on your home.
But before you decide, check out your local cable company. There's a lot of variability in value, content, commitment, and customer experience. Some cable companies leave their satellite competitors in the dust, and others seem like they're not even in the same league. So get the scoop on your local provider before you decide.
Check out our best cable TV providers. If your local company isn't among them, check out our list of TV providers to find reviews—and consider going satellite instead.
Should I get satellite TV?
Even if you have a solid cable TV provider in your area, satellite is worth considering. Satellite is better for people who want a ton of channels at a reasonable price but are okay getting their phone, internet, and home security service elsewhere. Satellite is also better if your family wants to watch TV in multiple languages or from other countries. However, be ready to commit to at least two years and start thinking about where you can install a satellite dish with a view of the southern sky.
Unlike cable TV, there's not a lot of variety among satellite TV providers. There are only two companies to choose from: DISH and DIRECTV. They're pretty similar in pricing, channels, and contracts, but we think DISH does it a little better. Still, our top pick might not be yours, so compare both.
Alternatives to cable and satellite TV
If neither cable nor satellite television sound like quite the right fit, that's fair. There are only two satellite providers in the US, and most people have just one cable provider that serves their area. Chances are, you'll have few choices between them.
But don't worry. You're not out of options. You can try streaming TV or getting a handful of channels over the air for free, or both. You'll need additional equipment—such as a smart TV, streaming device, or HD TV antenna—to capture these kinds of TV, and you might need strong internet service. But the benefit of going these routes is that they're often a lot cheaper, and you won't have to sign a contract. You can try them for a month or two, and if you're not happy, cable and satellite will be there waiting in the wings.
---
The people behind our research
We believe the best information comes from first-hand customer experience and methodical research by subject-matter experts. We never source information from "content farms," and we don't generate content using artificial intelligence (AI). You can trust that our recommendations are fact-checked meticulously and sourced appropriately by authentic, industry-recognized people.
Kathryn is a consumer advocate writer who helps people quickly and easily find the best products and services for their needs. Over the last decade, she's helped people navigate everything from Internet companies to Medicare plans to business software. When she's not geeking out about saving her readers time and money, you'll find her climbing the rocks of Utah—or asleep in her favorite hammock.
Bri Field has a background in academia, research writing, and brand marketing. She has edited scientific publications, conference papers, digital content, and technical communications. As Assigning Editor, she enjoys ensuring all content is accurate, clear, and helpful. In her free time, you can find her in the kitchen trying a new recipe, out on a hike, or working through her massive TBR list.