Our top 3 ISP choices in Jeffersontown, KY
Our top internet recommendations for Jeffersontown include AT&T fiber, Spectrum, and T-Mobile 5G Home Internet for their speeds, coverage, and reliability.
#1: AT&T fiber internet
AT&T fiber is the primary fiber internet option in the Jeffersontown area. Not every address will be eligible, but if you can get it then AT&T fiber is one of the most reliable internet options out there. Fiber internet offers consistently fast speeds and tends to have fewer outages than traditional options like cable and DSL.
Read our full AT&T internet review.
#2: Spectrum internet
Spectrum internet is more widely available in Jeffersontown than AT&T fiber is. Spectrum also offers high-speed plans across most of the city, with some speeds as high as 1,000 Mbps. (That's 1 gig.) No one should really need plan speeds that high, which is good because Spectrum internet plans can get a bit pricey for higher speeds. Spectrum also tends to come with extra fees and price hikes after the first year or two.
Read our full Spectrum internet review.
#3: T-Mobile 5G Home Internet
T-Mobile Home Internet is a newer option in Jefferstown, but its fixed wireless internet option is a simple way to get affordable self-installed internet service. Plus, T-Mobile has widespread coverage across the city—it's more widely available than either AT&T fiber or Spectrum internet.
Read our full T-Mobile 5G Home Internet review.
All internet providers in Jeffersontown
Jeffersontown's internet options are limited to a single fiber internet provider, a single cable internet provider, a couple of fixed wireless providers, and some satellite internet companies. While satellite internet from companies like Starlink is widely available in Jeffersontown, we don't recommend it unless it's your only option.
As for fiber and cable internet service, AT&T fiber is our preferred choice, but Spectrum internet is more widely available. And if you want to try fixed wireless internet, then T-Mobile is easily accessible here. Verizon Home Internet offers fixed wireless internet as well, but it's not widely available in Jeffersontown.
Fastest internet providers in Jeffersontown
AT&T fiber and Spectrum are the two fastest internet providers in Jeffersontown. Spectrum internet offers speeds up to 1 gig, and AT&T fiber has speeds as high as 5 gigs (5,000 Mbps).
Most families and households will do just fine with a 100 Mbps plan, but if you want the highest possible speeds then AT&T fiber and Spectrum are your best bets.
How much speed do you need?
When choosing an internet plan, you want to keep all of your activities running smoothly without paying extra for speeds you don't need. At the bare minimum, you need 25 Mbps to do light browsing on one or two devices. Most households with multiple people and multiple devices will want to look for speeds in the 100–500 Mbps range. Learn how much speed your household needs in our guide to internet speed.
Cheapest internet providers in Jeffersontown
T-Mobile is the cheapest internet provider in Jeffersontown. Some of Spectrum internet's lower-priced plans cost about the same as T-Mobile's $50-per-month price tag, but Spectrum charges additional installation and equipment fees that make it more expensive. Plus, T-Mobile Home Internet gives you steep discounts if you bundle with a qualifying cell phone plan. And you can install it yourself.
Internet options in nearby cities
Internet options in nearby cities, such as Louisville, are similar to the ones in Jeffersontown. But some places have better access to fiber internet than Jeffersontown does, including from fiber internet providers like Kinetic by Windstream.
For details on which providers are available near you, check out these cities:
See all options in your area within seconds.
What Jeffersontown residents are saying on Reddit
Jeffersontown residents experienced widespread power outages in 2023 due to a winter storm (1), which meant most internet connections were down as well. Fiber and cable internet couldn't be restored until the power came back on days later, but many people still had internet access through their phone data. That's a mark in favor of fixed wireless internet providers like T-Mobile Home Internet that use cellular data for in-home internet.
Check out these Reddit threads to see what people are saying:
Internet news and infrastructure in Jeffersontown, KY
Jeffersontown residents have less access to ultra-high-speed internet, like 1-gig plans, than Louisville and some other surrounding cities. Most of Jeffersontown does have access to reasonably high-speed plans like 100 Mbps and 250 Mbps, which should be enough for most households. But these types of speed restrictions are also a signal that fiber internet expansion is still in the works in Jeffersontown.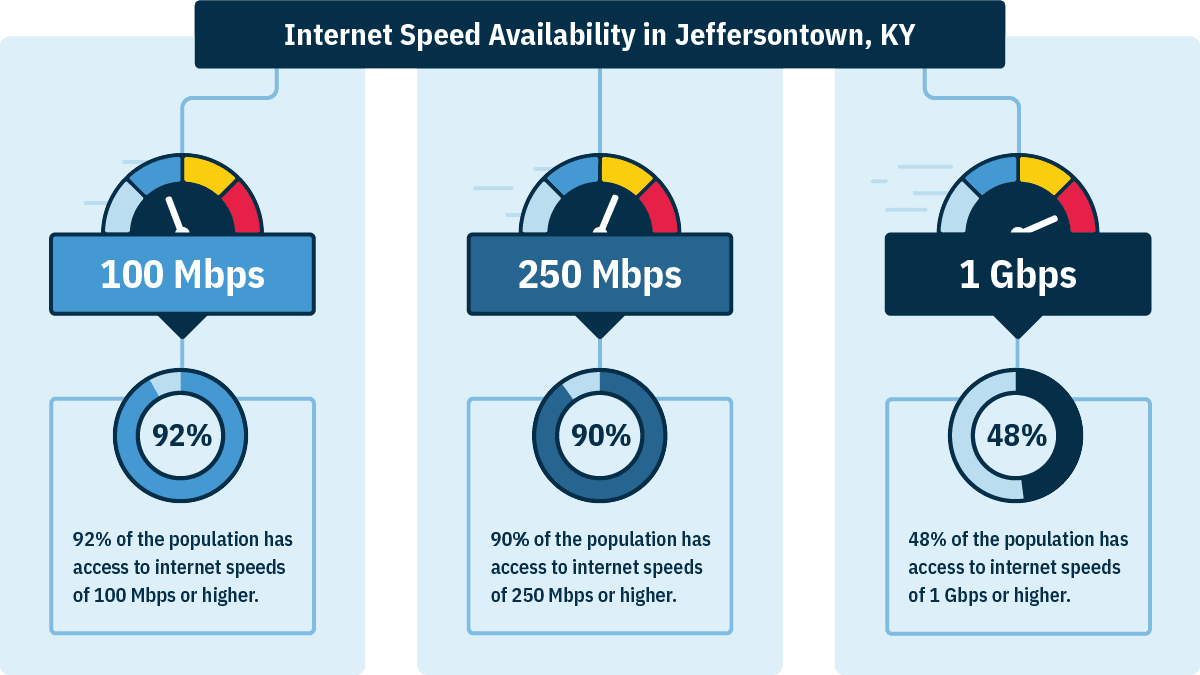 Frequently asked internet questions in Jeffersontown
---
Jeffersontown has decent internet access, although some other nearby cities have access to higher speeds and wider access to fiber internet. But most Jeffersontown residents will have access to high-speed internet plans.
---
Yes, Jeffersontown has AT&T fiber access in many parts of the city. Fiber internet is still expanding in Jeffersontown and Louisville, so you'll want to double check your address with AT&T fiber to see if it's available in your neighborhood.
---
Aside from satellite internet, the best internet access in Jeffersontown is T-Mobile 5G Home Internet. It has widespread coverage across Jeffersontown, and it's quite affordable as well.