Best internet providers in

New Albany, Indiana
New Albany doesn't have access to a very wide range of internet service providers, but it does have fairly good access to AT&T fiber internet. Fiber internet tends to be very reliable, so we highly recommend AT&T fiber where available. For other addresses, our top picks include Spectrum internet and T-Mobile 5G Home Internet. T-Mobile has the most affordable internet plans among our top three.
---
Plans starting at $55.00 - $180.00
Download speeds up to 5000Mbps
Upload speeds up to 5000Mbps
---
Click below for all current AT&T deals
Disclaimer: Availability and pricing are subject to location. Conditions apply. For offer details, view disclaimers
---
Plans starting at $29.99 - $169.97
Download speeds up to 1 Gbps
Upload speeds up to 35 Mbps
---
Click below for all current Spectrum deals
Disclaimer: Availability and pricing are subject to location. Conditions apply. For offer details, view disclaimers
---
Download speeds up to 182 Mbps
Upload speeds up to 23 Mbps
---
Click below for all current T-Mobile deals
Disclaimer: Availability and pricing are subject to location. Conditions apply.
How we rank internet providers
We have a robust rating system to score internet service providers overall, but the quality of service could vary city to city. When narrowing down the best providers specific to New Albany, we considered factors like availability, value, performance, and customer experience. We source information directly from the ISP's themselves, the FCC, and first-hand insights from residents of New Albany.
Our top 3 ISP choices in New Albany, IN
Our top recommendations for internet providers in New Albany are AT&T fiber, Spectrum internet, and T-Mobile Home Internet.
#1: AT&T fiber internet
AT&T fiber is our top choice in New Albany but not everyone's going to have access to it. AT&T fiber covers only about 83% of New Albany, so you'll want to double-check your address to see if it's eligible. If it is, then fiber's the best internet connection you can get.
Read our full AT&T internet review.
#2: Spectrum internet
Spectrum covers almost twice as much of New Albany as AT&T fiber does, so it's a more widely available internet provider if you can't get fiber at your address. Spectrum doesn't offer fiber internet in New Albany, but its cable connection type still offers fast speeds.
Read our full Spectrum internet review.
#3: T-Mobile 5G Home Internet
T-Mobile is almost as widely available as Spectrum and has wider coverage than AT&T fiber. T-Mobile uses fixed wireless to connect you with the internet, which tends to have higher latency than fiber internet, but it's still a solid choice for New Albany addresses without fiber access.
Read our full T-Mobile 5G Home Internet review.
All internet providers in New Albany
Along with our top three internet provider picks, parts of New Albany have access to Astound Broadband. Astound has excellent high-speed plans, but you'll be hard-pressed to find them around here. Astound covers only about 2% of New Albany.
New Albany also has broad access to satellite internet providers, including HughesNet, Viasat, and Starlink. But we don't recommend satellite internet. It can be a complicated, expensive, and still somewhat slow internet connection even if you opt for a high-speed plan.
Fastest internet providers in New Albany
The fastest providers in New Albany include Spectrum, AT&T fiber, and Astound Broadband. We'd recommend Astound Broadband more highly if it had wider coverage across town. But as it is, you're better off trying to get Spectrum or AT&T fiber, both of which have speeds up to 1 gig (or even up to 5 gigs with AT&T fiber).
Most people don't need 1 gig. If you opt for a 100 or 250 Mbps plan instead, you likely won't notice a difference in performance.

How much speed do you need?
When choosing an internet plan, you want to keep all of your activities running smoothly without paying extra for speeds you don't need. At the bare minimum, you need 25 Mbps to do light browsing on one or two devices. Most households with multiple people and multiple devices will want to look for speeds in the 100–500 Mbps range. Learn how much speed your household needs in our guide to internet speed.
Cheapest internet providers in New Albany
Internet providers are fairly affordable in New Albany, but if you really want to save some money, T-Mobile Home Internet is your best bet. It lets you skip contracts and equipment fees, and unlike Spectrum, there's no price hike after your first year of service. With T-Mobile, you'll pay only around $50 per month for service.
Internet options in nearby cities
Nearby cities have similar options and coverage to New Albany, including wide access to Spectrum and T-Mobile Home Internet and more limited coverage from AT&T fiber. Some nearby areas also have access to Verizon Home Internet, which also offers fixed wireless internet.
For details on which providers are available near you, check out these cities:

See all options in your area within seconds.
What New Albany residents are saying on Reddit
New Albany residents are mainly discussing which internet providers are available in the area and how much people are paying for internet service plans. Everyone agrees that wider access to fiber internet is needed, but existing AT&T fiber customers largely recommend the service.
Here is a breakdown of your residential ISP options in Louisville
I see a lot of posts about internet options in Louisville
A few important notes -
Generally speaking, Louisville has absolutely outstanding internet.
Just because an ISP is available in Louisville does not mean the infrastructure is available to your particular home or apartment.
some apartments / small communities are pre-wired with exclusivity agreements that prevent other ISP's from coming in. As of February this year, this practice is now illegal. FCC requires all new developments to offer multiple ISP's. They are not requiring places to retrofit, but just keep it in mind - you may not have access to all these services
I really do not know about cellular internet that is unlimited so I am leaving it out of here
Google Fiber is gone and never coming back. They failed miserably here. They presented a plan to Bill Dieruf as to how they planned on installing infrastructure in J-Town and he basically told them "this shit will never work in Louisville Kentucky". They ignored his caution, went to the highlands and lost a ton of money trying to execute it. The freeze / thaw cycles in Louisville are not going to allow future ISP expansion here. Google's plan was to cut asphalt in roads and it failed within a year. Fibers were popping up out of the road and they were not permitted to use telephone / power poles.
Google wasn't even able to come up with a plan to use our existing power and telephone lines. Don't bank on ever having any other hardline providers in town.
The hard line providers (spectrum and ATT) get plenty of bandwidth to your home. If you are ever calling to "up your bandwidth" because of poor performance, you need to look at the hardware running your setup. A 4K Netflix stream uses about 6 megs per second. In theory you should be able to watch 50 simultaneous Netflix streams before buffering on a 400 meg connection.
OK -
Spectrum - has coaxial based internet and cable options. Available just about anywhere in the city except for down rural roads. Great internet. Their hardware sucks. I always tell people "spectrum has a responsibility to get good service to your home. Once it is inside, it is your responsibility". So if you get your own modem / router you can have great success with Spectrum for under $50 / month. I have had spectrum for 8 years at my current home and literally never once had a service outage or buffered. Never. Once. Not being dramatic. Spectrum does not guarantee bandwidth however even if they get 50 megs a second to your home yoh should be floating.
AT&T Fiber - has fiber optic based internet and cable options. They are rapidly deploying fiber throughout the city. If it is not available for you, call them and they can tell you when they expect to be in your area. AT&T fiber works very well and is less prone to service calls because fiber is light and light doesn't fail. AT&T does guarantee bandwidth. If you are paying for 200 meg / second you will always get that amount. Sometimes faster.
AT&T UVerse (note, link will direct you to fiber as you can no longer sign up for UVerse) - uses copper telephone lines. officially in legacy mode now. They are no longer deploying. If you are able to get it, run. Downright miserable experience. They use the same phone lines that were brought into your home in the 1990's for DSL.
Iglou - identical to AT&T fiber. No access to cable tv. Same thing as getting AT&T, but you get to call a 502 number. They even send AT&T techs and use their equipment.
Bluegrass.Net - sends internet to your home via wireless antenna bridge. They rent real estate on top of large buildings and water towers throughout the Metro which is surprisingly effective. Worth a call if you're fed up with other providers or cannot get their service. Can game. Fine service.
Hughes.net Satellite - miserable, but an option. Can stream movies. Cannot game due to high latency. Very spotty service, but an option.
ViaSat Satellite - better than Hughes IMO, but still miserable. Better than nothing.
Starlink - Their website says nothing in Louisville until 2023 but someone here is claiming to have it. Haven't seen proof and I've never seen Starlink gear or service tech in town which doesn't mean it's definitely NOT here but take that as you will
Cellular options - sorry, you're on your own. If someone drops a note on their experience with it I will gladly update. Click the link for more info
edit 1 - including links to all providers. Removed my incorrect reference to Google not having access to telephone lines when they were trying to get going here
---
Friends of Louisville, what internet provider do you use? Include pros/cons in your reply please
ATT fiber Pros: really fast, really cheap for speeds you get, own line instead of a shared network Cons: not available everywhere
---
Only options here are T-Mobile, Spectrum and ATT. No iglou or fiber, is anyone using T-mobile and like it?
I use it and It's mostly reliable but there's sometimes drops where you have to reload a webpage multiple times to get it to connect. Located in old louisville. Quality likely depends on location.
Internet news and infrastructure in New Albany, IN
Like most of the country, New Albany is still working on expanding access to fiber internet. But Floyd County has announced a big accomplishment on that front: Mainstream Fiber Networks completed a three-year project to expand fiber internet access, including in New Albany. Further expansion is still needed in areas like Floyd Knobs and Saint Marys, but over 2,000 households have received fiber access so far. (1)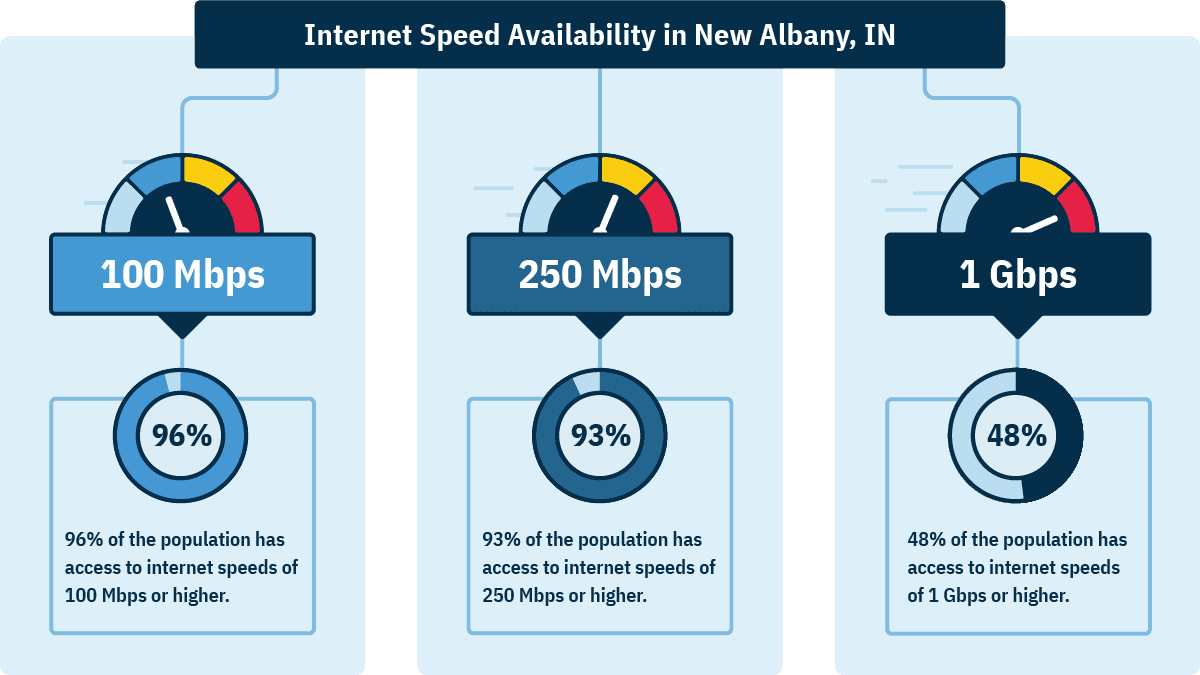 Frequently asked internet questions in New Albany
---
Internet plans in New Albany start at about $50 per month for cheaper providers like T-Mobile Internet, but they can go over $100 for an ultra-high-speed plan like AT&T fiber's 5-gig option. We recommend sticking closer to 250 Mbps for average households.
---
The fastest residential internet speed these days is usually 1 gig, or 1,000 Mbps. This is truly high-speed internet. Almost no one needs speeds that high for everyday internet use. And keep in mind that not all gig plans consistently receive speeds that high.
---
A good internet speed for most households is around 100 Mbps. If you want more reliable high speeds, you can opt for a plan that offers up to 250 Mbps, but it's probably not necessary for average internet use—even for video calls and gaming.