Our top 3 ISP choices in San Antonio, TX
We highly recommend AT&T fiber if it's available at your home. If not, Spectrum and Google Fiber are excellent alternatives.
#1: AT&T fiber internet
AT&T fiber is our pick for top internet in San Antonio—and one of our favorite internet providers anywhere in the country, for that matter. AT&T offers excellent speeds with no contracts, data caps, or equipment fees. It also boasts surprisingly good customer service for an ISP. Just make sure you get fiber service, not DSL.
Read our full AT&T review.
#2: Spectrum internet
Our runner-up in San Antonio is Spectrum. It offers speedy cable service to a whopping 86% of the San Antonio area, and also offers fiber service in some parts of the city. Spectrum isn't the value-packed provider that AT&T is, and there can sometimes be hidden fees. However, it's a solid pick if AT&T isn't available.
Read our full Spectrum review.
#3: Google Fiber internet
Finally, if you've been itching to try Google Fiber, you're in luck—it offers service in San Antonio, although the coverage area is fairly small. Most of the service area is north and west of Alamo Heights. Google's fiber internet has a reputation for outstanding speeds and value, and the customer experience is one of the best we've seen, so it's definitely worth considering.
Read our full Google Fiber review.

All internet providers in San Antonio
San Antonio residents have a few other options for internet if none of our top three picks are available. The most notable are fixed wireless plans from T-Mobile and Verizon. T-Mobile, in particular, covers over 90% of the San Antonio area. The speeds aren't as fast as wired connections, but it'll be enough for many.
Satellite internet is available, including HughesNet, Viasat, and Starlink. These plans naturally offer 100% coverage, but you'll pay for it in speed (HughesNet and Viasat are slower than most other options) or price (Starlink is expensive).
Finally, Astound Broadband covers a decent amount of the downtown area and some suburbs to the north, such as Alamo Heights and Leon Valley. Astound is a solid provider with speedy plans, but it's just not quite up to par with our top picks in coverage.

Fastest internet providers in San Antonio
AT&T is the fastest internet provider in San Antonio, with speeds up to 5,000 Mbps. Granted, you probably don't need anywhere near that much speed, but sometimes it's just nice to know you can get it if you want it. Google Fiber is the second fastest with up to 2,000 Mbps.
How much speed do you need?
When choosing an internet plan, you want to keep all of your activities running smoothly without paying extra for speeds you don't need. At the bare minimum, you need 25 Mbps to do light browsing on one or two devices. Most households with multiple people and multiple devices will want to look for speeds in the 100–500 Mbps range. Learn how much speed your household needs in our guide to internet speed.
Cheapest internet providers in San Antonio
The cheapest internet providers in San Antonio will likely be Verizon and T-Mobile—but only if you have cell service with them. After that, Spectrum is likely the most affordable option. However, we do have to give a nod to AT&T and Google Fiber for being an incredible value for the speed you get, even if the price isn't strictly the cheapest.
Internet options in nearby cities
Most major San Antonio suburbs have similar options available. AT&T and Spectrum are in the top three for nearly every nearby city, for similar reasons—excellent speed and availability. T-Mobile and the local Guadalupe Valley Electric round out the top providers in most towns, with the latter being especially good in Cibolo and Seguin. Unfortunately (although perhaps not surprisingly), Google Fiber is really only available in the metro area.
See all options in your area within seconds.
What San Antonio residents are saying on Reddit
Generally speaking, San Antonio residents seem to love (or at least tolerate) AT&T fiber service, and Google Fiber is also frequently recommended. Spectrum, on the other hand, gets more mixed reviews. Some users prefer it citing better bandwidth, while others say to avoid it at all costs. The differences likely come down to the specific area the residents are in.
Native Texan moving back home, but not familiar with the ISPs in San Antonio. Looks like my options are AT&T Fiber, Spectrum Cable or Astound (Grande) Cable. I know that fiber is usually better and have had Fios Fiber in Philly and NYC but AT&T is actually more expensive than Fios has been on the east coast and they have lower reliability scores.
Between those three, which is the most reliable for consistent high speeds and low outages in the SA area?
AT&T fiber is really good and they have promos. Spectrum is a pain to deal with customer service. Grande is actually quite stable and the smaller guy but as such they have limited service, people available, offices...etc
---
What would y'all say is the fastest internet provider?
I'm not really concerned with price, just with the highest speeds available. I am going to be permanently working from home so need something that's fast and reliable i.e. isn't always going down. So what would be y'all's pick for internet provider?
---
Post by u/OkButterfly5438
05/26/2021
I'll be needing to choose a new internet plan soon (AT&T or Spectrum only), and I want to hear your opinions! Which provider has better deals for internet, and which provider is more reliable/has better service? Thanks in advance!
(For context, I would need an internet speed that's good for 1 person who works from home and uses the internet a lot- no gaming though. My current AT&T plan barely scrapes 15mbps.)
ATT fiber is fantastic if you can get it. We had it for years before moving and had zero issues that weren't caused by SWMD or some other factor breaking the fiber lines. Speeds were always consistent and no data cap. That's good for me and my family as I work from home and my family loves to stream.
Now we have Spectrum and while the 400 down is OK the 20 up kills my productivity. Our only other option is ATT DSL which I would never use.
Internet news and infrastructure in San Antonio, TX
Overall internet coverage in San Antonio is quite good. Nearly 90% of residents have access to at least 100 Mbps, and 87% have at least 250 Mbps available—plenty for most casual use and basic streaming. A healthy 34% of residents can get speeds of at least 1,000 Mbps, which is more than enough for nearly any use case. The city has a large amount of fiber coverage, which is excellent—it's by far the most stable and speedy type of internet connection available.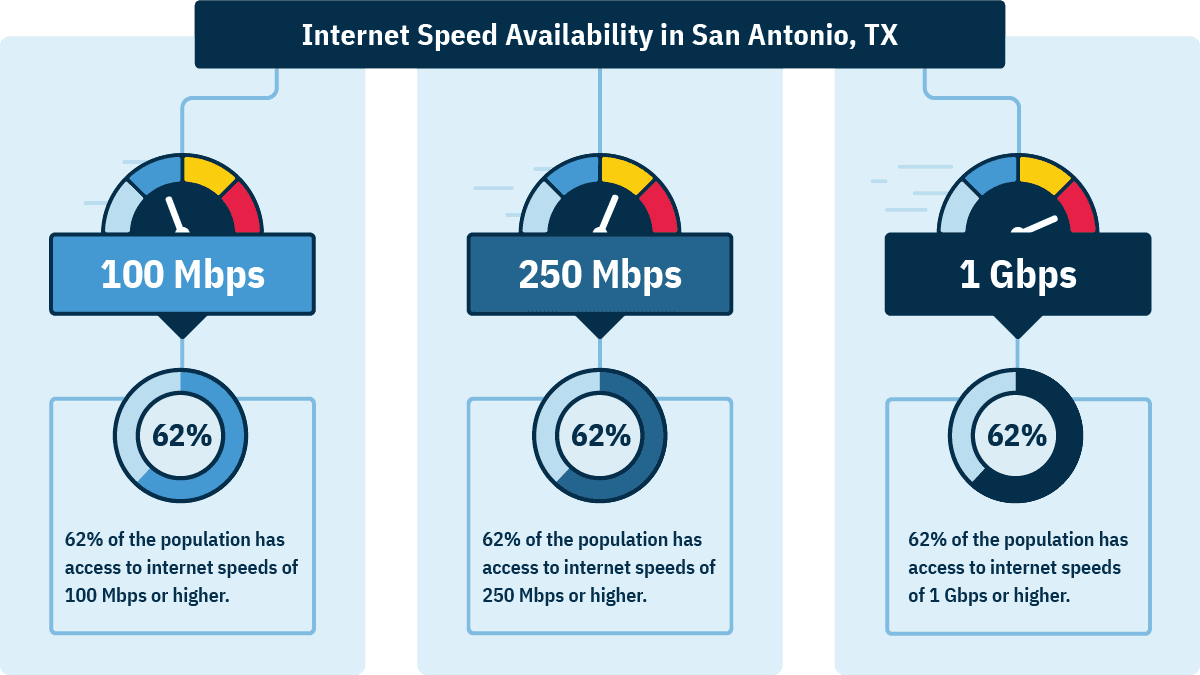 Frequently asked internet questions in San Antonio
---
Yes, San Antonio has fiber—and lots of it! The city boasts wide fiber coverage from AT&T, Spectrum, and even Google fiber.
---
Google Fiber is an excellent internet service. The speeds are outstanding, the price is reasonable, and the provider offers one of the best overall customer experiences of any provider we've reviewed. Highly recommended.
---
AT&T offers both fiber and DSL internet currently. If you get AT&T fiber, then yes—it's actually fiber. The company is slowly phasing out its DSL offerings, so eventually, it will be all fiber, but for the time being, you'll just have to make sure you order the correct service.
---
Google Fiber is available primarily on the north side of San Antonio. This includes Alamo Heights, Leon Valley, Kirby, and Windcrest.
---
Google Fiber is $70 per month for the 1 Gig plan and $100 per month for the 2 Gig plan. This makes it one of the best values around for fiber internet, especially at these speeds.